Key points:
The Exciure stock price rallied  19.47% on renewed investor interest.
Over 14 million shares had changed hands despite a lack of news.
As a result, the biotech firm might have to do a reverse stock split soon.
The Exicure Inc (NASDAQ: XCUR) stock price was trading up 19.47% at writing despite the lack of news from the early-stage biotech company developing next-generation nucleic acid therapies for neuropathic pain, Angelman syndrome, and Huntington's disease.

An influx of buy orders drove today's rally despite the biotech company not making any announcements in the recent past. The last press release from the company was its Q1 2022 financial results and an update on its corporate progress on May 16, 2022.
Before releasing its Q1 results, the company had revealed that it raised $5 million via a private placement by selling over 26 million shares at $0.1937 each, representing a 45% premium to its closing price over the past ten days to May 10, 2022, when the fundraise happened.
Investors barely reacted to the news, which should have triggered a rally in XCUR stock since outside investors were willing to pay much more for the company's shares above its current share price in a moe that diluted existing shareholders.
However, it seems like the market has finally gotten wind of the premium paid by the institutional investors during the capital raise, given that they are known as the smart money since they usually have more information about the firms they back when compared to retail investors.
Exicure reported that its revenues during Q1 rose to $2.6 million from the $1.0 million recorded in Q1 2021. However, it attributed the higher revenues to a non-cash revenue of $2.1 million from its collaboration with Ipsen Biopharm Limited. Hence, its actual revenues fell by $0.5 million during the period.
Therefore, investors were not thrilled by the company's financial performance. As a result, the firm restructured its operation in December 2021 and let go of some of its employees to streamline its activities and cut costs, evident in its much lower R&D costs.
Today's rally can be attributed to renewed investor interest in the firm as over 24 million shares had changed hands at writing. In addition, Exicure might be forced to do a reverse stock split to lift its stock price above $1 to meet Nasdaq's listing requirements soon.
*This is not investment advice. Always do your due diligence before making investment decisions.
Exicure stock price.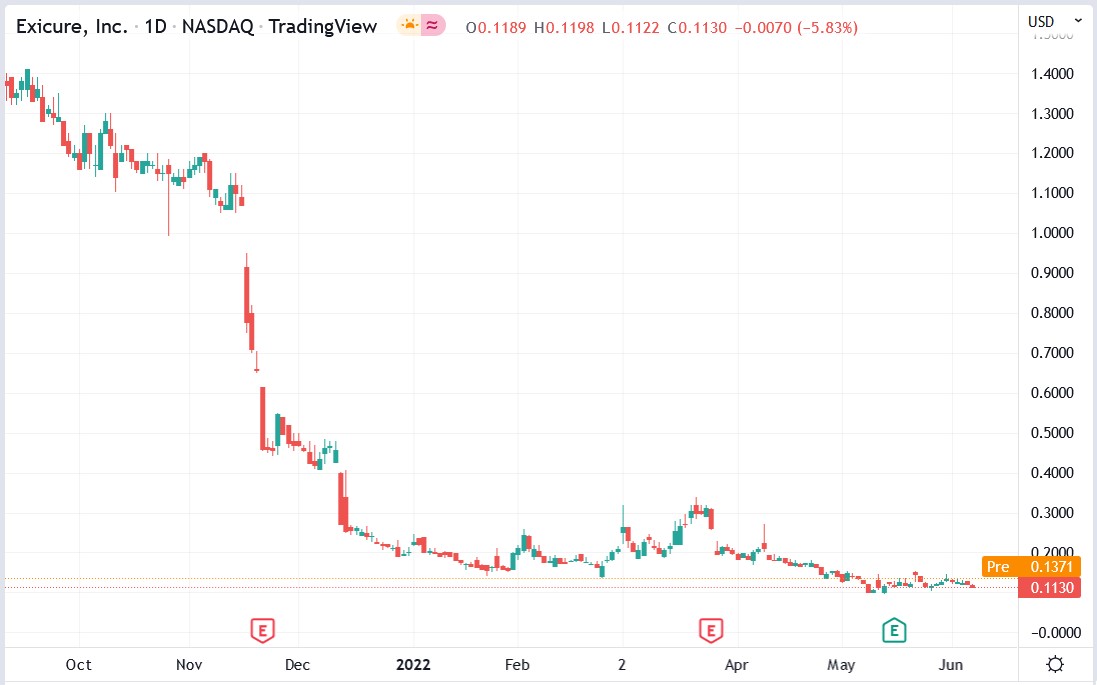 The Exicure stock price rallied 19.47% to trade at $0.1371, rising from Tuesday's closing price of 40.1130.