Key points:
Easyjet shares could recover during the summer peak travel season.
However, the airline cannot operate its entire fleet due to staff shortages.
Still, multiple tailwinds could boost EZJ shares in future.
The EasyJet plc (LON: EZJ) share price has fallen 34% from its February highs and is trading at a support level that could hold and trigger a rally higher. However, for a sustained rally to occur, it must be supported by the airline's strong fundamentals.

Luckily for EasyJet and other UK airlines, a set of tailwinds could fuel a recovery in their share prices. The first significant tailwind is the pent-up demand for air travel among consumers who have been under lockdown for two years, unable to travel due to the restrictions imposed by most governments to combat the coronavirus pandemic.
Most travellers are so hungry to travel to new destinations that many are willing to pay the high ticket prices being charged by most airlines in the face of record-high jet fuel prices triggered by Russia's invasion of Ukraine and the resulting sanctions imposed on the country's oil exports.
Therefore, most travellers have to contend with much higher ticket prices than they were used to before the pandemic as airlines pass on some of the additional costs to their clients.
Still, there are other reasons why airline ticket prices have surged higher recently. One of the reasons is that most airlines are struggling to hire enough pilots and other staff to fly all their planes, which has resulted in most airlines cancelling flights from certain airports.
Long-distance travellers have been buffeted with high ticket prices since most airlines struggle to keep operating their largest aeroplanes due to the extremely high fixed costs of keeping the planes in the air. Therefore, some airlines have doubled the prices of long-haul flights to compensate for the higher costs.
Furthermore, they have reduced the number of flights and are looking to fly at almost full capacity to recoup most of their operations costs and run profitable flights. A large plane flying at half capacity presents a significant challenge to the airline since such a flight will likely be a loss-making one as opposed to one at full capacity.
However, budget airlines that generally fly flights over short distances have also been hard hit by the high jet fuel prices since fuel costs now make up a significant percentage of their operating costs.
Low-cost airlines such as Wizz Air recently reported a loss for its 2021 financial year despite the high demand for flights in recent months. Still, budget airlines have the advantage of scale coupled with the current high demand for flights.
Most airlines expect to book decent profits during the summer peak travel period, starting in June and to run to September.
*This is not investment advice. Always do your due diligence before making investment decisions.
Easyjet share price.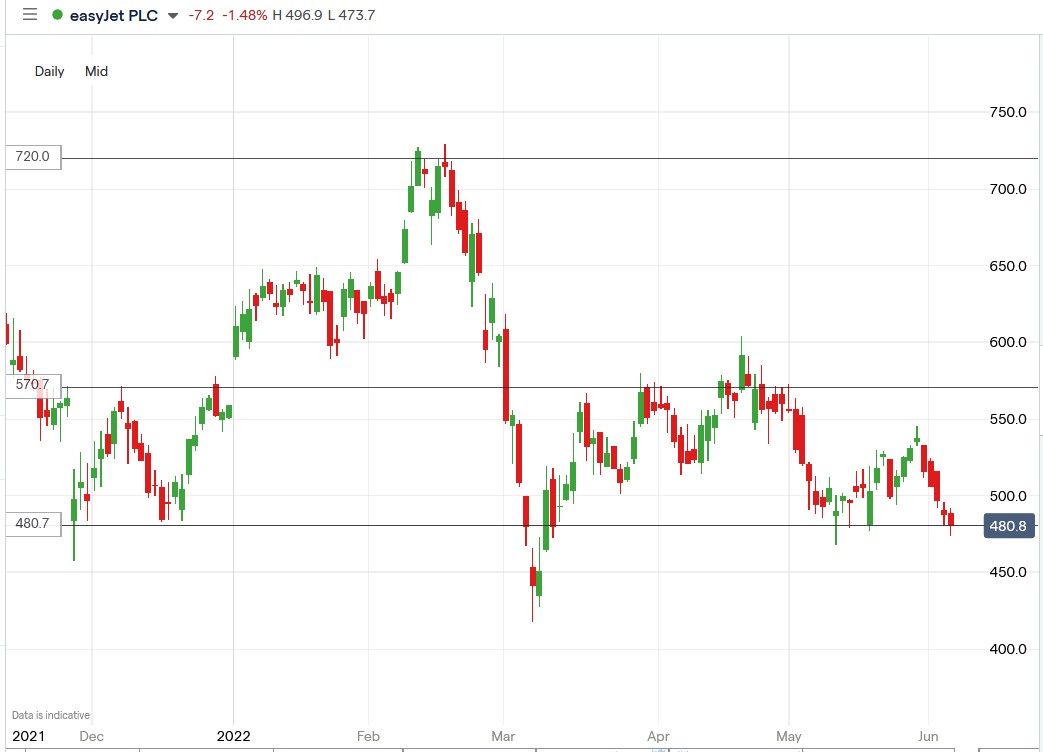 The Easyjet share price has fallen 34.07% from its February high of 729.3p to its current price of 480.8p.