Key points:
The USDCAD currency pair edged higher for the second day today.
The pair kept rising despite the weak US ADP employment data.
On the other hand, the falling oil prices drove the Canadian dollar's weakness.
The USDCAD currency pair rallied higher today despite the much-anticipated US ADP Non-farm payrolls data missing analysts' expectations by coming in at 132,000 versus the consensus estimate of 300,000 jobs.

Investors are concerned that the US non-farm payrolls report for August due out on Friday will also disappoint by failing to meet market expectations set at 295,000 new jobs. Investors largely ignored the Canadian monthly GDP data, which aligned with analysts' expectations.
Also read: Forex Trading For Beginners.
As tracked by the West Texas Intermediate, the falling crude oil prices also did not favour the loonie since Canada is a net crude oil exporter. The weakening oil prices weighed down the loonie over the past two days, which has given the US dollar a significant advantage over its neighbour.
The USDCAD currency pair has increased over the past two days and could be headed towards the crucial 1.32 level if the current bullish momentum persists. On the other hand, today's inline GDP data may give the Bank of Canada a reason to hike interest rates by a significant margin, with some calling for a 100 basis point hike.
However, there are concerns that the Canadian economy might plunge into a deep recession if the Bank of Canada (BoC) keep hiking rates to fight inflation in the country. Investors are concerned that if the Fed and the BoC continue hiking rates aggressively, both countries will plunge into deep recessions.
Some experts argue that the US is already in a recession but that the Federal Reserve is using lagging data to gauge the state of the economy. The same applies to Canada; many companies in the two countries have been firing employees, citing harsh operating conditions.
However, just like many experts warned the Federal Reserve that inflation in the US was not transitory and would become entrenched in a matter of months, the Fed completely ignored the warnings. Instead, it kept insisting that inflation was moderate and would normalise soon.
Now, both the Fed and the BoC are hiking rates at breakneck speed while ignoring the negative impact of the same. The same officials will restart QE in a heartbeat after their countries' economies are in a deep recession.
*This is not investment advice.
USDCAD price chart.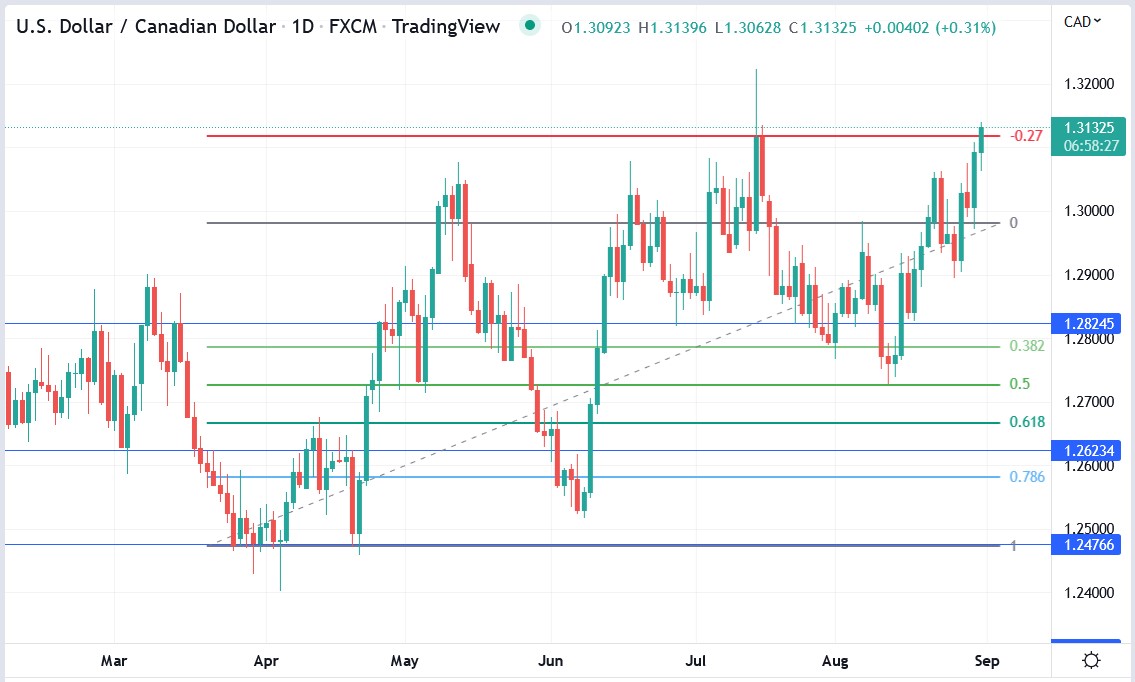 The USDCAD currency pair was trading up 45 pips (0.34%) at writing as the US dollar rallied against its Canadian peer.