Key points:
The Newage stock price plunged 30.9% after filing for bankruptcy.
Investors who chased the stock higher could be looking at losses.
The firm has repeatedly failed to file its financial results.
The Newage Inc (NASDAQ: NBEV) stock price plunged 30.9% after filing for Chapter 11 bankruptcy protection in Delaware. I had predicted the same in my last article on the company, warning investors to avoid the firm due to its fundamental flaws.

The company has received an acquisition offer from a "stalking horse" bidder of $28 million, which is almost half the company's current market capitalisation of $54 million. If the offer is approved, Newge's ordinary shareholders will get nothing in return for their shares since other creditors have priority.
Also read: The Five Best Momentum Stocks To Buy Right Now.
Newage is open to higher bids, but given the significant amounts of cash the company is losing, it is unlikely to find a bidder who will offer much more. The company has also secured a "debtor in possession" loan of $16 million subject to the court's approval that could fund its operations until the conclusion of the sale process.
The company has also applied to the courts to sell its assets to the stalking horse bidder, DIP Financing LLC, which could value its assets as a going concern instead of as standalone assets. Such a designation would make the assets worth much more than individual assets.
The recent rally in NBEV stock was driven by short-term momentum traders looking to make a quick profit on the stock, despite the looming bankruptcy. I would stay away from the stock regardless of any rallies due to the company's weak fundamentals.
Newage still has to get court approval of the schemes mentioned here. Even if the courts approve both applications, ordinary investors will still lose all their investments in the company. However, we could still see NBEV shares rally higher, driven by short-term trading activities.
Current shareholders should use any rallies as selling opportunities. The company has yet to file its annual and quarterly financial results and is headed for bankruptcy. Ordinary investors should avoid such companies at all costs.
*This is not investment advice.
Newage (NBEV) stock price.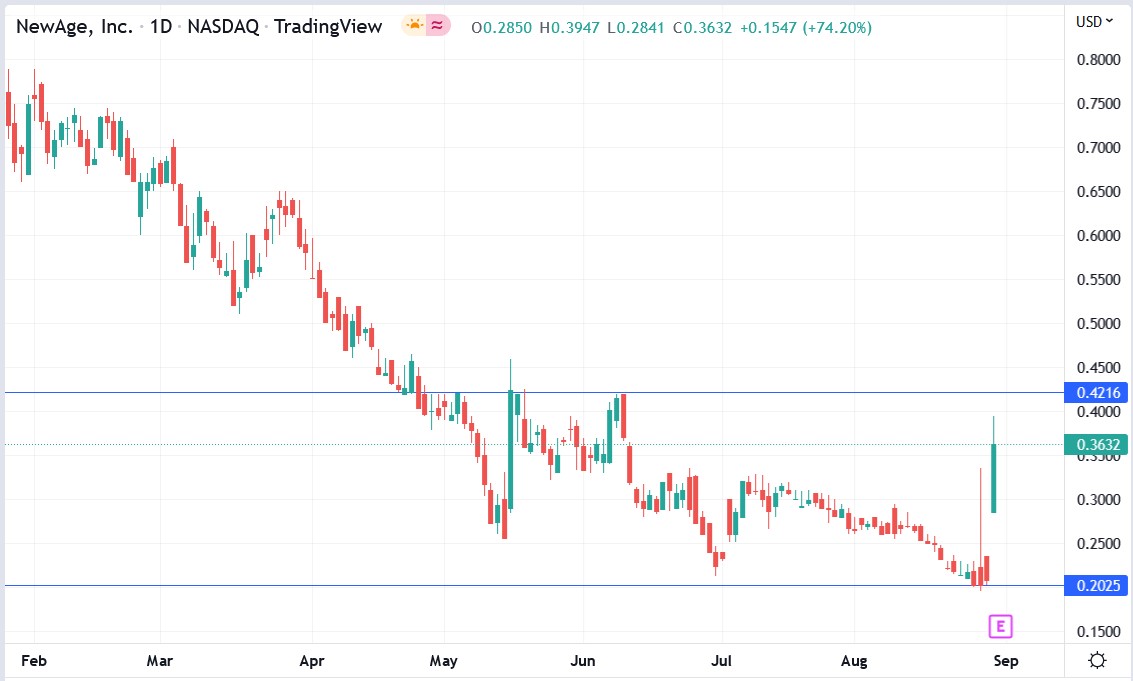 The Newage stock price plunged 30.90% premarket to trade at $0.25, falling from Tuesday's closing price of $0.36.