Key points:
Luna Classic (LUNC) just added staking functionality to its blockchain.
Investors embraced the upgrade and staked over 101 billion LUNC.
The project's community is optimistic about its long-term potential.
The Luna Classic (LUNCUSD) price has risen 12.5% today, adding to the 17% rally witnessed yesterday as investors reacted positively to the latest upgrade to the crypto network, which recently hit the headlines after crashing and wiping out over $40 billion of investor funds a few months back.

The crypto was left to die after the Terra Luna crash, but it is proving to be a cat with nine lives. LUNC (Luna Classic) has risen 70.4% in the past month as investor interest in the project remains high despite the crash.
Also read: All You Need To Know About Crypto Staking In 2022.
The latest upgrade to the project brought the staking functionality to the crypto, and within 24 hours, over 101 billion LUNC had been staked, representing 1.46% of the crypto's total supply. The rapid uptake of the staking feature is evidence that investors holding the crypto are interested in what is going on with the project.
Many of LUNC's holders hope that the crypto will keep rising and trade at a decent valuation one day. However, there is little hope that the crypto will regain its previous highs, given that it once traded above $100 before the crash.
The latest Luna Classic upgrade was known as the V22 upgrade, and the project's developers are hoping that more LUNC holders will embrace the staking function and lock in their holdings to raise the project's overall value.
The project has one key advantage: the community of investors and stakeholders is keen to see the project rebuild its image and rise in value over time. Unlike many crypto projects that attract speculators keen to make a quick buck, investors stuck with Luna Classic are in it for long-term gains.
Meanwhile, many analysts are calling for a rebound crypto market as old Bitcoin whale accounts become active again. These wallets have been dormant for many years and are now moving, which could indicate that the crypto market winter could soon be over.
However, the Federal Reserve's easy money policies fueled a significant portion of the last crypto rally. I think the next rally will take off properly once the Fed reverses its current hawkish stance and resumes its QE policies to stave off a deep recession in the US.
*This is not investment advice.
LUNCUSD price chart.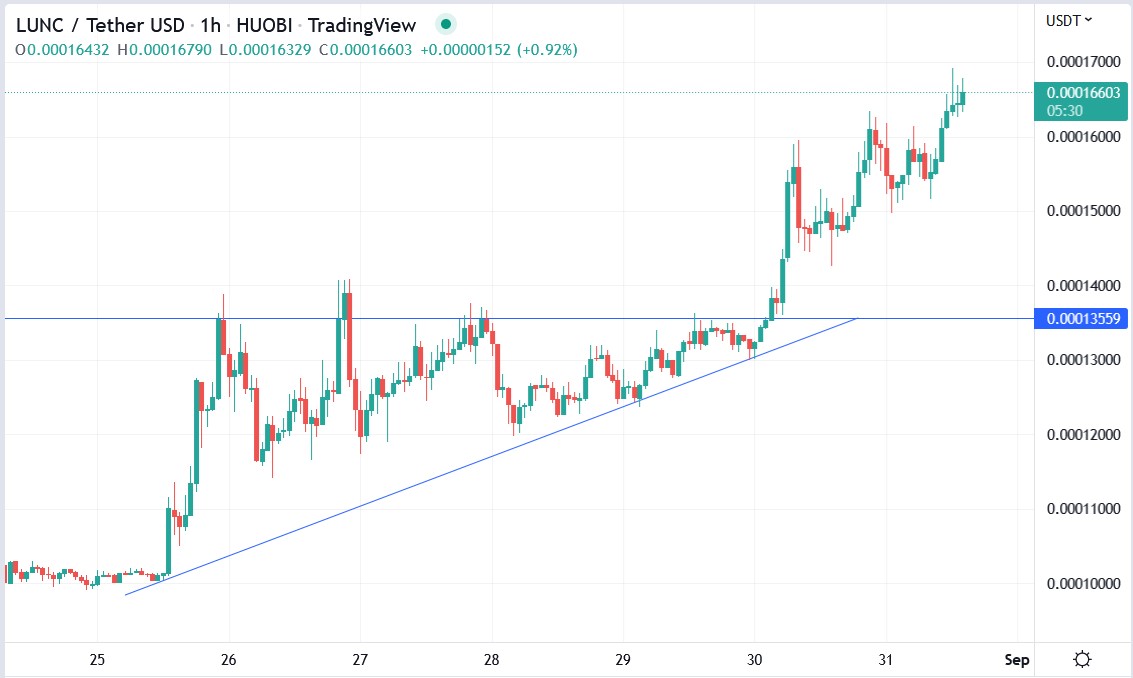 The LUNCUSD crypto price has risen 12.49% today, adding to the 17% rally witnessed yesterday amid a recovery.