The Vanguard Total Stock Market Index Fund ETF (NYSEARCA: VTI) stock price will likely end the week over 3% lower as US stock indices trade far below the 50-day EMA line.

VTI stock price first fell below the 50-day EMA on 20th September, following a massive selloff in US equities triggered by concerns over the country's growth momentum.
Investors were also worried about the Evergrande debt crisis spilling over into the US and other global markets, hence, the massive selloff.
Leading tech stocks including Microsoft, Amazon, Apple Inc, and Tesla led the move lower as investors worried about their future growth. All the 11 major sectors on the S&P 500 also fell amid a broad stock market selloff on that day.
VTI stock tried to rise back above the 50-day EMA and managed to do so on September 23, 2021, and managed to stay above the crucial indicator for three days before falling below it for the second time.
It appears that VTI, which tracks the movements of all the major US stock indices, will end the week over 3% lower than it was on Monday.
Investors are also worried about the Biden administration imposing higher corporate taxes on US companies, which will likely slow down their growth, leaving them with fewer funds for capital investment that generate growth.
VTI stock was 0.45% trading higher during the premarket session as all the major indices posted similar gains in a bid to recoup some of the week's losses.
Investors will keep a close eye on the markets into the open to see if VTI sustains its current gains as stocks rally higher to end the week on a positive note.
The RSI indicator is not yet in the oversold territory from a technical perspective, as shown below. Still, the VTI is long overdue for a rebound, given yesterday's sharp decline.
Investors buying stocks today may benefit from the rally,w which could extend into Monday.
*This is not investment advice.
VTI stock price.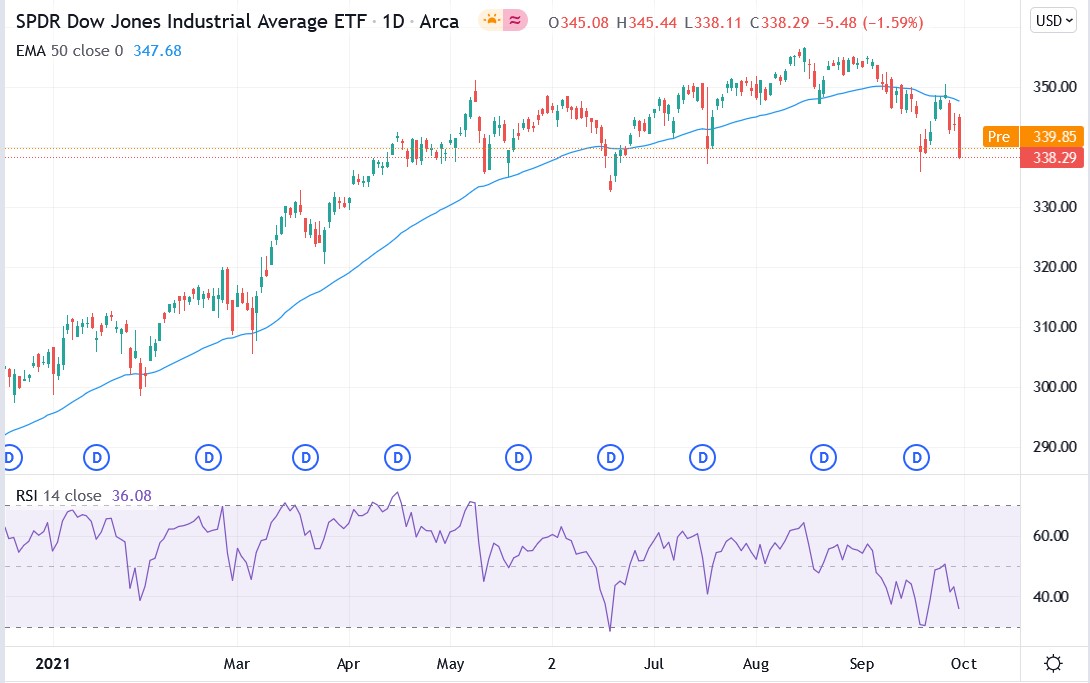 VTI stock price will likely end the week over 3% lower as all major US stock indices closed lower.
Should you invest in VTI?
Tech stocks offer some of the best growth potential, but time and time again, traders and investors ask us "what are the best tech stocks to buy?" You've probably seen shares of companies such as Amazon and Netflix achieve monumental rises in the past few years, but there are still several tech stocks with room for significant gains. Here is our analysts view on the best tech stocks to buy right now