Key points:
Alien Metals (UFO) shares trade sideways on interim H1 results.
Investors muted reaction to the release shows their familiarity with them.
So, should you buy Alien Metals (UFO) shares? Read on to find out.
The Alien Metals Ltd (LON: UFO) share price traded sideways, alternating between gains and losses after releasing its half-year results for the six months ended 30 June 2022. Investors muted reaction to the report was because much of the report's content had been reported during the period.

For example, the company reiterated its drilling results from its Hancock Iron Ore Project, where it discovered High-Grade Direct Shipping Ore (DSO) at a grade of 62.7%, with plans to start production next year.
Also read: The Best Copper And Mining Stocks To Watch In 2022.
Alien Metals also reminded investors that it had acquired 100% Vivash Gorge Project expanding its interests in Western Australia. The company also owns 100% of the Elizabeth Hill Silver project and the highly prospective Munni Munni PGM deposit.
The mining and exploration company reminded investors that it had discovered high-grade silver assays at Elizabeth Hill, including 9.7m @ 8,326 g/t Ag (267oz/t Ag) from 15m in drill hole 21EHDD003, 24.8m @ 829 g/t Ag (27oz/t Ag) from 2m and 1.7m @ 19,865g/t Ag (639oz/t Ag) from 23m, in drill hole 21EHDD001.
Investors were already familiar with the above results, which explains today's muted response to the interim half-year results. The Elizabeth Hill project also has a diverse range of deposits, including copper, iron, nickel and zinc.
Alien Metals had assets worth $16.9 million compared to last year's $8.7 million, with $3 million in cash versus 2021's $3.7 million cash reserves. The firm's liabilities rose to $0.9 million from $0.2 million in 2021. The company incurred a loss of $1.4 million in the six months.
So, should you buy Alien Metals shares? The short answer is yes. Based on the company's prospects, it is evident that it can generate significant revenues starting as early as next year from its various projects that have high-grade mineral deposits.
Very few mining companies have access to even one high-grade deposit, yet Alien Metals has access to multiple license areas with high-grade deposits of critical metals.
*This is not investment advice.
Alien Metals share price.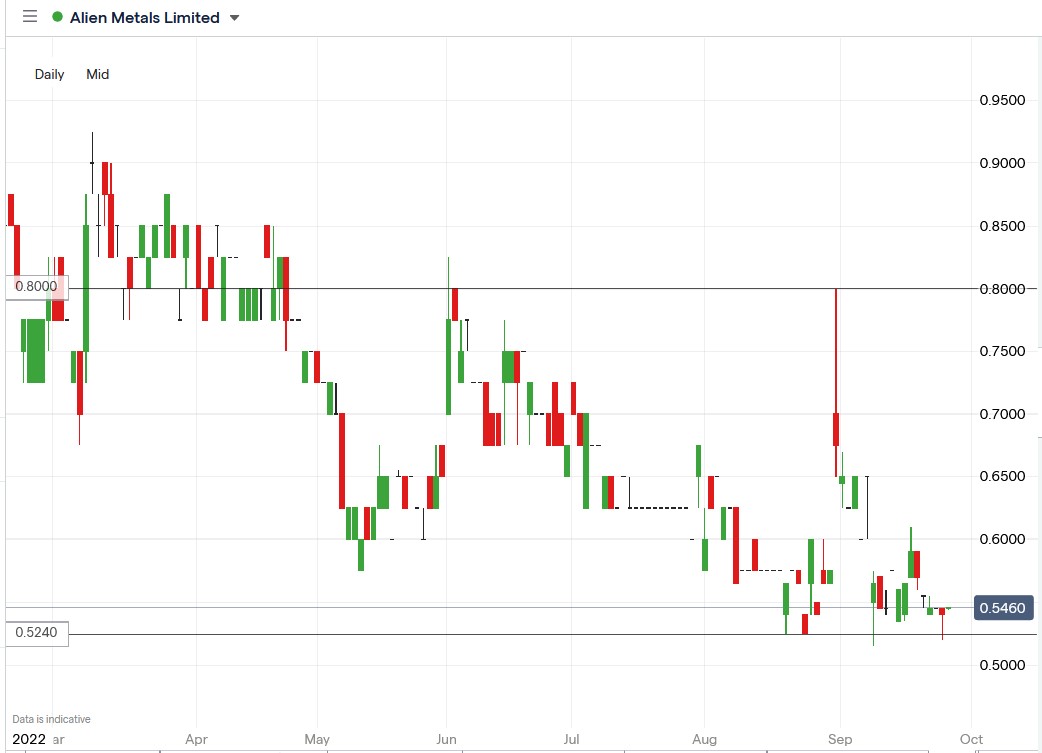 The Alien Metals share price alternated between gains and losses within a narrow range.