Key points:
Polkadot Base Intact
Polkadot Bullish Price Forecast
Polkadot Mini-Explainer
Polkadot (DOT) is trailing out an intermediate-term bottoming pattern, having rejected a more bearish shift last week. This sets up a more positive outlook in the short-term, and potentially also for the intermediate-term prospects. Here we look at upside forecasts and add in a mini Polkadot explainer.

Polkadot Base Intact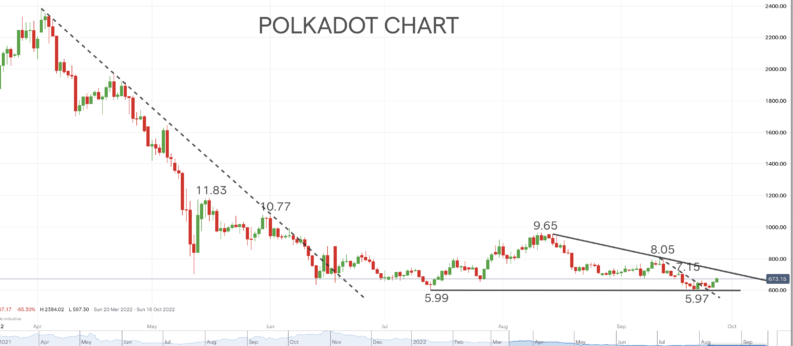 The intermediate-term bottoming pattern that has been developing since the July bear market low was posted at 5.99 was challenged last week with the probe down just below this chart support to 5.97. The subsequent bounce from here and the rally efforts this week have indicated a rejection, at least for now, of a resumption of a bigger bearish theme. This then sets up a more positive tone in the short-term, into early October.
The more positive outlook is reinforced by the July-August rally up to 9.65, which established the bottom through bear market resistances from June and July.
Polkadot Bullish Price Forecast
Whilst holding above the lows created at 5.99/5.97, we see the intermediate-term bottoming pattern as intact and see the threat higher into late September and on into October. Into next month the targets would be back to the recent September peak at 8.05 and possibly as high at 9.65. Into year-end, the risks would be still higher, maybe towards May/ June highs at 10.77/11.83.
However, a notable surrender of the lows at 5.99/5.97 would signal a resumption of the 2022 bear market and minimally target a move towards 3.50, maybe 2.25.
Polkadot Mini-Explainer
Polkadot is a blockchain that is designed to support other blockchains. It is a layer-1 blockchain protocol that allows blockchains that are not connected to communicate with each other. This allows seamless value or data to transfer securely. It is easily possible to connect the Ethereum and Bitcoin blockchains on Polkadot without the necessity for an intermediary. You can think of the Polkadot crypto platform as a network, which is made up of other blockchain systems. Polkadot is viewed as a more eco-friendly cryptocurrency.
According to their own site at Polkadot.network, "Polkadot is built to connect private and consortium chains, public and permissionless networks, oracles, and future technologies that are yet to be created. Polkadot facilitates an internet where independent blockchains can exchange information and transactions in a trustless way via the Polkadot relay chain"