Key points:
Wizz Air shares did not soar despite upbeat April passenger numbers.
Investors barely reacted to the upbeat figures as they were already priced in.
However, Wizz Air's prospects remain positive as travel demand rises.
Investors were disappointed to see Wizz Air Holdings Plc (LON: WIZZ) shares trading sideways after the low-budget airline revealed that it carried 3.6 million passengers in April 2022 compared to 953,094 passengers in April 2021 due to the COVID-19 pandemic's impact.

Investors were pleased when Wizz air revealed that it had acquired two daily slot pairs from Vueling at London Luton Airport, increasing the frequency of its flights to and from Romania while adding an extra 167,000 seats to its carrying capacity. The move makes Wizz Air the largest carrier operating from London Luton Airport.
The market's muted reaction to today's impressive figures was because investors were already expecting the positive news and were not surprised when the airline delivered results that met their expectations.
Today's lack of action in Wizz Air's price action is a classic example of the "buy the rumour, sell the news" scenario that most market participants are accustomed to. Still, this should not distract us from the impressive nature of Wizz Air's results and their impact on the airline's future.
Wizz Air was one of the few airlines expanding their operations during the pandemic struck years of 2020 and 2021 when many other airlines were retrenching their staff to cut costs and reduce their fleet of aircraft.
The budget airline headquartered in Budapest, Hungary, is on a hiring spree as it seeks to expand its fleet of aircraft from the current fleet of 140 aircraft to 500 aircraft by 2030. In addition, the airline is looking to hire 4,600 pilots by 2030 to operate its expanded fleet.
Wizz Air ordered 102 aircraft at the Dubai Airshow on 14 November 2021, composed of 75 A321neo and 27 A321XLR aircraft. As a budget airline, Wizz Air prefers to use smaller or secondary airports to lower the service fees associated with airport services.
Wizz Air shares have risen 12.16% in the past month but are still down 23.33% in 2022 amid the broader selloff in UK shares. However, the shares have been inching higher since late March, and the rally could continue, given today's impressive results.
The next target for Wizz shares is at 3500p if the uptrend continues. Analysts at Barclays have a 4,300p target on Wizz Air and an overweight rating, while Citigroup has a sell rating on the stock with a 2,900p price target.
*This is not investment advice. Always do your due diligence before making investment decisions.
Wizz Air share price.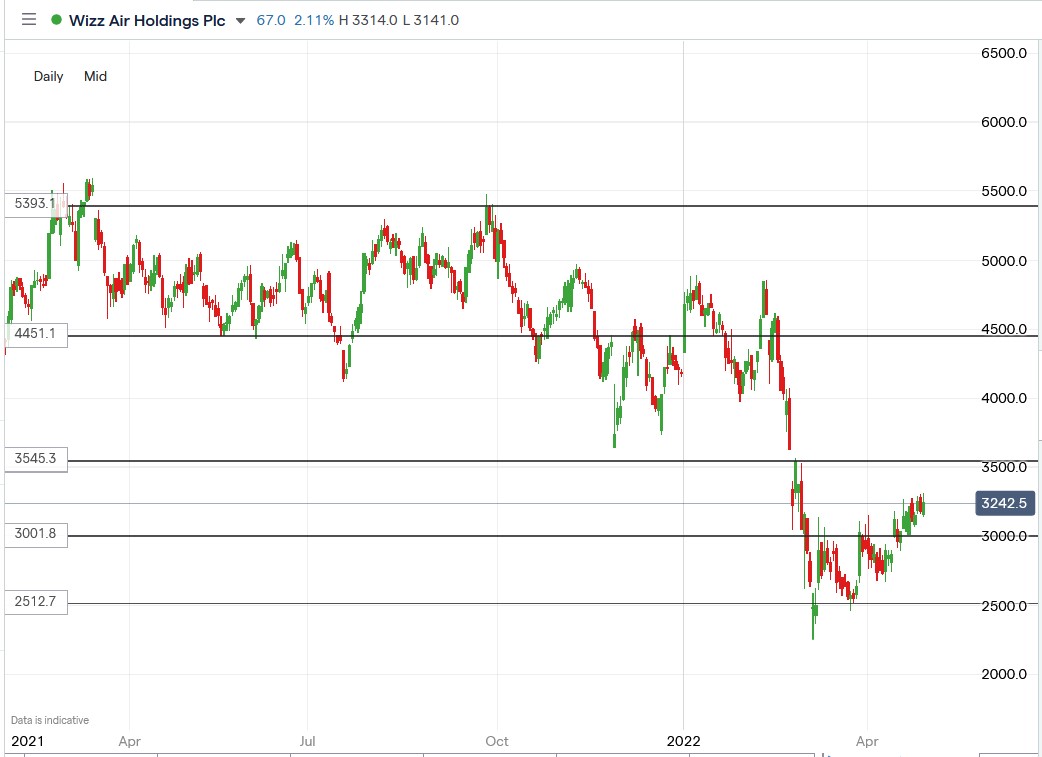 Wizz Air shares have risen 12.16% in the past month and could be headed higher.