Key points:
British Airways owner (IAG) shares are down 31% this year.
The airline group faces several challenges that affect the entire industry.
So, can IAG share rally higher? Read on to find out.
The International Consolidated Airlines Group (LON: IAG) shares are down 31% in 2022 as the airline industry struggles to meet the massive demand from travellers eager to finally travel to their preferred destinations after lifting most travel restrictions.

IAG shares have fallen as the airline group operating Britsh Airways, Aer Lingus, and Iberia airlines had to cancel thousands of flights during the summer. In addition, the airline group recently revealed that it would have to cancel over 10,000 flights during winter.
Also read: The Best Travel Stocks To Buy Right Now.
The current problems facing IAG are not unique to it since all airlines are facing similar problems, which are mainly related to the actions taken by airlines to remain afloat during the COVID-19 lockdowns of 2020 and 2021. Many airlines furloughed their staff and parked their planes.
Most airline employees, especially pilots, are asking for higher pay to deal with the rising cost of living triggered by the rising inflation in the UK and worldwide. Many former airline employees also changed careers during the lockdowns leaving the entire industry widely understaffed.
So, where does IAG go from here? Can it keep growing? The airline group reported an operating profit of €293 million in Q2, with its after-tax profits at €133 million. The group's revenues rose to €7.64 billion in the first half of 2022, marking a significant improvement from the €1.14 billion recorded in a similar period in 2021.
The falling crude oil and jet fuel prices could play a significant role in IAG's share price rally due to lower operating costs. In addition, the airline group has implemented various cost-cutting measures that could significantly affect its future profitability.
IAG shares are currently trading above a crucial support level held in the past, which could trigger a higher bounce if buyers come in and push prices higher. However, only time will tell. For now, the odds favour the bulls if the support level holds.
*This is not investment advice.
IAG share price chart.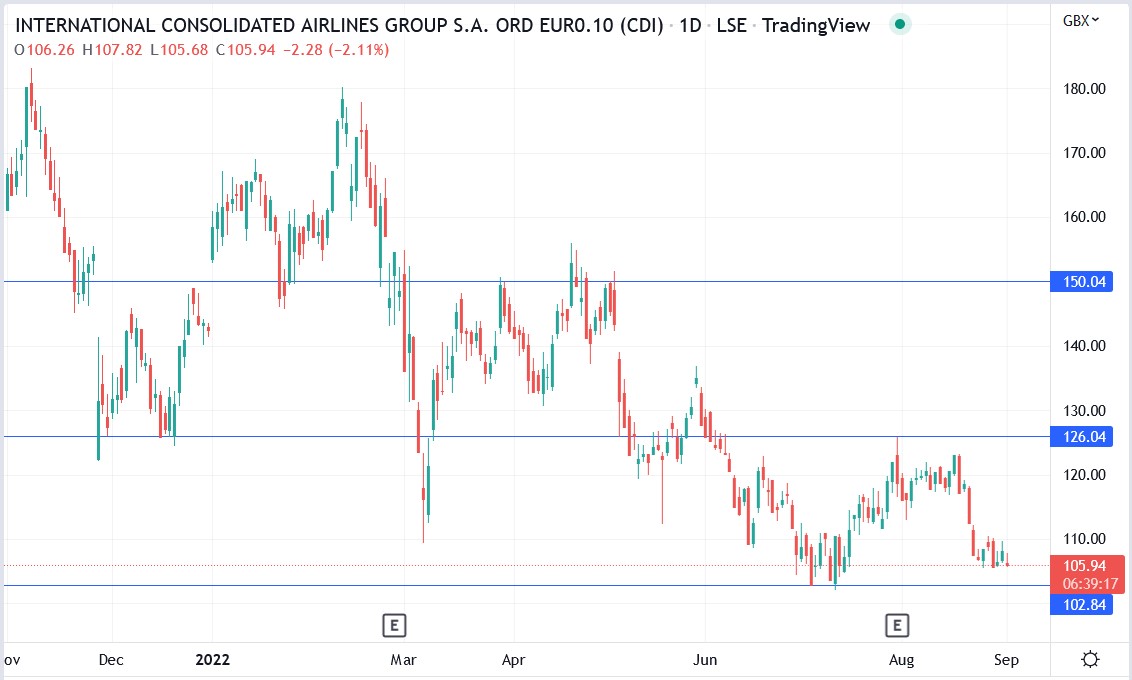 The IAG share price has fallen 9.66% in the past month, bringing its total losses this year to 31%.