Key points:
Rio Tinto has upped the bid for Turquoise Hill
This has gained the agreement of the special committee
That's pretty much it for traders, there's a small carrying profit to be had
Rio Tinto (LON, RIO) and (NYSE: RIO) now seems to have won the hand of the fair maiden, Turquoise Hill (NYSE: TRQ) with an improved offer. This is at $43 – but be careful, that's CAD$ 43. Which is, at current exchange rates, about $32.60. any profit to be made now is the difference between that and the current market price which is about $31.23 (in USD). In terms of trading profits that's pretty much it, something which in the current environment might well not be counted as a profit at all.

The background to the story, there's a vast copper and gold mine in Mongolia called Oyu Tolgoi and the Mongolian government has a piece of that. TRQ has the rest, but then Rio Tinto has a large piece of Turquoise Hill. This isn't unusual at all. The prospecting company often does sell out to one of the major miners when the billions upon billions necessary to develop a large project have to be coughed up. Which is, essentially, what is happening here.
However, given that Rio already owned the majority of TRQ it had a duty to treat the minority shareholders well – well enough at least. As we explained before about Rio Tinto they're in a repeat game, one with many iterations. At some point in the future they'll want to buy out some other set of minority shareholders – that's just how the game is played. So, they need a reputation for not shafting them – nor being too, too, generous.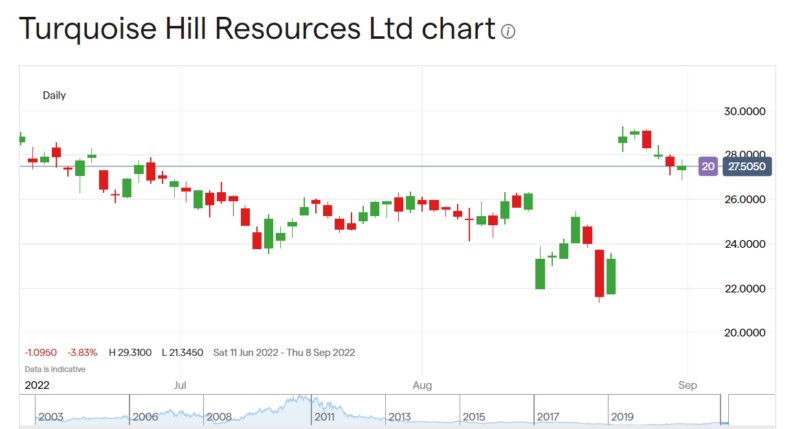 Also Read: The Best Copper And Copper Mining Stocks to Watch in 2022
That minority position meant that there had to be a special committee at TRQ to approve the price to be paid. They rejected the first offer from Rio and were mulling over the second. At which point Rio Tinto has upped the second TRQ offer and they've agreed. Excellent, ginger beer all 'round.
This does still leave us though with the question of what should we do? For there is a profit to be had there. Buy at the current market price, wait to receive the check from Rio and profit! For there is about $1.40 (USD) in between those two prices. And if that's the sort of margin that we want then why not do exactly that?
The problem with this being that we've got – not accurately, but about – 10% inflation at present. Call that, just in aid of mental arithmetic, 1% per month. The 4% we can earn by buying now and holding is equivalent to 4 months loss to inflation. And the deal is expected to close "as early as" Q4 2022. Which is, you know, 2 to 4 months away or thereabouts as a likely closing date.
Sure, we'd protect ourselves from inflation over that period but that's about all – and we do hope to do better than that with our trading. There's not going to be another bid from anyone else, this is Rio's final offer. Other than that highly marginal carrying profit that's it, the RIO and TRQ story is over.