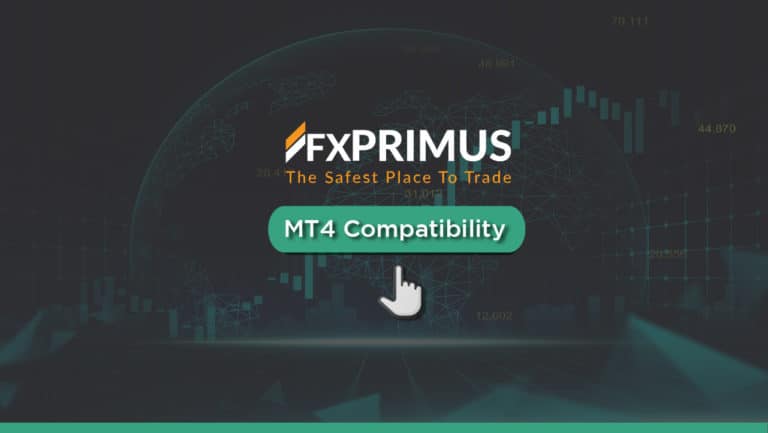 Can You Use the MetaTrader 4 with FXPrimus?
Yes, FXPrimus offers the state of the art MT4 platform across all computers and mobile devices. So, it doesn't matter which account type you register for since FXPrimus only provides the world's # 1 CFD trading platform for all its clients. You can access all the financial instruments from the web, desktop, or Android, iOS.
But before we take a look at the CFD broker's MT4 offering, let's quickly go through the steps involved in opening a trading account.
Types of Accounts Available on FXPrimus
Standard Account
Premium Account
VIP Account
While the Standard Account is for freshers, the Premium is for experts, and the VIP for clients looking for exclusive features. In our extensive FXPrimus guide, we take you through the step by step procedure to open a Live Premium Account and highlight how you can link your account to the FXPrimus MT4 platform. So, let's get started
How to Open Fxprimus Live Account
To open a Live Account, go to the 'Accounts' section from the 'Trading' tab on the website and click on 'Account Comparison.'
Select the account type that matches your experience, trading style and click on 'Open an account.'
To start the account opening procedure, you have first to fill out an email confirmation form and hit the 'Register now' button to continue.
Verify your email address to access the client area from where you can complete the rest of the registration process.
The FXPrimus account opening form comprises four sections- Personal details, trading knowledge & experience, documentation, and the trading account type. Fill out all the info, and before hitting the 'Submit' button, make sure to read the client agreement, privacy policy and risk disclosure.
Once you click on 'Submit,' you can download the FXPrimus MetaTrader 4 platform from the member's area, deposit funds and start trading in the Live markets or access the free demo account for 30-days.
How to Download MT4 for FXPrimus?
To download MetaTrader4 for FXPrimus, you need to first login to your FXPrimus account.
Then, under the trading 'Tab,' hover over the 'Platform' tab and go to the 'Platform Overview' page.
Once you are directed to the Platform Overview page, select the version of MT4 you want to install.
Finally, you can click on 'Download MT4' to proceed. You will then have to click on the installer and run the downloaded file as per the usual.
FXPrimus MT4 for Windows
The MetaTrader 4 platform for Windows is capable of processing dozens of different financial instruments and is used by retail investors to buy and sell currencies.
Its distributed architecture, robust security system, and convenient mobile trading are core competencies that give MetaTrader 4 its compelling competitive advantages, offering the perfect solution to the even most demanding trading needs.
FXPrimus MT4 for Apple
MetaTrader 4 for iOS allows traders to trade on the full range of financial instruments available with FXPRIMUS via their desktop or mobile Apple device. All essential technical indicators are included and can be customised according to each trader's preference.
With functionality that is nearly identical to the desktop trading platform, FXPrimus MT4 for Apple allows traders to trade on the go, anywhere possible.
FXPrimus MT4 for Android
Just like FXPimus MT4 for Apple, the Android OS app enables you to be on the FXPRIMUS platform while you're on the go from any compatible Android mobile device. It has all the desktop version features and functionalities, including customisable tools and full access to your trading portfolio.
FXPrimus MT4 WebTrader
FXPrimus MT4 is also available to access via their desktop or mobile device, without any downloads required. The WebTrader is particularly useful for new traders to explore the demo environment before opening a Live account.
How to Connect FXPrimus Account to MT4?
Once you have downloaded MetaTrader4 for FXPrimus, it is now time for you to connect your accounts. Below are the steps to secure your FXPrimus account for MT4.
Open MT4, and select the server you would like to use for your account type. For variable accounts, select ' FXPRIMUS-Live. For MAM or PAMM accounts, select 'FXPRIMUS-Live-2', while 'FXPRIMUS-Live-3' is used for ECN accounts.
Once the server is selected according to your account type, click 'Next.'
Now, you can directly login to your existing account, or you can also create a new account to start trading.
MT4 System Requirements
There are some system requirements for using the MT4 platform. Below you'll find a table with the minimum and recommended system requirements to install and run MT4 on your computer.
| | | |
| --- | --- | --- |
| MT4 | Minimum Requirements | Recommended Requirements |
| Operating System | Windows Server 2012 RS Standard x64 | Windows Server 2016 standard x64 |
| CPU | Intel i7 4xxx series quad-core or higher | Intel Xeon E3, E5 series quad-core or higher |
| RAM | 8 GB | 16 GB |
| HDD | RAID-1 array with 2×1 TB SATA HDDs | RAID-1 array with two 480GB SSDs |
| Monitor Resolution | 1280×800 | 1280×800 or more |
| Network | 100 Mbit/s Ethernet with 10Mbit/s bandwidth | 100 Mbit/s Ethernet with 50Mbit/s bandwidth |
The MT4 Platform
The MT4 platform is accessible as web, desktop, mobile application, and supports CFD trading in FX, stocks, indices, commodities, cryptocurrencies, and derivatives. The web platform allows you to start trading directly from your favourite browser and operating system; all you need is an internet connection.
On the other hand, the desktop platform is the downloadable version to carry out the manual, automated, and copy trading. The FXPrimus mobile app supports Android, iPhone, iPad devices, and traders on the move.
The MT4 comes with a user-friendly interface that helps you understand all the functions, operational parameters, and a detailed user guide for users unfamiliar with the platform. The platform supports Windows, Linux, Mac OS, Android, and iOS.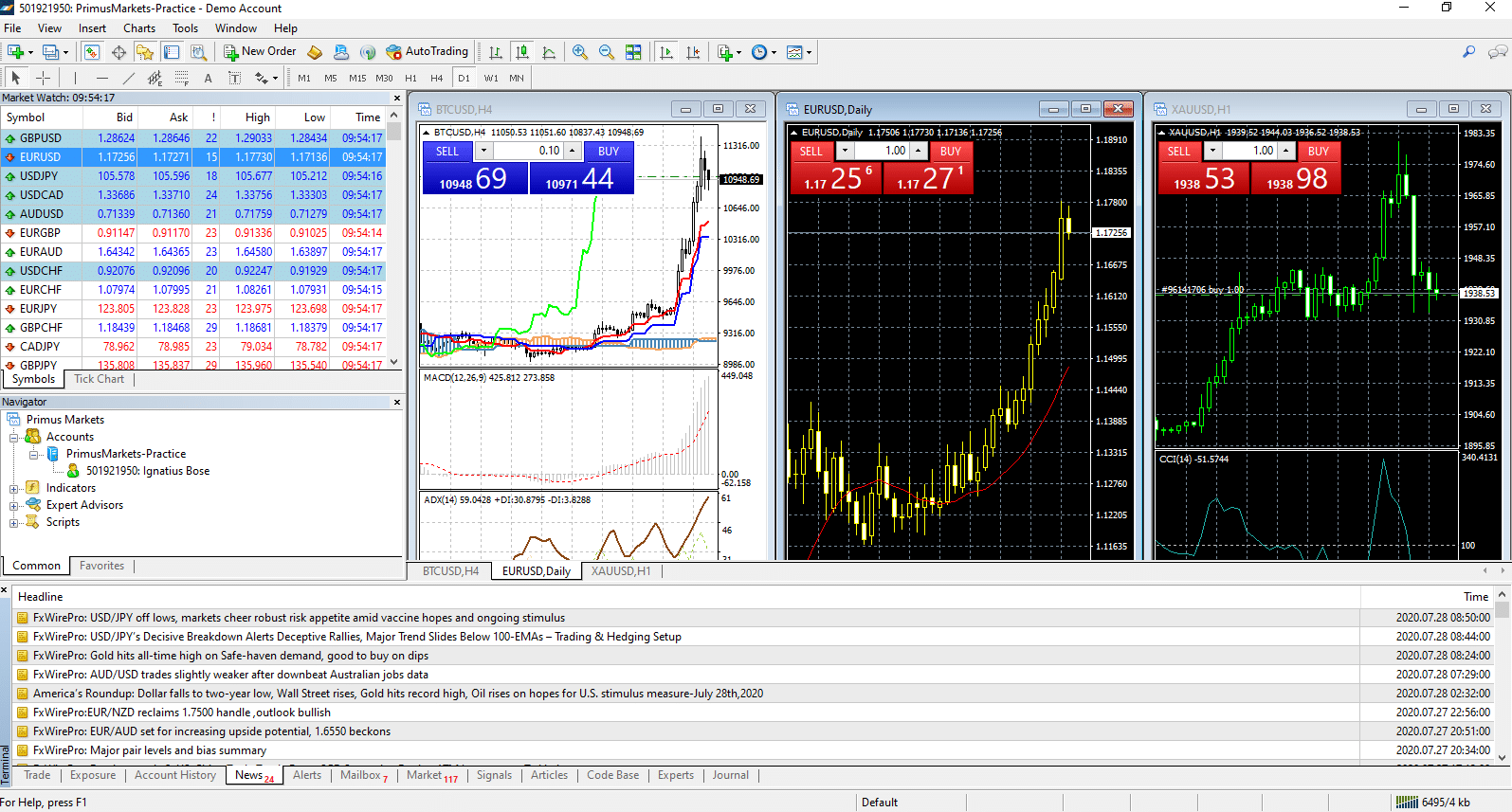 Features of the FXPrimus MT4 platform
The FXPrimus MT4 platform comes with a range of default features and analytical tools. These include
Three types of order execution modes- Instant, market, and pending.
Three charts in nine-time frames- One minute-one month.
Trading tools comprising 30 technical indicators, 24 graphic objects.
Trading Robots or Expert Advisors (EAs) to execute automated trading.
The option to download, rent, or technical purchase indicators, expert advisors from the Codebase.
An MQL4 IDE development environment to create, test and optimise trading robots.
Access to an extensive database of research articles, forums and the option to interact with members of the MQL5 community
Besides the above features, FXPrimus has included several advanced analytical tools. You can download them on the FXPrimus demo or live MT4 desktop platform from the 'Trading tools suite.' Some of the prominent features include
Connect– Allows clients to access news feed, funding options, and view the broker's promotions.
Market Manager– Monitor the markets and your positions without opening your platform.
Sentiment Indicator– View the symbol-wise percentage of long-short positions of FXPrimus traders.
Mini Terminal– Control instrument-wise lot size, S/L-T/P, trailing stops, and place one-click orders.
Trade Terminal– A customisable window to place one-click orders.
Stealth Orders
Copy-trading– Via the FXPrimus PAMM accounts.
VPS Service– Available for clients with a minimum account balance of $500. Monthly fee- $30
FIX/API – Platinum API is available for clients with a minimum deposit of $50,000.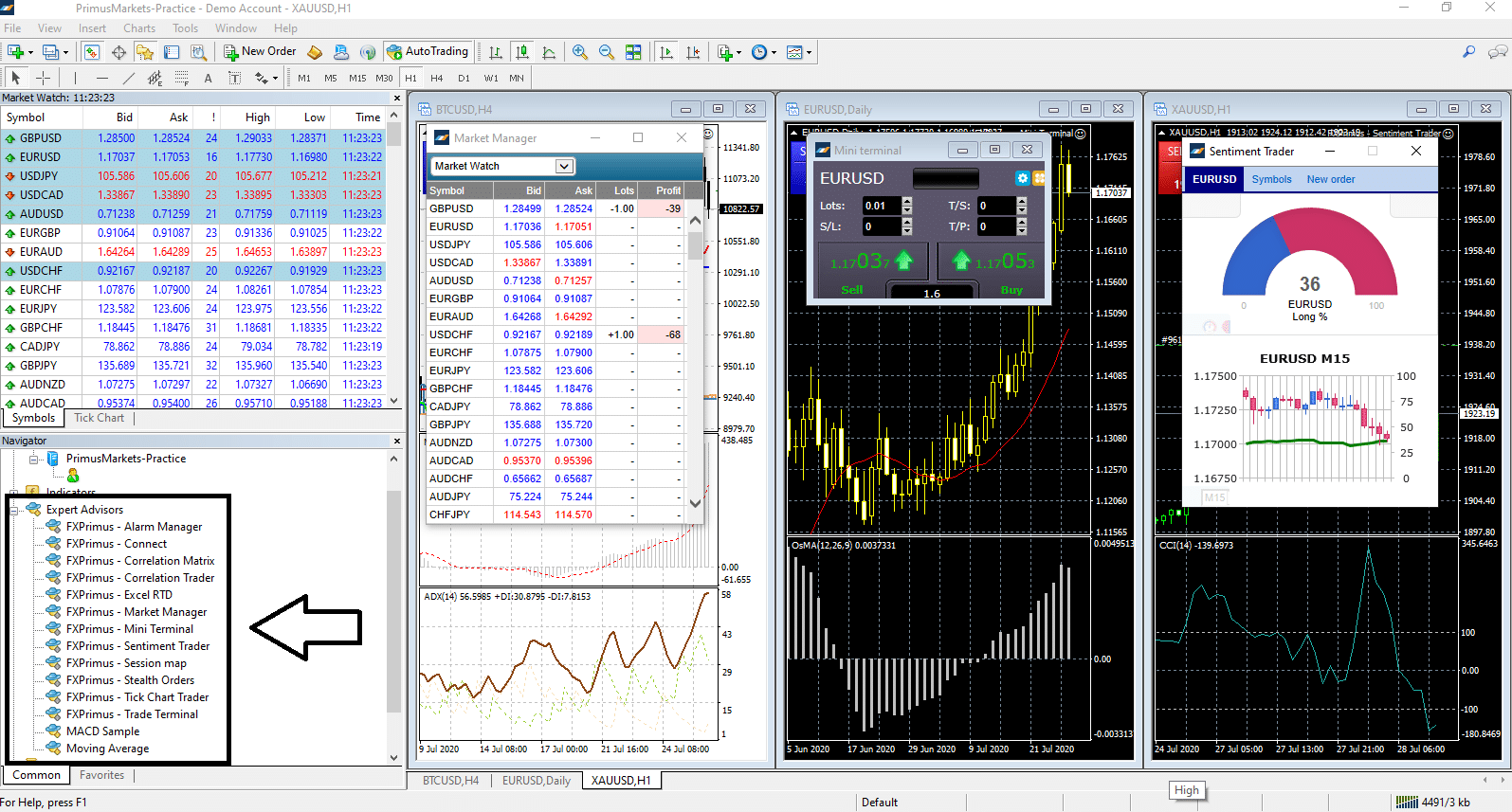 FXPrimus MT4 Support and Training
FXPrimus provides traders with extensive support and training available on its platform. The supports include:-
Weekly Outlook – Provide traders with weekly analysis by experienced analysts from across the globe
Seminars – FXPRIMUS frequently hosts seminars around the world to educate traders of all levels.
Expert Guests – The platform provides opinions, news, research, analyses, prices, and other information by expert traders worldwide.
Educational Videos – Educational videos are available on the platform and useful for beginners to learn how to trade with the platform.
Summary of the FXPrimus MT4 Platform
FXPrimus only offers the MetaTrader 4 to all its clients, unlike some other CFD brokers who also provide additional trading platforms. However, the key advantage of the FXPrimus MT4 is the opportunity to access several advanced analytical tools for informed trading decisions.
People who read this also viewed: