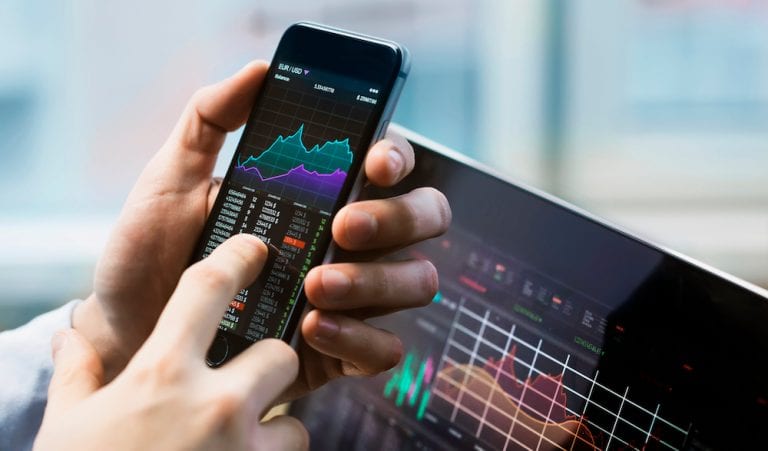 Choosing whether you should close your trading account can often be a difficult decision. Especially with how difficult a number of trading platforms make this process. You might think that you will end up in a battle with Spreadex customer service if you take the plunge to contact Spreadex to close your account. This is not the case. While Spreadex will undoubtedly be sad to see you go, the only barrier between you closing your account is the ability to get in touch with them.
We are going to go through the different pros and cons to closing your account as well as how to carry out the task. We will also cover any other information that you might need when it comes to closing your account with Spreadex.
How to close my Spreadex account?
Closing your Spreadex account is a relatively simple process. All it requires is for you to send a letter to the address that can be found in the "contact us" section of their website. Once Spreadex has received this letter, they will close down your account for you. You can also use email or fax to get your written request to Spreadex faster, but you cannot close your account over the phone.

If you want to discover the status of your request, you can get in touch via the phone number or email address that is also available at this page. There are also other options that customers may want to take before closing their account. This is especially useful for people who feel that they may be suffering from gambling issues.
There is an alternative to Spreadex deleting your account, this starts with taking a time out from the fixed odds betting and other gambling services that Spreadex offers. This can easily be accessed through the account tab on the platform. Here, you can set a time period that ranges from a day up to six weeks where your account will be unable to access these different services.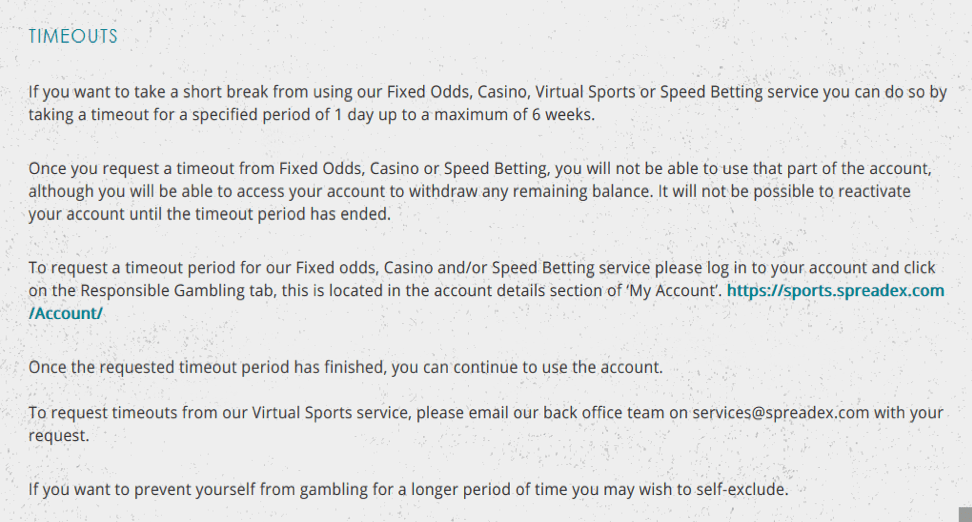 If this still does not solve the issue, then you can choose to self-exclude from one or all of the services that Spreadex offers for between six months and five years. There are a number of different ways for self-exclusion to be carried out. It can be done online through the account tab and then the responsible gambling tab. However, if you feel that logging into your account will provide too much of a temptation, you can self-exclude by emailing Spreadex or by getting in touch over the phone.
Finally, if you have deactivated your account then you can reactivate your account with minimal fuss. If it has been suspended, you will need to phone Spreadex in order to discover what the issue was and to get it reinstated. If you closed it yourself, then Spreadex customer service would require a request in writing that to open your account again.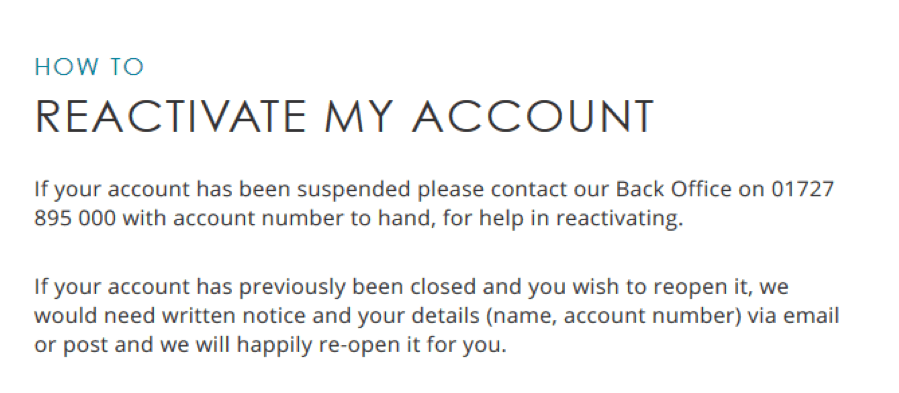 How do I find out Spreadex's terms and conditions?
Finding out the Spreadex terms and conditions is extremely easy. There are two main ways of doing so. The first is related to the search bar that can be found at the top of the screen.
Here, you can see the magnifying glass to the left of the login button. This will take you to the search screen part of the Spreadex website.
From here, you just have to type in 'Spreadex terms and conditions' and the search engine will find the relevant page for you.
The second way to find them is slightly quicker but requires a little bit more looking.
Just scroll down to the bottom of the page and on the left-hand side you will see in blue writing "terms and agreements."
Clicking on this link will take you to the same page that the search engine does.
Once you are on this page, you will be faced with a number of different pages that all feature different Spreadex terms and conditions.
The most relevant ones to people who want to ask Spreadex to close their account would be the customer agreement and key information documents. These will have the relevant information that you will need in order to close your Spreadex account.
How do I contact customer services?
Contacting Spreadex customer services is an extremely simple task.
When you first visit the site, there is a link at the top of the page that goes straight to the contact section.
Here you will find a postal address, multiple phone numbers and an email address. On top of this, there are also different pages for the different sections.
This is how Spreadex allow issues to be resolved faster. They have specialist departments, for example, their CFD trading and sports spread betting section have different customer service pages. This way the customer service operatives are able to provide a more specialised and efficient service to customers.
The Spreadex customer service number also has a number of different iterations. This is to allow customers from different parts of the world to choose the number that is most cost effective and relevant to their own situation.
What are the pros and cons of the Spreadex platform?
There are a range of different pros and cons to the Spreadex platform. Some of them will overlap for customers depending on their own personal situation.
Firstly, the platform is extremely easy to use and navigate. Finding different areas is not hard. This also applies to closing the account or self-excluding. Spreadex does not make information difficult to find for customers, which shows that although they do not want customers to leave, at the same time, they do not hold them hostage by making it harder than it should be to close your account.
Secondly, there is a wide range of different markets on offer to customers. They have everything from CFD trading to spread betting to fixed odds betting. They also include a casino with a variety of games available too. However, this also could be seen as a con if a customer develops a gambling problem. This availability to a number of different ways to bet could lead to customers trying lots of different ways to chase their losses and could lead to the problem getting out of hand a lot faster.
Thirdly, Spreadex offers an excellent range of customer service options. They give customers plenty of different ways to get in touch with them and the service is on the whole excellent. Issues are resolved quickly, and it is very rare that customers are treated unfairly. This also means that it is easy for customers to get in touch when it comes to closing down an account as well. Spreadex does require cancellations to be in writing. By making their customer service easy to access, it ensures that closing an account is not a difficult task. Spreadex also makes it very clear what the risks of spread betting are – there are no surprises to customers if they decide to take part in spread betting.
The only real major con when it comes to Spreadex is their lack of e-wallets. There is a valid reason for this, however, as it could allow problem gamblers to use other people's funds in order to chase losses.
Should I close my Spreadex account?
This is a difficult question to answer. Partly because the answer wholly depends on your own personal situation. If you do not have a problem with gambling and trading, then keeping your Spreadex account open is most likely the best course of action for you. This is because the pros of the Spreadex platform massively outweigh the cons. It is one of the best on the market, so if you are having a good experience with your betting and trading, there is no reason to close down your Spreadex account.
However, if you are having issues with gambling, it would be best to check the Spreadex terms and conditions and then contact Spreadex to close your account. This would be the case regardless of the trading platform that you were using. Problem gambling can quickly get out of hand, and the best way to deal with it is to make sure there is no temptation in front of you.
In general, closing your Spreadex account is not something we would recommend unless you are struggling. However, like everything, you have to take your own personal situation into account when making this decision. Even though the platform, on the whole, is very good, if there is something that you are unhappy with, it might be better to try out another platform. Just ensure that you check out other guides like this one to ensure that you find the right platform for you if you do decide to change.
PEOPLE WHO READ THIS ALSO VIEWED: