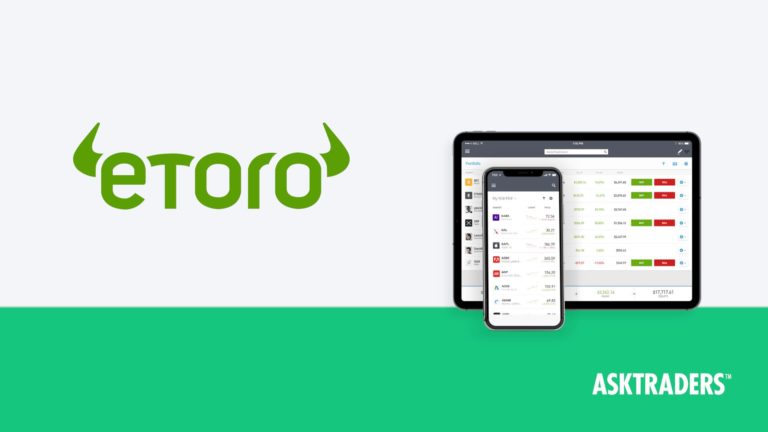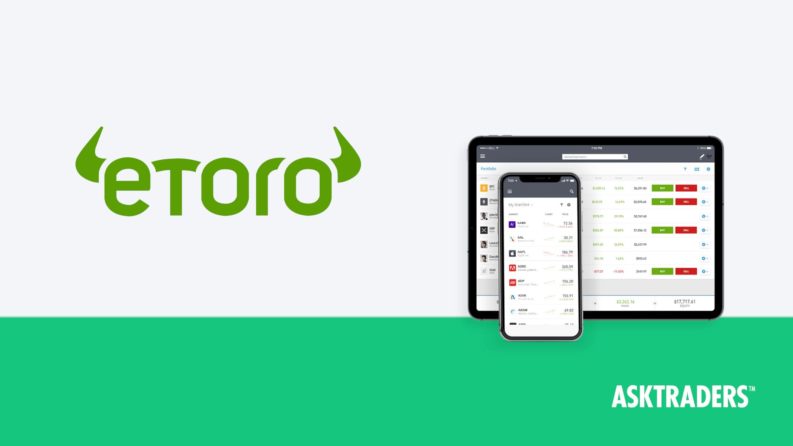 eToro is one of the bigger names in the crypto trading industry at the moment. It offers customers the ability to trade in a number of different coins and aims to provide competitive rates for traders in these areas. For US customers, it focuses solely on crypto trading, so there are no other aspects of the business to muddy the waters. It means that traders with eToro are given a dedicated service purely for crypto.
It offers a number of different options for traders to enjoy in terms of crypto trading, as well as copy trading services. With crypto being a relatively new area for traders to focus on, eToro also had educational materials available to beginner traders. This will allow traders to get up to speed with crypto trading and increase the chances of success.
#

Copy Trading Review
| | | | |
| --- | --- | --- | --- |
| Min Deposit | App Support | Max Leverage | Trading Fees |
| $50 | Good | 1:1 | Mid |
The copy trading at eToro is somewhat hit and miss. While the ability to copy trade is almost always a positive for traders who want the ability to follow a more successful trader, it can also bring about a false sense of security. It should always be noted that a trader won't find success and copy trading does not guarantee you successful trades. However, having the option to copy trade is certainly a marked positive.
Copy trading on eToro's US platform is conducted via its CopyTrader system, allowing users of all disciplines and experience to easily copy and replicate the strategies of the broker's highest-performing traders. eToro provides a clear pricing policy for its copy trading, with no hidden fees or costs. With millions of trader portfolios available, eToro's copy trading platform also functions as a community whereby traders are encouraged to collaborate, converse and share their knowledge.
For those new to copy trading, CopyTrader is also available in eToro's demo mode. It's worth noting that outside of the demo mode, a minimum of $200 is required to copy a user, a maximum allocation of $500,000 is permitted to trade and a limit of 100 of users can be copied at any one time.
eToro also promotes its Popular Investor program whereby copied traders earn a commission based on other traders copying their trades. The program follows a tiered structure with levels titled 'Cadet', 'Rising Star', 'Champion' and 'Elite' with payments received representing 2% of assets under management (AUM) annually at the top level.
So, if you're successful enough to have traders copying you, you will earn an additional income on top of the money you earn from your trades. If you gain enough of a following, then this could even cover your spreads, meaning that everything you make on trades is pure profit.
#1

Crypto
| | | | |
| --- | --- | --- | --- |
| Min Deposit | App Support | Max Leverage | Trading Fees |
| $50 | Many | 1:1 | Mid |
eToro has a great range of different cryptos available to traders. There are 14 different cryptos currently available. This includes the bigger name players such as bitcoin, ethereum and litecoin, but also covers some of the lesser-known cryptos such as tron and dash.
What is disappointing is that the eToro crypto-fiat currency pairs aren't available to US traders. This could add an extra layer to the trading platform and make it more appealing. However, this is a small issue, especially with the good number of cryptos that are available.
It's a simple trading choice with eToro, it doesn't complicate with lots of hyper complicated options. You can choose your order and then make your trade. It's as simple as that. Obviously, crypto can be more volatile than other trading options, especially in comparison to forex, which is the most comparable trade. It means that the live trackers for prices are extremely important when it comes to trading with crypto. Fortunately, eToro does have a live tracker available and makes it easy for traders to follow how each different coin is performing.
There are no commissions or hidden fees when it comes to trading crypto with eToro. It's purely based around spreads. While some of the spreads can be a little bit high, this does make it much easier to keep track of what you are spending — especially as there are no deposit or withdrawal fees. So, you won't take a hit on your trades just for withdrawing any cash you have made. However, it should be noted that if you want to transfer crypto to a different wallet, then there is a blockchain fee for the transfer.
What did our traders think after reviewing the key criteria?
Broker fees
There are a lot of positives when it comes to the broker fees that eToro has in place. It doesn't use commissions, so your bigger trades won't have significant fees taken away from them. It also doesn't have fees for deposits and withdrawals — another big positive. It uses spreads for trades, which means that fees are kept open and transparent at all times.
The spreads can be quite high, though — from 0.75% up to 5% — which can eat into trades at times. It is a slight negative, but this is obviously offset by the lack of fees in other areas.
In regard to withdrawals, there are no fees for a withdrawal to a bank account, but eToro does have a $30 minimum withdrawal amount attached. There are also fees attached if you withdraw to a crypto wallet. This is usually due to blockchain fees that can be attached when sending crypto.
If you leave your account dormant for 12 months, then you will also accrue inactivity fees. While they're certainly not the highest on the market, traders will be charged $10 per year as an inactivity fee. If you want to avoid this, simply log in once a year and make a small trade on your account.
Account types
eToro doesn't offer US traders any range of choice when it comes to accounts. There is just a single account available. Obviously, if you were trading with forex or CFDs, then you might need a range of different accounts, but for crypto trading, there isn't too much of a need for a range of accounts.
So, when you sign up to eToro, you will automatically get a standard account. It doesn't matter how much you trade, the spreads won't decrease. It means that you don't have to think about increasing your trading amount in order to get access to better spreads. You can just trade at your own level.
It also means that the features that are available can be used by everyone, so this is obviously a positive. For example, you can copy trade with the standard account provided — you don't need a specific account like you would with some other brokers.
Platforms
eToro provides its standard bespoke platform for its US crypto traders. This platform is very simple to use — the layout is easy to navigate and traders can find everything required to trade quite easily. While that might seem like a big positive, as traders become more experienced, they are likely to demand slightly more customization from their platform. The ability to manipulate the interface for access to important screens more easily is something that an experienced trader would want in order to time their trades correctly, for example.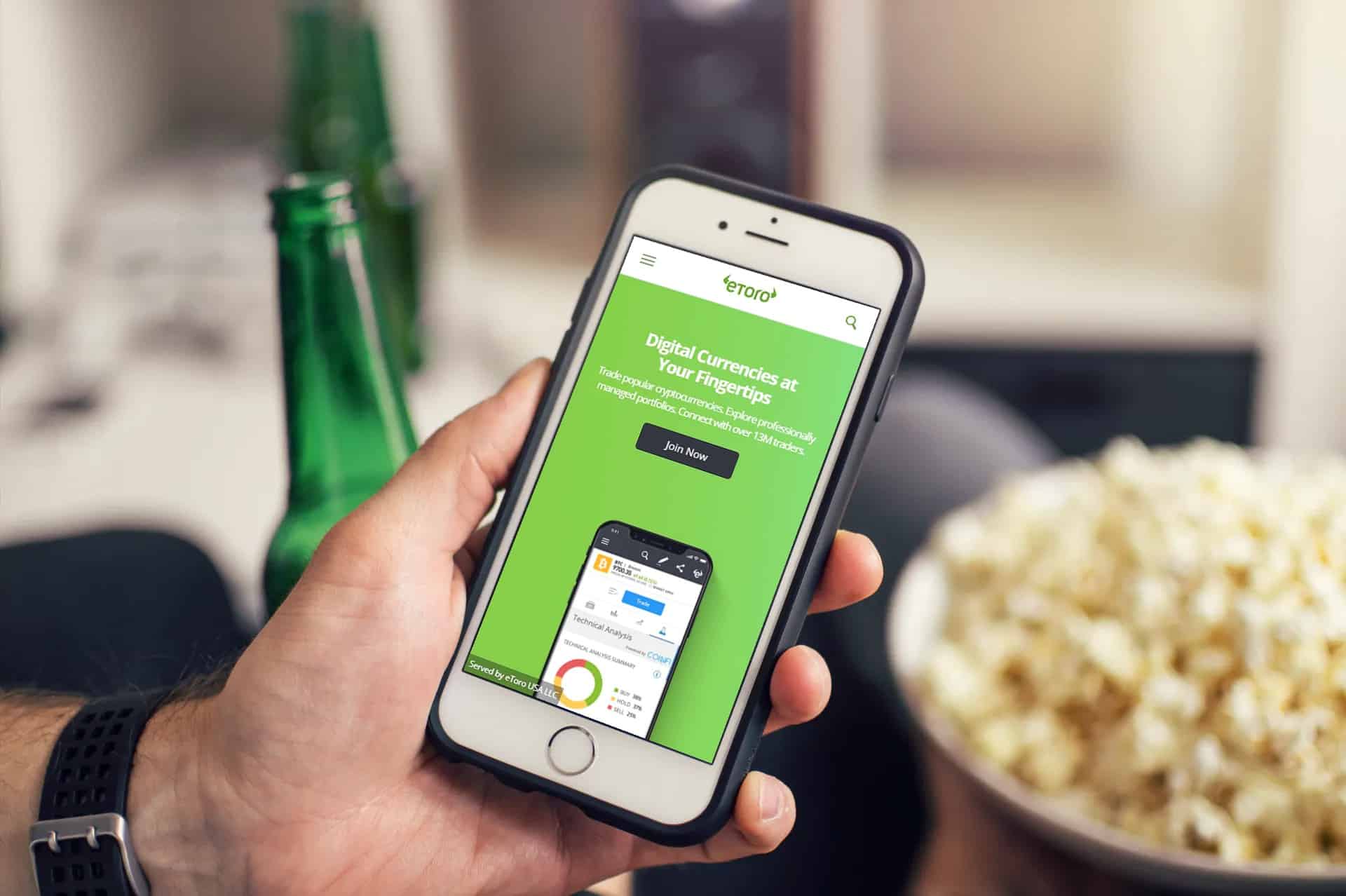 So, while the platform is excellent for beginner traders, for more experienced traders it might end up being a slight hindrance.
eToro App
The eToro app is a great way to trade crypto on the go. It offers traders access to everything that the desktop platform has available, but on a smaller screen. eToro makes its app available for use on Apple and Android devices — available on the App Store and Google Play, respectively.
The application makes it very simple for traders to find what cryptos are available. The access to the fees is also clear and transparent. Just like the desktop app, traders are not able to short trade. The reason behind this is that US traders are only allowed to trade the real coin, not CFDs. So, short trading is not offered by eToro — just pure crypto trading.
The app is very responsive when used on mobile devices, it has been optimized to make sure that it works on most modern devices. Traders using the app can benefit from eToro's popular features, including virtual portfolios, research, ProCharts analysis, multiple watchlists and offline trading. The app also makes use of high-quality scaling to ensure that the graphics on the screen are not skewed or stretched. On the whole, it's a fantastic way to trade on the go, offering the full eToro service without having to worry about your mobile browser slowing down your trading.
Usability
The usability of the eToro platform is generally amongst the best on the market. Setting up an account is incredibly easy. Traders can simply fill in their details and then they will be trading in no time at all. The eToro website is easy to navigate as well. All of the menu options are clearly labeled at the top of the page and the drop-down menus are very responsive. You can make your way to the important sections of the website very easily.
eToro's trading platform is very easy to use. While, as already mentioned, this might not be appropriate for advanced traders, for beginners, this is excellent. It means that a complicated platform isn't a barrier to trading and it makes eToro one of the most usable brokers on the market.
Customer Support
This is an area where eToro starts to struggle. Traders who are having issues have the ability to get in touch via a ticketing system. Here, any problems that pop up can be sent through an email contact form and then the trader will be given a support ticket. It means that problems are solved on a first come first-served basis.
A live chat function is accessible on the site's Help Center pages, which requires an eToro login in order to gain access.
While there is no email or telephone support provided for US clients, the only other alternative for US traders to contact eToto at its New Jersey postal address.
While most areas of the eToro service are at least above average, this is the only one that falls well below what you would expect from a broker.

Payment methods
At present, eToro only provides its US clients with two methods of depositing funds — electronic transfer from an online bank account or domestic wire transfer. The broker does, however, have plans to add further payment methods in the near future.
Traders are advised to observe that online banking deposits can take up to three days to process, whereas wire transfers can be from 4–7 business days.
All payment options currently provided by eToro can be used for deposits and withdrawals. While there is no withdrawal fee, the minimum withdrawal amount is $30.
Best offers & Education
eToro doesn't tend to offer traders any additional offers. The only real addition to the account is the ability to use copy trading. For popular traders, this allows them to earn commissions of up to 2% of AUM annually on top of their earnings with eToro's Popular Investor Program. As highlighted, successful copy traders are tiered according to 'Cadet', 'Rising Star', 'Champion' and 'Elite' rankings.
eToro Education
Education is something that isn't always offered by online brokers — eToro isn't one of those brokers. It has a fantastic selection of educational offerings for traders to take advantage of. Far more than offering traders a simple news ticker, eToro's education offerings span news and analysis, cryptocurrency insight and a range of 'Trading Academy' video tutorials.
The broker's education provisions cover a number of topics with basic lessons. The most pertinent ones are in relation to what cryptocurrency actually is, as well as some useful articles about bitcoin and ethereum. As two of the most popular cryptos, it makes sense to focus on them with dedicated articles.
As mentioned, a range of video tutorials are available. These cover a range of topics — spanning trading on eToro, cryptocurrency updates and trading for beginners. The videos are especially useful for traders who don't have the time or patience to read through articles.
The only real negative to the education on offer is that it could be a little bit more detailed. Some brokers offer a full curriculum for new traders, but that isn't offered here. Some kind of lesson structure would make the educational offerings much better. But, as lots of brokers don't offer anything at all, this is still an above-average offering from eToro.
Regulation and deposit protection
eToro is superb when it comes to regulation. As it trades all over the world, it's essential that it has a range of different licenses to ensure that it can do so legally. As such, it is fully covered to trade in many different US states. In fact, it has a license to transmit money in the vast majority of these states. This means it is fully registered and regulated to act as a broker.
The broker holds a range of money transmitter licenses in a host of states, including the Illinois Department of Financial and Professional Regulation, the Washington Department of Financial Institutions and the North Carolina Commissioner of Banks.
While eToro has licenses from a number of different brokerage regulators, which are more appropriate for other forms of trading, it does show the extent that eToro complies with trustworthy legislation.
eToro also has deposit protection in place for traders. The amount that is offered depends on the state that the trader resides in, so you will have to check to see how much is protected.
Awards

eToro doesn't broadcast its awards too loudly. However, it has managed to attain some awards that are pertinent to crypto traders. Back in 2019, at the ADVFN awards eToro picked up the 'Best Platform for Trading Cryptocurrencies' award. This is obviously great to see for crypto traders as it means that eToro has been recognized for its quality by its peers.
It also won the 'Best Social Trading Platform' accolade at those same awards. So, for traders who want to take advantage of eToro's copy trading provisions, this is a true positive. However, it would be nice to see eToro making more of a song and dance about any awards that it has managed to earn.