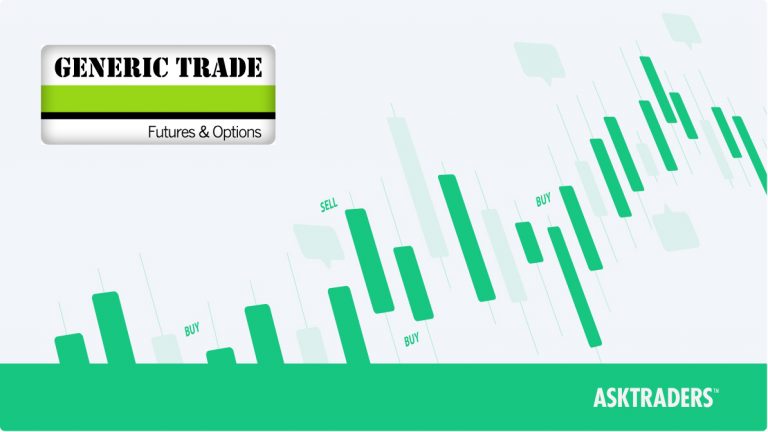 Generic trade is a specialty brokerage that only deals with futures and futures options. The brokerage has its head offices in Highland Park, Illinois from whence they have operated for close to two decades. The futures broker is nonetheless open to international trade and processes memberships from clients drawn from all over the world.
Generic trade has been around for close to two decades, during which time the brokerage positioned itself as a market leader in the deep discount futures and options trade. Generic Trade takes great pride in its low-cost services and markets itself as one of the most affordable and most progressive futures and options traders. To back this up, it relies heavily on its highly competitive trading fee that's uniform for all types of clients and accounts, the integration of sophisticated trading tools within its futures trading platforms, and minimal bureaucratic trade procedures.
In this Generic Trade review, we will be examining the truths behind these bold claims. We start by highlighting the strengths and weaknesses of the brokerage and its trading platforms and its effectiveness in futures trading before rating the nature of services availed here.
The generic trade US review should come in handy in helping answer your question of reliability and professionalism of the broker but also help you decide if they are the best futures broker to register with.
Generic Trade Review Navigation
#

Generic trade futures and futures options review
| | |
| --- | --- |
| App Support | Trading Fees |
| Good | High |
This Generic trade US review appreciates how this futures and options broker has leveraged advanced trading technologies to offer the best in class services. Commonly referred to as a specialty discount broker, Generic trade may be said to have been designed to help attend to futures and options traders looking for affordable platforms. It serves both local and international clients who are willing to surrender the convenience of advanced trading features and tools on the cross of discounted fees.
Throughout this Generic trade review, you will notice the emphasis the futures broker has given to some aspects of their operations over others. Some of the key features pronounced throughout this broker's website revolve around affordability and more freedom with regards to account operation. Undoubtedly, Generic trade brokers maintain some of the lowest trading fees around. But even more significant is the fact that it doesn't call for specific minimum deposits, minimum trading balances or impose maintenance/inactivity fees.
In exchange for the low cost and non-restrictive futures trading system, the generic trade system is deprived of key elements of successful trading. Unlike in most other discount brokerages, for instance, you won't have access to a broker to help you complete a trade. The lack of educational materials or easy-to-interact with trading features further locks out beginner traders.
What did our traders think after reviewing the key criteria?
Generic trade fees
Generic trade specializes in futures and futures options implying that trading costs on the platform are commission-based. As earlier mentioned in this generic trade us review, the broker markets itself as one of the most affordable specialty platform for futures options for both US-based and international clients.
There are four different types of trading fees on the generic trade futures program. These include the uniform $0.59 commission per contract per side and the fees charged by the different exchanges as well as the National Futures Association (NFA) that ranges from $0.17 to $2.10 per contract per side. Generic trade clients that wish to access their suite of professional trading platforms – referred to as FireTip – will incur an additional $59 fixed monthly fee.
The suite gives these clients access to trading features and analysis tools not available on the basic version of Generic trade platform. If you need assistance in placing a trade, you can call one of the Generic trade customer support team members that will help you complete the transaction for a fixed $10 per transaction.
Account types
If the diversity of accounts hosted on the generic trade brokerage are anything to go by, the futures trader can be said to target all types of futures traders. And like we mentioned earlier in this review, the account opening process on the platform is relatively easy and straightforward. And none of these accounts carry a minimum account opening balance or operating minimums. These accounts include:
Individual account:
This by far is the most popular account operated by Generic trade brokers. It is your typical standard account and its owner or manager has the option of operating it on the basic generic trader platform or the professional trader platform.
Joint account:
The joint account is as good as the conventional standard broker account. On the generic trader platform, the only difference between an individual and a joint account is the fact that the latter can be owned and managed by two or more traders/investors.
Partnership and corporate account:
Virtually anyone can open the individual or joint accounts on generic trade brokerage. The partnership/corporate account is however specially designed for US-based businesses and entities that want to take advantage of tax deductions derived from their investments in Generic trade brokerage.
Trust and IRA account:
These accounts are also specially designed for US-based account IRA and Trust account holders. Trust and IRA are retirement accounts whose funds can be directed to alternative investments like the trade of futures and futures options via Generic trade. Traders with IRA and Trust accounts on Generic trade platform also stand to benefit from tax deductions and conservative investment strategies aimed at the protection of the invested capital.
Platforms
In our review of Generic trade brokers, we find just that – generic. The company has a limited reach when it comes to trading platforms. While the rest of the industry players are constantly embracing as many trading platforms as possible to excite the different customer interests like the MetaTrader, NinjaTrader, automated trader algorithms and API keys, Generic Trade turns a blind on these technologies.
The company currently maintains three rather simplistic trader platforms. Granted, they are easy to use and include:
Generic trader online:
The generic trader online platform is freely available to all generic trade clients as a web trader. Our generic trade US review finds this online trader platform rather unique as it presents the trader with a simplistic one-stop shop for all their futures investment. Some of its key features include a real-time chart for available contracts, the account detail that gives a view of your account activities, and the order placement and order status pages where you can modify or cancel ongoing orders. It, however, lacks such important features as market analysis and risk management tools.
Generic trader professional:
Generic trader professional is a desktop app trader platform that compensates for the inefficiencies of the free generic trade online platform. In addition to all the trade features highlighted on the online trader platform, the generic trade professional has a highly advanced and customized live charting page that's fitted with Bollinger, stochastics, and custom trend lines and pointers. It also features an order book, a live streaming news option, and an advanced trader tool that gives them an in-depth view of different markets. It, however, is only available as a subscription service that costs $59 per month.
Generic Mobile trader: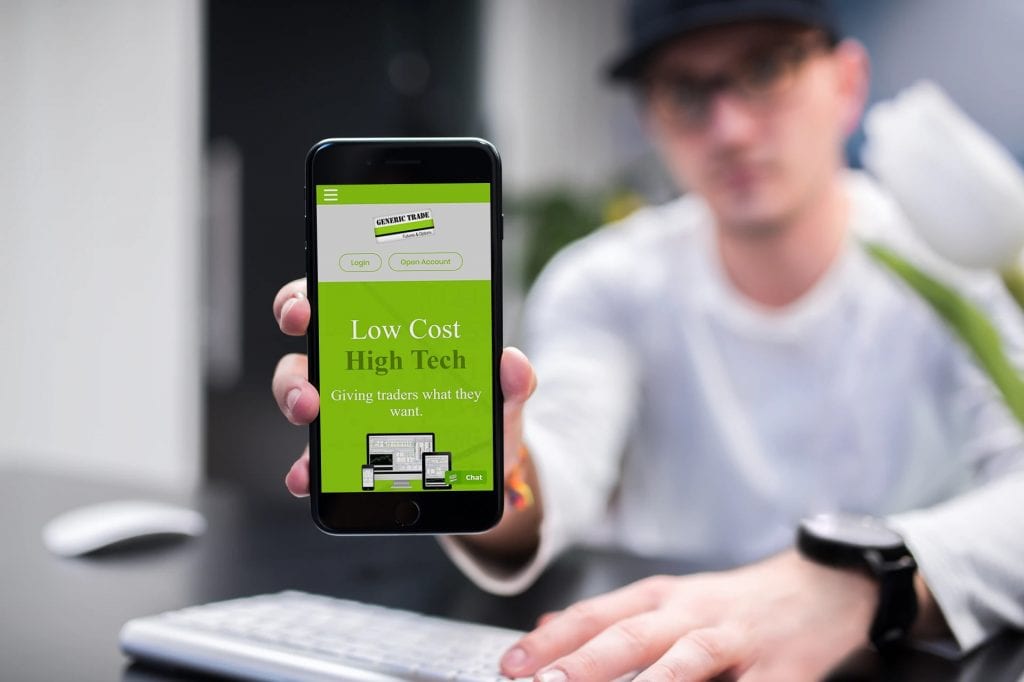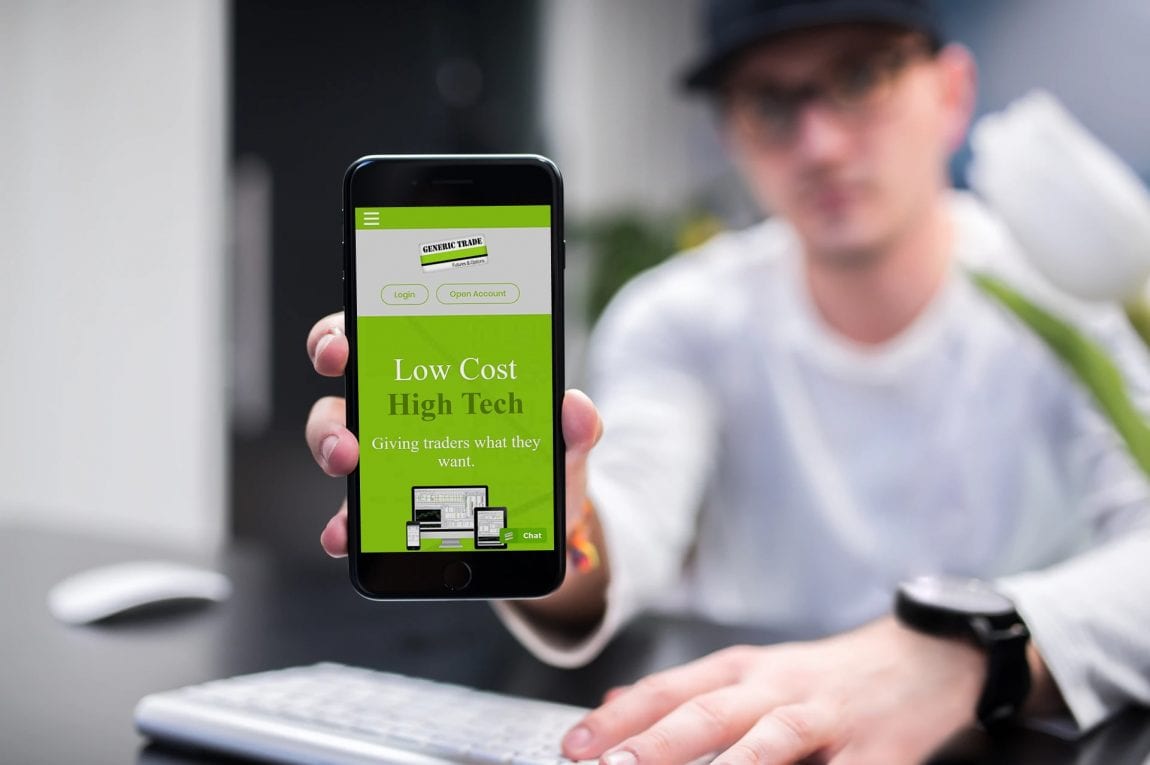 In addition to the online and desktop app trader platforms is a generic mobile trader that's available on both Android and iOS versions. Simply put, it is an extension of the generic trader professional as it features virtually all the important trading tools highlighted on this desktop app. These include the advanced trader tool, the order screen (mobile version of order book), and live customized charts that feature a variety of market analysis tools like the Bollinger bands, MACD and different varieties of stochastics. And like the desktop app, the mobile trader app is available on a subscription basis and you will have to part with $59 per month to gain access.
Usability
Generic Trade website is hugely straightforward and easy to use. Unlike most of its competitors sites, that are riddled with numerous pages and sophisticated tabs, generic trade is simplistic and only features the most important aspects of their organization. On their website, you will only find five pages: "Home", "Why Generic", "Fees/Margins", "FAQ" and "Contact Us" designed for individuals looking for deeper insights about the broker and the "login" and "Open Account" tabs for existing and new clients. Most reviewers have also reported satisfaction with the website's load speeds and the direct-to-the-point approach of the website content.
Customer support
Our generic trade US review also reveals the huge emphasis the trader has given to customer support. Some of its unique features in relation to customer support include a highly responsive and knowledgeable customer support team available 24/7. We tested each of the customer support options listed on the Generic trade website and none of our queries went unanswered.
Generic trade clients can access support via the live chat option available on the website or by following the futures broker on its Facebook and Twitter handles. They can also email their queries, raise a support ticket on the websites 'Contact Us' page, call or send a fax message. Interestingly, Generic trade is also open for walk-ins at their Highland Park offices.
Payment methods
Generic Trade is quite limited in their choice of payment method processing. It will only process one deposit method and two cash withdrawal methods.
Automated Clearing House (ACH):
You can fund your generic trade account with ACH deposits. The upside to this is that deposits are free and there are no minimum deposit amounts. On the flip side, however, you can only deposit a maximum of $10,000 within 60 days with a payment processing wait time of 5-7 days. Plus Generic Trade doesn't process ACH withdrawals.
Bank wire transfer:
Bank wire deposits into Generic Trade are free of charge with no minimum or maximum deposit limits. The cash will reflect within one business day. There are no withdrawal limits but you will be charged a $40 withdrawal fee with cash reflecting on your bank account within 1-3 business days.
Transfer to another brokerage:
You are also free to transfer your invested capital with Generic Trade to another discounted broker. Generic trade charges a $100 facilitation fee for this.
Best offers
Our Generic trade US review didn't reveal any current or previous bonus or promotional offers availed by the futures broker. The only free product on the broker's platform was the demo account. This gives traders access to all the three trading platforms availed by the broker, access to real-time quotes and charts as well as $50,000 in virtual currencies valid for two weeks.
Regulation and deposit protection
Generic Trade is licensed and regulated by the National Futures Association (NFA) as well as the Commodity Futures Trading Commission (CFTC). Other customer data and deposit protection measures we observed in our review of the futures broker include the adoption of the SSL encryption technology and two-factor authentication for account logins. Customer deposits are maintained in separate bank accounts held with different Tier 1 banks across the country.
Awards
Generic Trade hasn't received any major awards or recognitions for its contributions to the futures and futures options market.