LocalBitcoins is a platform that allows you to change your local fiat currency into Bitcoin and has been around the block since 2012 when it was started in Finland. Many different countries are catered for, including a lot of states in the US.
It is a peer-to-peer platform as opposed to a traditional type of exchange. This means that you will be trading with fellow investors. Therefore the process is a lot faster and simpler than the traditional types of trading.
This LocalBitcoins review looks at what makes this platform tick. You will see the pros and cons of this different type of offering and determine if it is something that will fit into your needs.
LocalBitcoins Review Navigation
#

LocalBitcoins Crypto Review
| | | | |
| --- | --- | --- | --- |
| Min Deposit | App Support | Max Leverage | Trading Fees |
| 11 | Regular | 1:1 | Low |
The only type of financial instrument or asset that you can deal with on LocalBitcoins is Bitcoin. This is something you can figure out just through the name of the platform. The aim of LocalBitcoins is providing people with a single place where they can come to buy Bitcoin, sell it and trade it as they please.
This is a peer-to-peer platform and there is no need for any third-party involvement in your trading. You can trade for and sell Bitcoins in a wide range of different countries, as well as using a massive range of different fiat currencies.
There is even a quick buy and quick sell option that makes the process of trading on LocalBitcoins even easier. For each transaction that you are a part of, there is a transaction service or escrow that is implemented. This means that the person who is buying the Bitcoins will be well protected, once you do not release the escrow funds too early. There is not really another platform like LocalBitcoins out there in the market today that is as popular.
What did our traders think after reviewing the key criteria?
LocalBitcoins Fees
For the registration, buying and selling of Bitcoin through LocalBitcoins, the process is free across all of the respective stages. Those users on LocalBitcoins who want to create an advertisement in order to sell their stock of Bitcoins will be charged a fee of 1%. This fee is only charged when the given trade has been completed. Otherwise, there is no fee attached with selling your Bitcoins on the LocalBitcoins platform.
If you want to make a transaction to the wallet of another user on the LocalBitcoins site, this is also going to be free. If you are making a transaction to a non-LocalBitcoins Bitcoin wallet, then you will have to deal with the standard network transaction fees at the time. You will be able to quickly see what that fee is at that given moment in time by checking out the section for 'Bitcoin Network Fees'.
Naturally, this fee will vary depending on how busy the network is at that moment in time. If you send a transaction of this kind, then the transaction fee will be deducted from your wallet on LocalBitcoins. If you are sending Bitcoin to a LocalBitcoins wallet, then the fee will be deducted out of the deposit.
Account Types
There is just one type of account on offer at LocalBitcoins. The process of getting started will take less than ten minutes. You just enter all of the standard personal information and there is no need to verify your identity. When this has been completed, you will then get access to your own LocalBitcoins Bitcoin wallet.
As soon as you have done this step, you will have the ability to start selling and buying Bitcoin through the site, posting ads if you wish to do so. This ability to advertise is the main standout feature of the platform.
You can specifically submit your preferences for buying Bitcoins through LocalBitcoins and you will be given a list of all of the relevant advertisements that are live at that time. If you do not want to use the wallet that is provided to you by LocalBitcoins, you are also able to link an external wallet to your account.
Platforms
The use of LocalBitcoins is extremely popular among fans of Bitcoin. A lot of people prefer having a wide range of options to buy and sell that are accessible through LocalBitcoins. Otherwise, they have to deal with a lot stricter price ranges and fewer options. The platform for conducting your searches and subsequent trade is smooth and easy to use.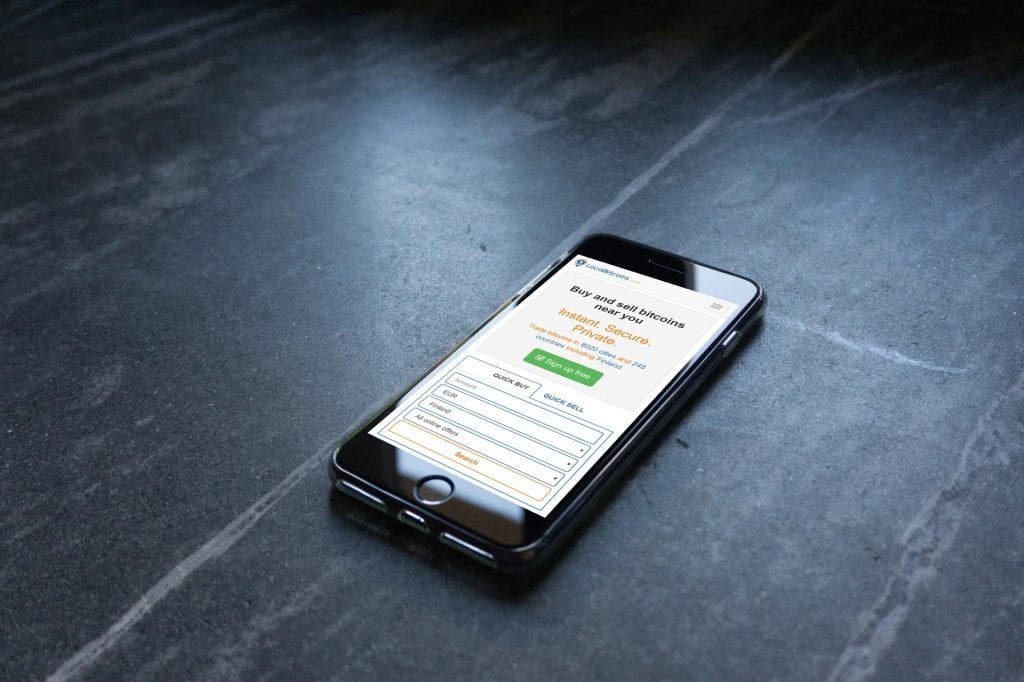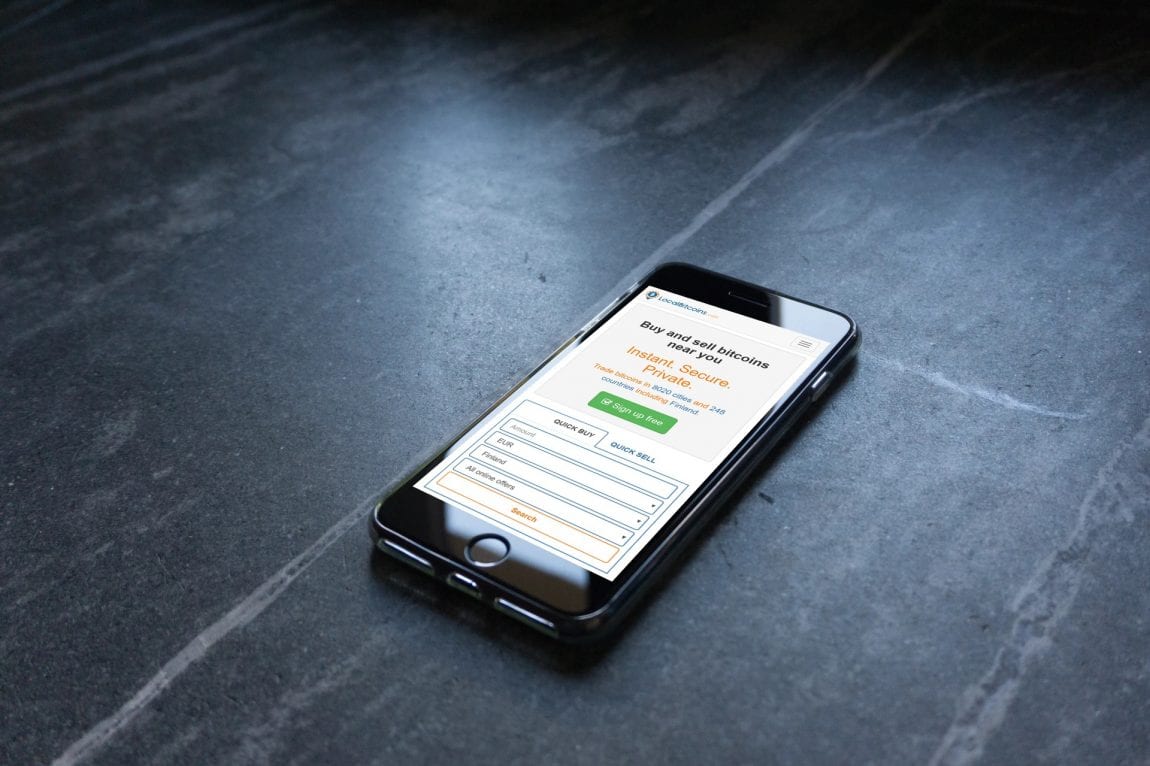 This is all done through the LocalBitcoins website, there is no client that you can download to your desktop and there is no mobile app for you to download. You can access the LocalBitcoins website through your mobile's web browser. The process of placing trades is simple and there are no limits on what and how much you can trade.
Usability
The LocalBitcoins trading process is very simple. The mainly white color scheme doesn't offer anything fancy and there are not any images that spice up the look of the site. Everything is focused on the practicality of the offering. It is a responsive site that has fast load times. There is a great search feature when you are trying to filter out your preferences when buying and selling Bitcoin.
There is also no need for the use of the personal data of traders when buying or selling, which is ideal for privacy concerns. There is no need for any form of verification of your identity, unlike a lot of other platforms. This means you can get started trading instantly after your account and wallet that has been set up.
Customer Support
The 'Help' section on LocalBitcoins will answer most of the standard questions someone may have about the platform. It is an offering that is not like most of its competitors, so the guides that clearly walk you through the process of using the LocalBitcoins offering is very useful. This means you will not be wasting time and making potentially expensive mistakes when using this platform for the first time.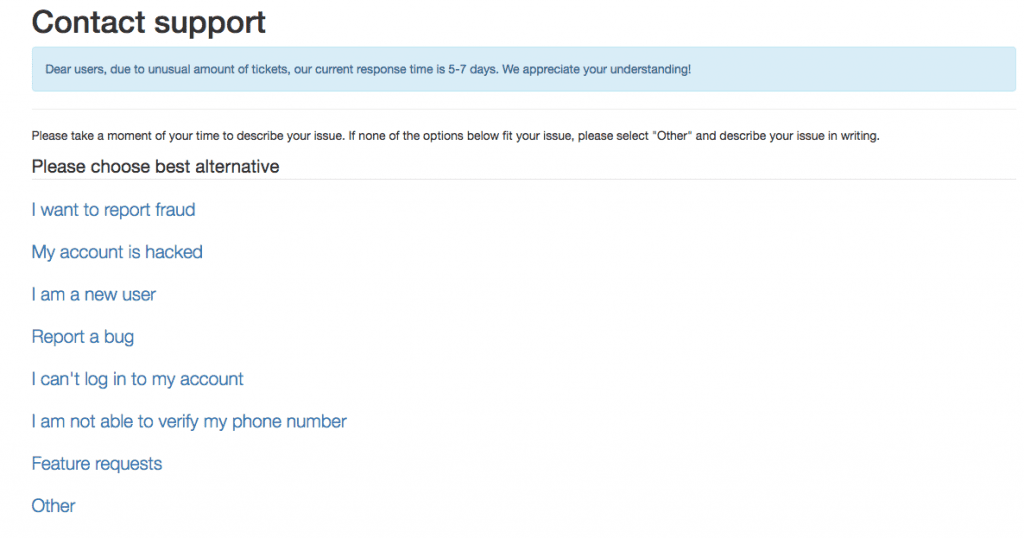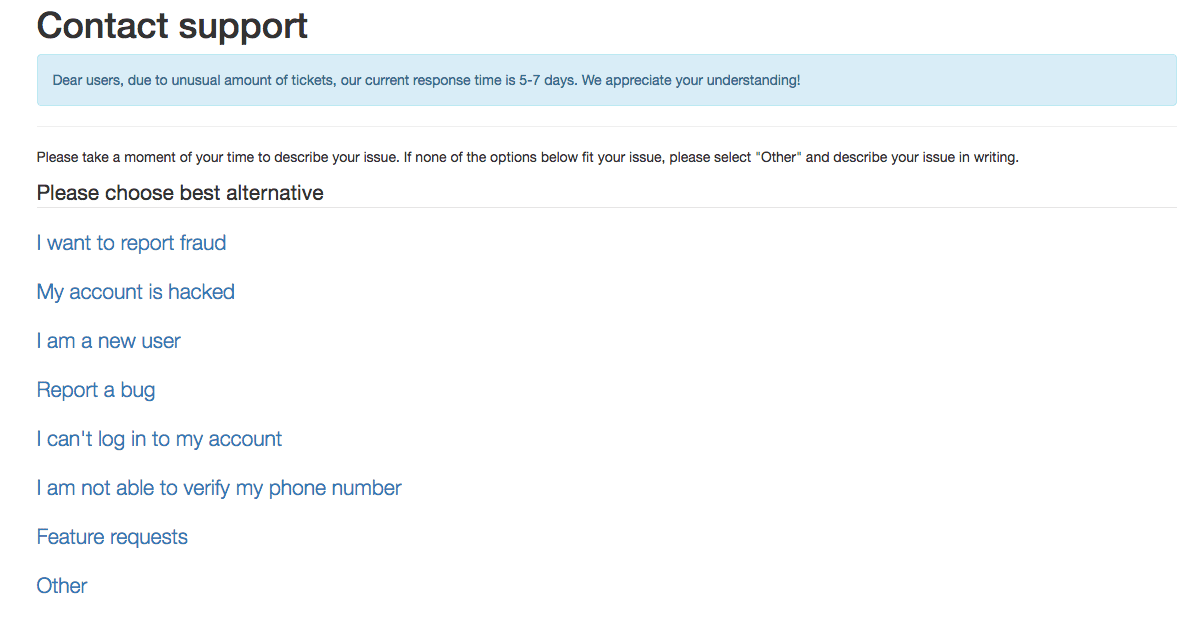 The customer support team itself can be reached around the clock, all day, every day. While the platform emphasizes your privacy, this doesn't stop you from being able to deal with the support team. The main way to get an issue resolved by the team is to submit a support ticket. Unfortunately, the response time for these tickets is 5-7 days at the time of writing, which is obviously less than ideal.
There is also a LocalBitcoins forum, a community chat feature and a LocalBitcoins Twitter page where you can also try to ask questions.
Payment Methods
You have an extensive range of payment options when you are using LocalBitcoins. The process of adding funds to your account is also very easy to do. Some of the leading methods on offer include wire transfers, Western Union, PayPal, WebMoney, cash deposit and Skrill to name a few. There are not any options to use credit or debit cards, which may be a negative for some users. It is generally expensive when you are buying Bitcoins through LocalBitcoins in cash.
When you add cash in order to make a purchase on LocalBitcoins, this money will be kept safe in an escrow service. This means that your funds will be properly safeguarded. It is the LocalBitcoins administration that is in control of the escrow feature. This means that the funds will only be released once the transaction of the Bitcoins has been confirmed. This prevents you from being scammed after sending money to someone to make a purchase and vice versa.
The various traders that use the LocalBitcoins offering will get ratings depending on their previous trading history. This will give you a strong indicator as to which of the traders can be trusted and who should be avoided.
Best Offers
LocalBitcoins is unique in the fact that is is not a traditional crypto exchange. Instead, it acts as a peer-to-peer platform whereby you trade with other users. You also have a lot of your identity well protected, which is a big plus for users. None of your payment details have to be shared with the platform. All you need to do is create an account and have a digital wallet and you are good to go.
There is an affiliate program on offer through LocalBitcoins which allows you to get a commission when you refer a friend and they start trading. This is a handy way to build up some money in your account without having to do much.
In terms of education, there are not really any resources that will aid you in becoming a better trader or to learn more about Bitcoin. There is a guide that walks you through how to use the LocalBitcoins platform, but this is just a standard guide. LocalBitcoins has one focus and that is facilitating the trading of Bitcoins. It is not concerned with upskilling traders, leaving the education and research portion of the equation in the hands of their users.
Regulation & Deposit Protection
The crypto space does not really have any regulars no matter where in the world you may be. This nascent sector is mainly self-regulated, with a lot of fraudulent platforms popping up all over the place.
LocalBitcoins has been around for many years and it has managed to build up a strong reputation over the years, being one of the most popular ways in which people buy, sell and trade Bitcoins. You are dealing with other traders rather than a third-party and the fact that an escrow service is used means that your funds are going to be extremely well-protected when it comes time to conduct a transaction with another user.
There is advice provided by LocalBitcoins to help you spot any potentially fraudulent activities in the platform. As there is no regulator or financial body that can oversee LocalBitcoins, there is no inherent deposit protection in place. However, you can avoid a lot of risk by ensuring that the digital wallet you are using for your Bitcoin is not the one offered by LocalBitcoins. Instead, you can use an external wallet to keep your tokens safe and sound.
In terms of the security of the site itself, there is two-factor authentication that you can enact for each time that you log into your LocalBitcoins account. There is also a login guard option for added security. This will send you an alarm if there is a strange attempt to log into your account.
This may be if a wrong password has been entered or a strange device is trying to access your account. The feedback feature is also a great way of protecting yourself when trading through LocalBitcoins. This allows you to see the trading history of a particular user.
Awards
The crypto industry is still a developing one that is in its infancy. While large sums of money go through the likes of crypto exchanges and peer-to-peer platforms such as LocalBitcoins every day, there is still not really any industry awards scheme in place for the different offerings. This is opposed to the likes of the Forex space which has an established range of industry awards.
LocalBitcoins does have a lot of positive feedback from users on the likes of forums and social media. It generally gets good reviews on different comparison sites.