There are many online brokerage firms out there, but many would say that Motif is unique in its approach. First and foremost, Motif Investing is a theme-base brokerage, meaning that users are meant to invest in groups of investments that share a certain "theme." In some ways, it's much more than a brokerage, because it is also a part portfolio manager, as well. The word "motif" means a "distinctive feature" or "dominant idea", which is one of the reasons that Motif is the name.
The company is based in Silicon Valley, and there's a significant amount of money behind the platform. Some of the notable investors in Motif Investing include Goldman Sachs, Ignition Partners, and Foundation Capital. Motif Investing was founded in June 2010 and has grown significantly since then.
The idea here is that users can invest according to many various themes, instead of focusing on a single stock. For example, you can invest in a "Healthy and Tasty" motif if you believe that healthy eating is on the rise, or the "Recession Resistant" motif if you feel like an economic downturn is on the way and want to manage your risk accordingly. You could even create a motif for overvalued companies if you wish to short these stocks, as well.
The platform offers over 150 professionally built motifs to choose from – but that's not all. The Motif community has customized over a staggering 180,000 motifs that you could utilize. It doesn't matter if you want to invest specifically into military stocks, fair labor stocks, or
Is Motif Investing right for you? Read more to find out whether this Motif Investing review sounds like it might be a platform that you could be interested in. There are some drawbacks, however – as this Motif Investing review points out: you might not be able to trade everything that you had hoped to trade.
Motif Investing Review Navigation
#1

Motif IPO Review
| | | | |
| --- | --- | --- | --- |
| Min Deposit | App Support | Max Leverage | Trading Fees |
| $250 | Good | 1:1 | Mid |
One of the reasons that Motif Investing has gained popularity is because it actually allows investors to trade IPOs (initial public offerings). This does require a $250 minimum investment, however, and users can sign up for IPO notifications in real-time. You can browse the various initial public offerings available and select which ones you choose to invest in. You select the IPO that you are interested in,
Motif Investing actually works with many well-known underwriters to offer this opportunity, including JP Morgan, Goldman Sachs, and more. The opportunity is also commission-free.
What did our traders think after reviewing the key criteria?
Motif Fees
Motif is known for its low fees, which is obviously a solid advantage over the competition. One of the most common aspects of a Motif Investing review is that the platform is praised for the amount of access it provides while also keeping fees low for investors.
In this Motif Investing review, we find that the fees are quite reasonable. You get access to a motif for $9.95 per transaction, which means that you could potentially invest in 30 stocks or ETFs at once for a flat fee of $9.95. If you would rather wait for the next market open, you don't have to pay a cent.
If you would rather purchase an individual stock or ETF rather than an entire motif, that is possible. In this case, you will pay $4.95 per stock/ETF to either purchase or sell that individual stock or ETF.
Account Types
There are various accounts available on the Motif Investing platform.
Trading Account
As stated earlier, if you open a trading account at Motif Investing, you have access to a range of "motifs." You can search through motifs by finding a specific industry or theme. Each motif features about 20 to 30 stocks or ETFs that fit within a certain theme. For an idea of how detailed the motifs get, there are even motifs where companies have "lots of likes" on social media platforms. If you, as an investor, feel like this is an accurate metric of an undervalued company; Motif Investing allows you to take advantage of this strategy.
Motif 500: Direct Index Portfolio
You might be interested in more traditional investing options, and Motif Investing can accommodate. With Motif 500, investors can invest in the top 500 large-cap companies through a direct index portfolio, and it doesn't cost anything extra. You can adjust your portfolio more than those who want to invest in an ETF or mutual fund.
It should be noted that a fee applies if you want to customize your Motif 500 portfolio. The direct portfolio index applies to the 500 largest market cap companies in the United States, and it's weighted based on available float (available shares to trade).
The Motif 500 does require a $10,000 investment, so it is clearly not the ideal choice for those who are looking to only invest a couple hundred or a couple thousand dollars in the market. You can even invest in fractional shares due to Motif's proprietary technology.
Platforms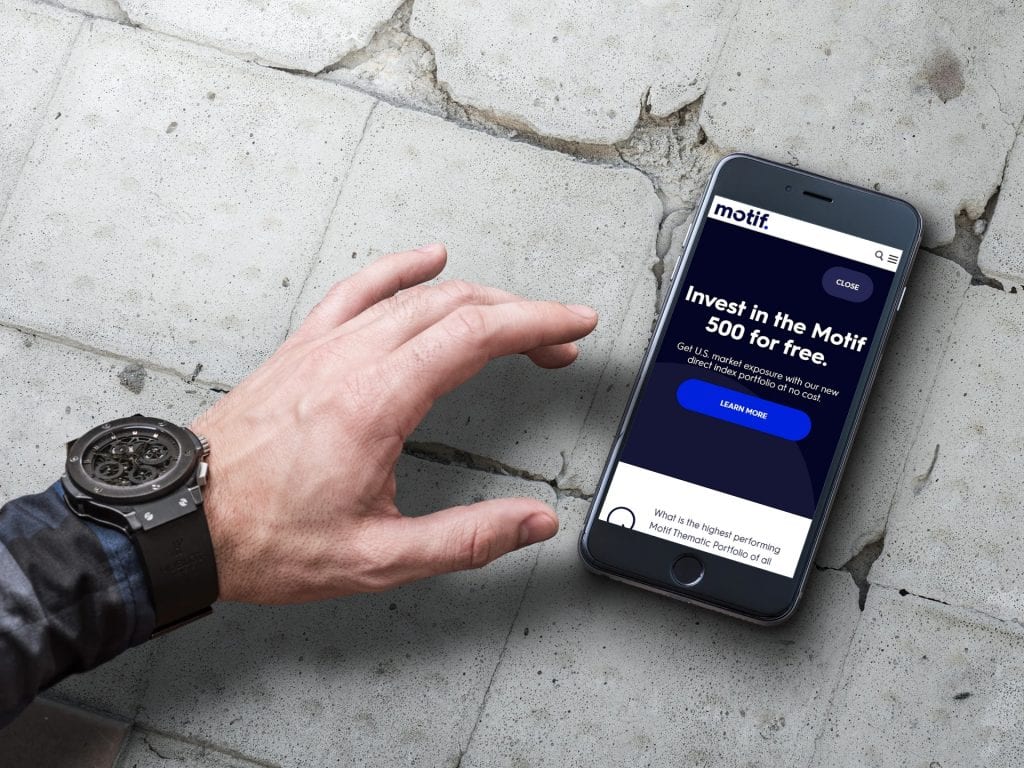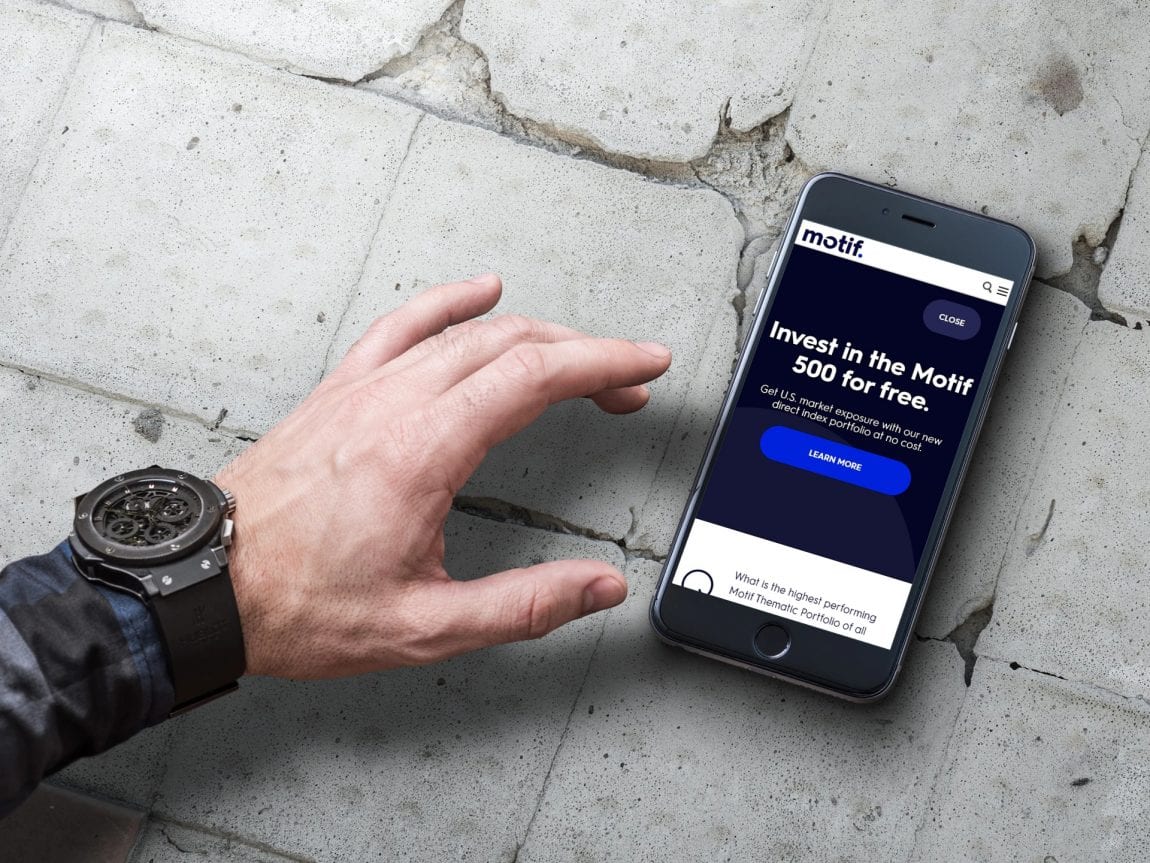 If you are an active trader, you might want to consider the Motif Blue option. Even though the vast majority of this Motif Investing review applies to the standard accounts – Motif Blue is a bit different.
Motif Blue
First and foremost, Motif Blue requires a monthly subscription fee of $19.95. Active traders might find this fee completely worth it, thanks to some noteworthy features. This Motif Investing review found the following advantages of Motif Blue:
You are allowed 3 commission-free trades in real-time.
You are also granted 5 commission-free next market open trades, and this applies to motifs either built by you or another community member.
Real-time quotes are provided.
Early information about IPOs, which could be a great investing opportunity, are provided as well.
You can also buy into your chosen motifs automatically (biweekly, quarterly, etc) if you are a Motif Blue member.
Website:
The Motif website has an incredibly clean layout and is well-designed. The drop-down menu choices make the website extremely easy to navigate, as well. The experience is smooth, and the website is easy to understand on an intuitive level. The website is bright, modern, and professional. In this review Motif Investing, we find that the website is quite usable.
Mobile App:
In modern times, every investing platform needs an app so that investors can conveniently invest and trade at any given time or place, for maximum convenience. The platform is available on both Android and IoS, and this review Motif investing determined that both apps enjoy high customer ratings.
Usability
This Motif Investing review found that both the website and app are extremely easy to use, and users should have no problem navigating either. The award-winning platform has great reviews for both iOS and Android apps, as well – with the Android average rating at a 4.⅖ and the iOS apps boasting an average of 4.5/5.
Customer Support:
In this Motif Investing review – we make sure to analyze all aspects of a platform to ensure that it is a convenient and efficient choice for the investor. It should be noted that Motif Investing does not allow for any customer support during the weekends, which is often when customers have time to voice their questions and concerns. There is also no live chat option, which is a clear disadvantage with respect to other brokers.
The customer support is available Monday through Friday, from 9 AM to 6 PM EST. In addition, users can always e-mail the company at [email protected] If you are e-mailing outside of regular business hours, you can expect a longer response time.
Payment Methods
How do you get started with Motif? This Motif Investing review is happy to spell out how you can deposit funds and begin investing and trading on the platform as soon as possible. The typical information to start a brokerage account is required – your e-mail address and password first, then your personal information (name, address, social security number, and driver's license). There is a chance that you may also be asked to verify employment and income, as well.
If you read this Motif Investing review and feel like it's time to sign up immediately, you can do so using an ACH once your bank account is linked. If you would rather choose a different method, you can use a wire transfer from the financial institution of your choice or preference.  Funding is usually completed within 24 hours. You can also request a check by calling customer service, and these requests are usually processed within one business day.
Best Offers
One major drawback found in this Motif Investing review is that the platform doesn't offer that much in the way of education. While the platform is great for beginners in the sense that it doesn't require that much money to start, the truth is that there is a glaring gap when it comes to research and information regarding investing and trading. It definitely is not the platform to use if you have never traded before, and we hope this Motif Investing platform is clear about that fact.
There is also a lack of information when it comes to tools and analysis for those who are serious about trading on a technical level. If you use specific indicators or require an extensive amount of research for due diligence – Motif might not be the platform for you.
Regulation and Deposit Protection
Motif offers a significant amount of security, and claims to use the industry's "leading information security management system." Your account, as well as your data, is secured through encryption. In addition, every Motif is insured up to $500,000, as Motif is a member of SIPC. The SIPC is the Securities Investor Protection Corporation is a membership corporation that mandates membership of the majority of US-registered broker-dealers. Motif uses the clearing firm Pershing LLC.
Security procedures are also continually updated, which is comforting when one considers that cybersecurity is one of the top concerns in the financial sector. Each Motif customer is also insured for up to $1.9 million through Lloyds of London, as well. Of course, these insurance policies do not protect against losses in market value.
Awards
What's the point of a Motif Investing review if we don't speak about their accolades? Motif Investing has ranked multiple times on CNBC's Disruptor 50 List. The Disruptor 50 rounds up 50 companies that CNBC feels like are the most innovative companies looking to change the way that business is conducted. In 2014, Motif Investing actually outranked some of the most well-known startups in the world, including Airbnb and Uber. Motif has also won multiple times at Finovate, in both 2013 and 2014.
In 2015, Motif Investing was recognized as the "Most Disruptive" company at the 2015 Benzinga Fintech Awards. The awards are specifically designed to honor the companies that are changing capital markets, and the online competition actually went viral and received millions of impressions. Benzinga, an investor media/data company, actually gave out over $1 million in awards that year. The website enjoys somewhere around 2 million readers per month.
Motif Investing was also a 2016 Webby honoree. The Webby Awards honors overall "excellence on the Internet."