TradingBlock has been in the market as an online broker since 2010. They have performed well and the Chicago based company owned and operated by Trading Block Holdings inc. has grown steadily as a result.
Through our TradingBlock review, our team noted that the broker focuses primarily on offering markets in stocks, options, ETFs, and Mutual Funds. With that in mind, we will take a view from those perspective markets to see how trading with TradingBlock could be a good fit for your future.
TradingBlock Review Navigation
#

Stocks
| | | | |
| --- | --- | --- | --- |
| Min Deposit | App Support | Max Leverage | Trading Fees |
| $500 | Good | 1:1 | Low |
Our TradingBlock stocks review team had a very close look at what was on offer and left impressed with what they have found.
Here you can engage in buying stocks from around the world whilst simultaneously managing your available funds and other assets through the broker trading platform. Not only can you trade the biggest names in the world, you can also avail of a number of order types, and set contingent orders based on what else is happening with your trading.
TradingBlock Mutual Funds Review
Again out TradingBlock review team were pleased by what the broker had to offer in this area. Mutual funds can be a very lucrative and important trading assets for traders both in the United State and overseas.
Our TradingBlock review also noted that they try to remain in line with their general broker philosophy of providing good value for money trading opportunities by keeping the fees as low as possible here too.
Min deposit: $500
Trading fees: Medium
Trader Support: Good
#1

ETFs
| | | | |
| --- | --- | --- | --- |
| Min Deposit | App Support | Max Leverage | Trading Fees |
| $500 | 1000 | 1:1 | Mid |
ETFs trading is another excellent area of strength for this broker. Our TradingBlock review team were left highly impressed by the range of the offering in this section of the broker and feel that it presents a good opportunity for new or experienced traders to get involved in the ETF trading market at the best possible prices with this online discount broker.
ETFs from TradingBlock vary across the whole spectrum of market assets and bring together a diverse collection of offerings to ensure that you as a trader have as many options and opportunities as possible when it comes to trading. Fees attached here were also impressive to our review team  for their competitive nature.
#2

TradingBlock Options Review
| | | | |
| --- | --- | --- | --- |
| Min Deposit | App Support | Max Leverage | Trading Fees |
| $500 | Good | 1:1 | Mid |
TradingBlock options trading is available on a strong range of the markets they offer. This presents traders with an excellent opportunity to further capitalize on the markets they are trading if the correct strategies are in place.
Options trading was evaluated by our Trading Block review team who found the offer to be well-organized, presented, and easy to understand for traders, again with the availability of multi-leg trading and access to a range of tools through a number of third-party trading platforms.
What did our traders think after reviewing the key criteria?
TradingBlockFees
When we typically consider this type of broker specifically dealing in ETFs, mutual funds, and the like, we have naturally come to expect higher fees. This coupled with the restrictive environment for online trading in the US would make it understandable.
Our TradingBlock review team found a completely different storyline here though. What welcomed them was a broker that is both conscientious and well-regulated. The fees are therefore very competitive and on the level with any top trading broker or competitor in the industry.
Commission fees are $0.001 per share with a $5 minimum, $0.50 per contract on options plus a $5 ticket, and $30 on mutual funds traded. Overall,depending on your volume these numbers are very positive from a trader view. Non-trading fees are also kept competitive and are clearly laid out in a very transparent manner.
Account Types
Our TradingBlock review found that the broker operates on a centralized model with one single account type available to all traders. Through this account you can access a range of top third-party trading platforms to make sure your access to all the markets is free-flowing throughout your trading experience.
This one account type also makes the experience very clear for new traders and those who may be just joining the broker for the first time.
Platforms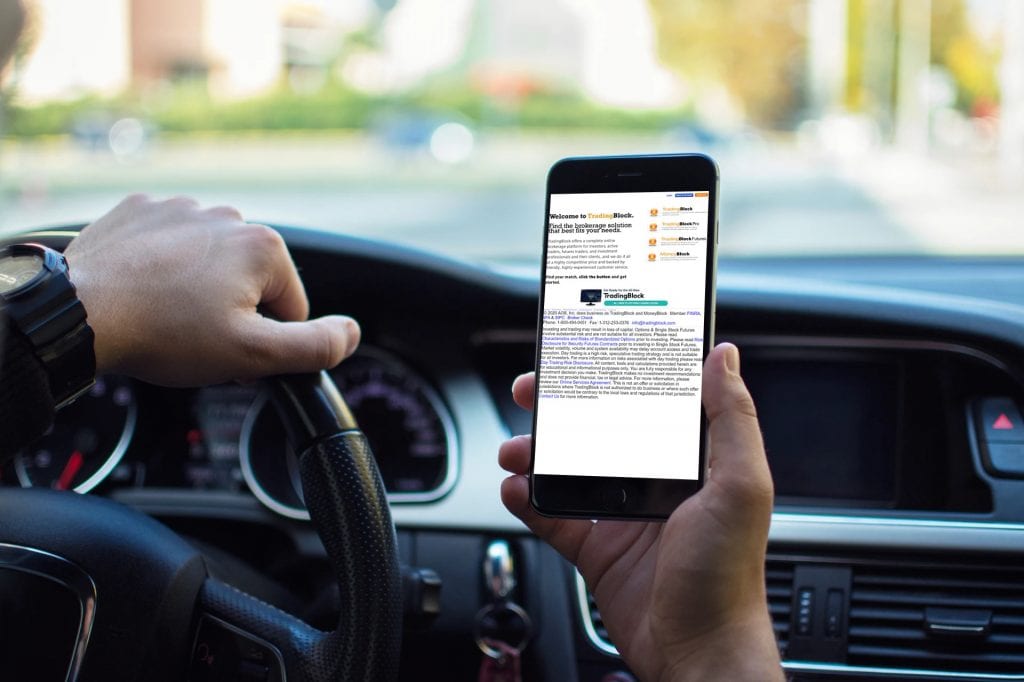 Our TradingBlock review team noted this as another particularly strong area for the broker. The standard broker trading platform offered by TradingBlock is a proprietary, web-based platform which offers everything you could need in a trading platform considering the basics, although direct market access and with it the ability to scalp, is not available.
For a more advanced experience, our TradingBlock review team recommend utilizing the brokers connectivity with third party platforms like Sterling Trader Pro, SILEXX OEMS, RealTick or TOP. These can serve as a more advanced, comprehensive alternative that still works seamlessly with the  broker and can ensure you maximize trading capabilities.
Usability
Usability is something which can never be neglected with any top trading broker. Our TradingBlock US review team made a few notes in this regard from a trader perspective.
The website itself, although it seems to be quite basic and may be in need of a light modernization, still performs well for the purpose intended. That purpose is to guide you on the broker basics and assist you to sign up which it does.
Moving on to the inside operation, again in broker trading platform is clearly laid out in a functional and robust manner which make it quite intuitive and easy to use for all levels of trader, although those with more experience may prefer more advanced layout.
The overall usability is boosted by the addition on a helpful FAQ section and general information to guide you at every step including a strong educational infrastructure.
Customer Support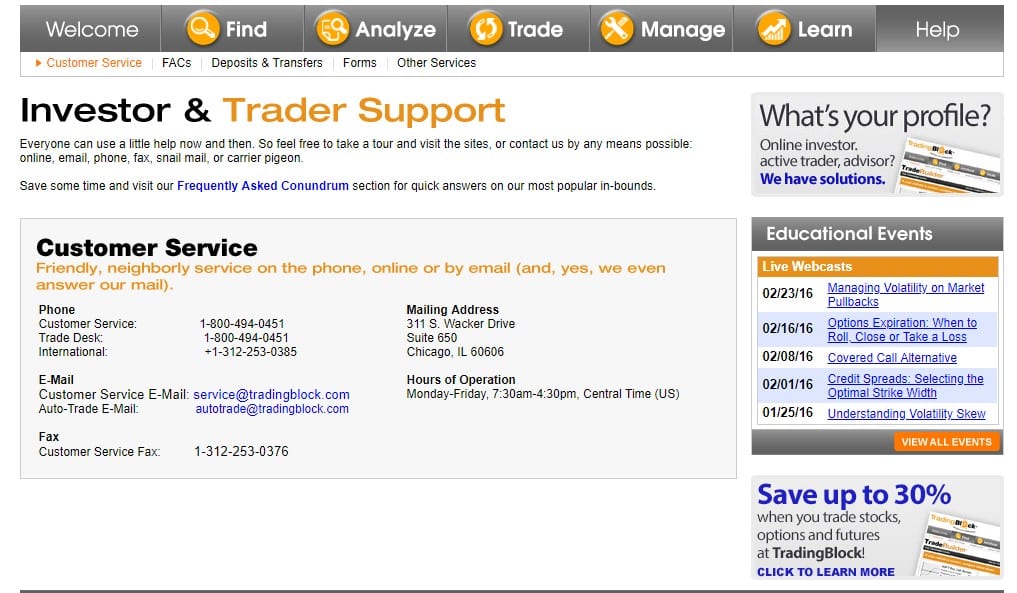 Customer support as always is an important focal point for any broker. As traders, you need to know that your broker is always there for you. Through our TradingBlock review it should be noted that all of our experiences in this respect were overwhelmingly positive.
The broker works very hard to ensure they provide one of the most supportive trading environments around and the team are on hand in a number of ways to help. They can be reached through phone, email, and online live chat from 7:30am – 4:30pm Central time US on a 5 day basis. They are fast and professional in all responses and helped out our TradingBlock review team in a very positive way.
They also provide a well equipped questions section that you can consult with many questions outside the operating hours.
Payment Methods
TradingBlock overall does quite well in the respect of offering as many funding methods as possible. Our TradingBlock review team noted availability of wire transfers, account transfers from other brokers, or paper checks for funding.
This may seem outdated to some, and that is a well-warranted concern, but given that the US trading environment for this kind of discount online trading broker is limited, these methods still suffice for the majority.
Best Offers
In terms of quantifiable bonuses, our TradingBlock review team found they are lacing any, perhaps due to the stringent regulatory environment. You can benefit from some other areas though like the promotional email series "Play of the day" that they provide. This gives you an insight to some of the best potential market moves from the expert in-house broker team.
Regulation and Deposit Protection
From a U.S. regulatory perspective, The broker ticks all the correct boxes as far as our TradingBlock review team are concerned.
Both the Financial Industry Regulatory Authority (FINRA) and the National Futures Association (NFA) regulate the broker to the highest of standards in the US. Traders with this broker can also benefit from their membership of the Securities Investor Protection Corporation (SIPC). This serves to protect deposits of up to $500,000 in the event of insolvency or fraud.
All in, traders with TradingBlock can rely on one of the most transparent and well-organized regulatory structures in the industry to remain fully protected.
Awards
There are many factors contributing to a lack of awards for TradingBlock, not least that they are a relatively small stock broker and trading firm that do not seek the limelight brought about by mass promotion. The sector in the US is also dominated heavily by a couple of other very big players.
This lack of awards though in no way points to a lack of professionalism from the broker. They know their market and cater to it well and in a very transparent and professional manner as evidenced by their impressive regulatory credentials. Awards are not everything, the trader comes first, and this is a motto that our TradingBlock review team felt the broker exemplified.