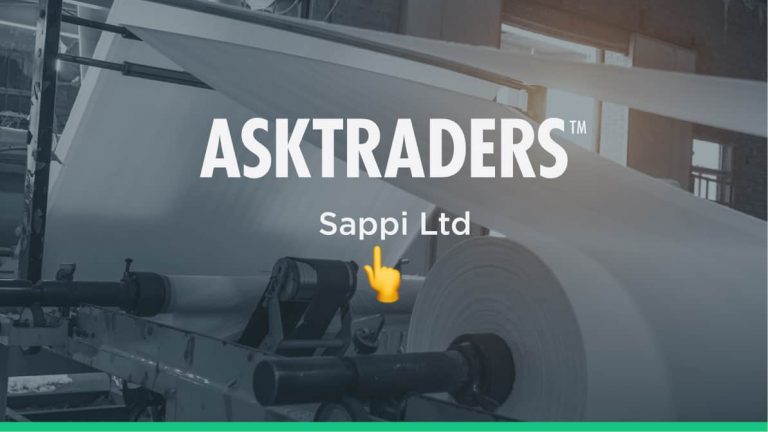 Sappi Ltd is a global pulp and paper company listed on the Johannesburg Stock Exchange (JSE) with operations in North America, Europe and Southern Africa and a customer base across more than 150 countries.
Latest Sappi Ltd Share Price
The graph above shows the latest Sappi Ltd share price on the Johannesburg Stock Exchange. Investors have seen Sappi Ltd shares perform not very well historically, and it doesn't remain a steady investment. Sappi Ltd stock is live on the JSE under the stock symbol of SAP and is available to trade via various brokers in South Africa.
What is Sappi Ltd
The history of Sappi Ltd can be traced back to 1936 when it was incorporated as South African Pulp and Paper Industries Limited and changed its name to Sappi Limited in 1973.
Today, Sappi Ltd has a diversified portfolio of products and services in more sectors of the Basic Materials value chain and manufactures and sells dissolving wood pulp, packaging and specialty papers, and printing and writing papers. The dissolving wood pulp products are used by converters to create viscose fibre for clothing and textiles, acetate tow, and pharmaceutical products, as well as consumer and household products.
Sappi Ltd also provides packaging and specialty papers,  boxes for agricultural products for export, and tissue wadding for household tissue products, as well as casting and release papers for the fashion, textiles, automobile, and household industries.
In addition, Sappi Ltd offers printing, writing, and coated and uncoated graphic paper products that are used by printers in the production of books, brochures, magazines, catalogues, direct mail, newspapers, and various other print applications. Further, it develops and processes biomaterials and biochemicals; offers sawn timber; and produces and sells green electricity through a network of five hydro, two gas, and 31 steam turbines as well as produces biogas.
Sappi Ltd's equity stocks are for sale online on the Johannesburg Stock Exchange (JSE) under the stock symbol SAP.
Major shareholders are Public Investment Corporation Group, Ninety One SA (Pty) Ltd., Allan Gray (Pty) Ltd., Old Mutual Ltd., and Alexander Forbes Investments. Sappi Ltd has its headquarters at 108 Oxford Road, Rosebank, Johannesburg, 2196, South Africa.
Sappi Ltd has more than 12 800 employees and its current CEO is Stephen Robert Binnie.
Sappi Ltd forms part of the Basic Materials sector, specifically, the Forestry & Paper industry of the Johannesburg Stock Exchange (JSE).
Sappi Ltd Stock Performance
The most recent or current price for Sappi Ltd stocks on the Johannesburg Stock Exchange (JSE) was 47.04 ZAR at the time of writing.
An analysis of financial data of Sappi Ltd showed that the company has a total market capitalisation of 26.7 Billion ZAR, with a Price/Earning ratio of 63.35 and earnings per share of 0.7425. A total of 567 Million shares were outstanding.
With an increase of earnings per share and reliable profits over a period, investors who want to buy or sell Sappi Ltd stocks can be hopeful for lucrative dividends and earnings in times to come.
According to an analysis on the live chart of Sappi Ltd, analysts forecast a possible further improved performance for the Basic Materials sector with market share growing as trading volumes increase.

Highlights of Sappi Ltd in 2021
Sappi Ltd started the current financial year (2021) with a share price of 45.66 ZAR on the Johannesburg Stock Exchange (JSE), and it has gained 3.02 % in value on its price valuation, ranking 105th on the JSE with its year-to-date performance.
Sappi Ltd is currently the 42nd most-traded stock on the JSE and it has experienced a total trading volume of more than 106 million shares, which were finalised in 92,710 deals and were valued at a total of 4.69 billion ZAR over a recent three month period from October 2021 to January 2022, with an average of 1.68 million shares in each trading session.
During the same period a volume high of 9.52 million was achieved on November 11 and a low of 83,992 on December 24.
How to buy Sappi Ltd stocks – Step by Step
The stock market is one of the most attractive financial markets that sees millions of retail investors and traders' participating daily. To buy, sell or trade Sappi Ltd stocks on the Johannesburg Stock Exchange (JSE), traders and investors can follow a few simple steps:
Find the share that you want to buy, in this case, "SAP".
Select a forex broker that offers access to the Johannesburg Stock Exchange (JSE).
Review the broker's trading conditions, fees, deposit and withdrawal methods, trading platform, customer support, regulation, and other components to ensure that they are aligned with your trading plan.
Open a live trading account with the broker by completing the online application form and providing the necessary documentation to verify the trading account.
You are now ready to make your first share purchase through the broker.
You can further start to build and diversify your portfolio by buying more shares.