The Airspan Networks Holdings Inc (NYSEAMERICAN: MIMO) stock price surged 50.6% despite a lack of news releases from the company, in what could be a delayed reaction to a past news release detailing the significant changes made by the company.
---
YOUR CAPITAL IS AT RISK. 81% OF RETAIL CFD ACCOUNTS LOSE MONEY.
---
The company that provides ground-breaking, disruptive software and hardware for 5G networks and is a pioneer in end-to-end Open RAN solutions announced that it entered into a new financing agreement with affiliates of Fortress Investment Group on May 18, 2023.
Top Broker Recommendation
YOUR CAPITAL IS AT RISK. 81% OF RETAIL CFD ACCOUNTS LOSE MONEY
The new financing agreement would give Airspan access to a new delayed draw term loan of $25 million following the amendment and restatement of its credit agreement with the Fortress Group and specific other lenders to provide the new financing facility.
Airspan Networks also agreed to issue 5,912,040 shares of its common stock at an exercise price of $0.01, representing a significant discount to its current trading price. The company's share price continued falling after the announcement up to today, when its fortunes reversed on positive investor sentiment. 
The lack of recent news reports indicates that today's rally in MIMO stock can be directly attributed to positive investor sentiment as buyers flocked to buy the company's shares. Over 7.50 million MIMO shares had changed hands at the time of writing. The shares had also given up some of their initial gains.
Airpan Networks board also changed its leadership structure by appointing Glenn Laxdal as the company's new CEO while making him a member of its board. Laxdal had previously served as the company's President and COO since January 2022.
Eric Stonestrom, Airspan Networks' Executive Chairman, said: "We are continuing to make necessary changes to our operating model to focus the company and position it for the future. The Mimosa divestiture and debt restructuring provides the funding and sets the company up for its next phase of growth. We are excited to welcome Glenn to the Board and as Airspan's new CEO."
*This is not investment advice.
Airspan Networks (MIMO) stock price.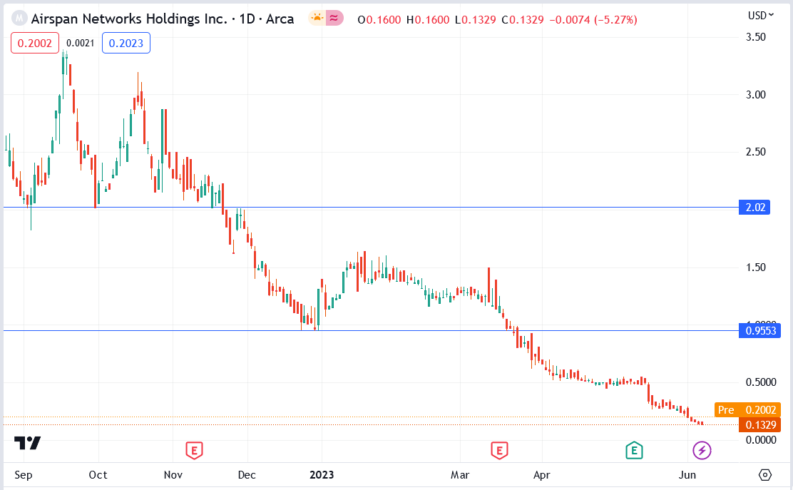 The Airspan Networks (MIMO) stock price rallied 50.56% to trade at $0.2002, from Wednesday's closing price of $1.329.
---
YOUR CAPITAL IS AT RISK. 81% OF RETAIL CFD ACCOUNTS LOSE MONEY.
---