Key points:
Alba Minerals (ALBA) shares rallied 8.72% on Greenroc Mining's results.
Investors were impressed by the Amitsoq Graphite phase 2 drill results.
Amistoq remains one of the highest quality graphite deposits.
The Alba Mineral Resources plc (LON: ALBA) share price rallied 8.72% after confirming the phase 2 drilling update posted by its portfolio company Greenroc Mining (LON: GROC). Greenroc released the phase 2 drilling results at its Amitsoq Graphite Project in Greenland, one of the highest-grade graphite deposits in the world.

The mining company drilled 19 holes with a total depth of 2,844 metres, with all holes returning mineable widths of high-grade graphite ore deposits, which were more than double the drilled extent of the deposit footprint. Alba Minerals owns a 54% majority stake in Greenroc.
Also read: The Best Nickel And Nickel Mining Stocks To Buy Now.
Greenroc noted that the results could lead to a significant upgrade in the project's overall resource estimates. The Lower Graphite Layer (LGL) displayed minable widths exceeding 2.0m in all 19 holes, with the actual thickness (where present) running between 2.50m and 20.69m.
The Upper Graphite Layer (UGL) demonstrated mineable thicknesses of over 2.0m in eight holes, with the actual thickness ranging between 2.72m and 7.99m. In addition, the company noted that most of the main ore body appears to be located in the LGL.
Greenroc noted that phase 1 drilling had shown that the project contained high grades of up to 23.01% graphitic carbon (C(g)) in the LGL and up to 19.83% C(g) in the UGL. The firm added that visual inspection of the drill core indicated that the phase 2 intersections had a similar profile.
George Frangeskides, Alba's Executive Chairman, commented: "The Amitsoq Graphite Project goes from strength to strength. This has been a very strong drilling campaign at the Amitsoq Island deposit. Our expectation is that it will translate into a substantial increase in the overall tonnage of the deposit once the independent resource assessment work has been completed."
Stefan Bernstein, GreenRoc's CEO, commented: "Amitsoq continues to prove to be an exceptional graphite deposit. These drilling results have surpassed our expectations that were based on last year's already successful drilling programme and give me much excitement for the development potential ahead. The graphite layers show better continuity and greater thicknesses than we could have hoped for."
*This is not investment advice.
Alba Minerals share price.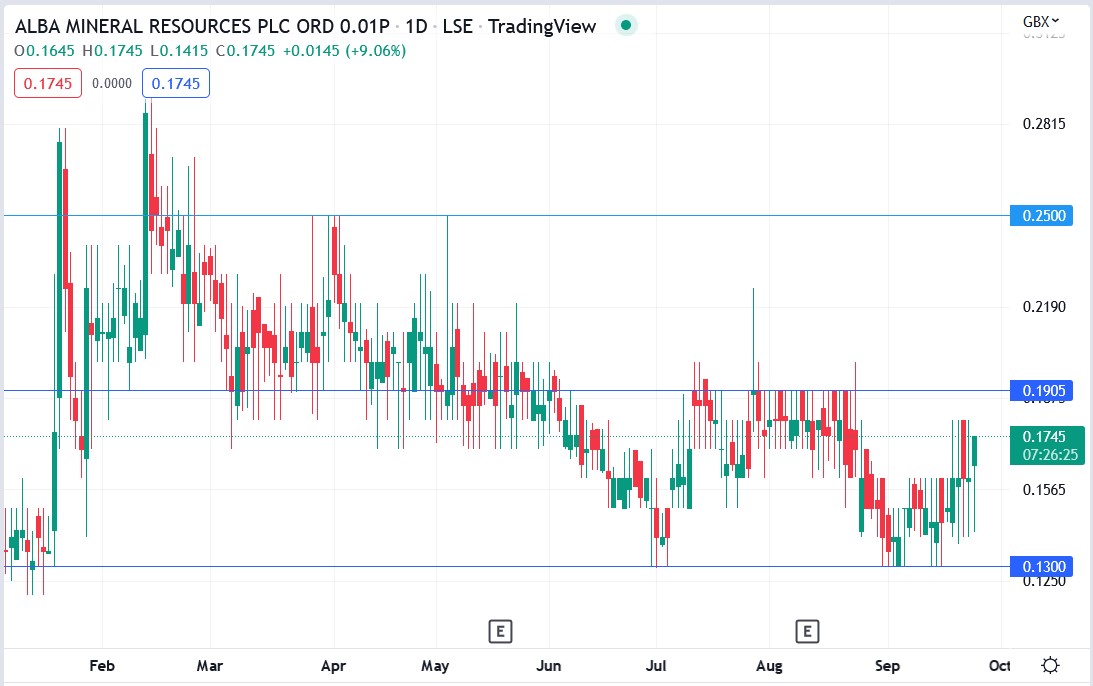 The Alba Minerals share price surged 8.72% to trade at 0.1745p, rising from Friday's closing price of 0.1605p.