Shares of Alba Mineral Resources plc (LON: ALBA) today fell 7.73% after opening lower despite a speech by Mark Austin the company's COO on the mineral resources at the firm's Thule Black Sands high-grade ilmenite deposit in northern Greenland.

Mark Austin noted that the Thule Black Sands (TBS) license area had approximately eight million tonnes of heavy mineral deposits. He added that 20% of the deposits were ilmenite, translating to about 9% of in situ content of ilmenite, which is relatively high.
Other sites with heavy mineral deposits being actively mined across the world, especially in East Africa, have an average of 2.2% in situ deposits as compared to Thule's 9% in situ deposits.
Austin further clarified that the company had only drilled up to the bottom of the permafrost and still had to use sonic drilling to get to the bottom of the heavy metal deposits, which is likely to increase the resource base.
The company will then do an economic study to determine the total value of the project.
Alba Minerals is also drilling for gold at its Clogau-St David's gold mine located in Wales where it recently identified a potential 550-metre extension to the mine's main lode, which is the source of most of the historic gold production at the mine.
Alba Mineral Resources share price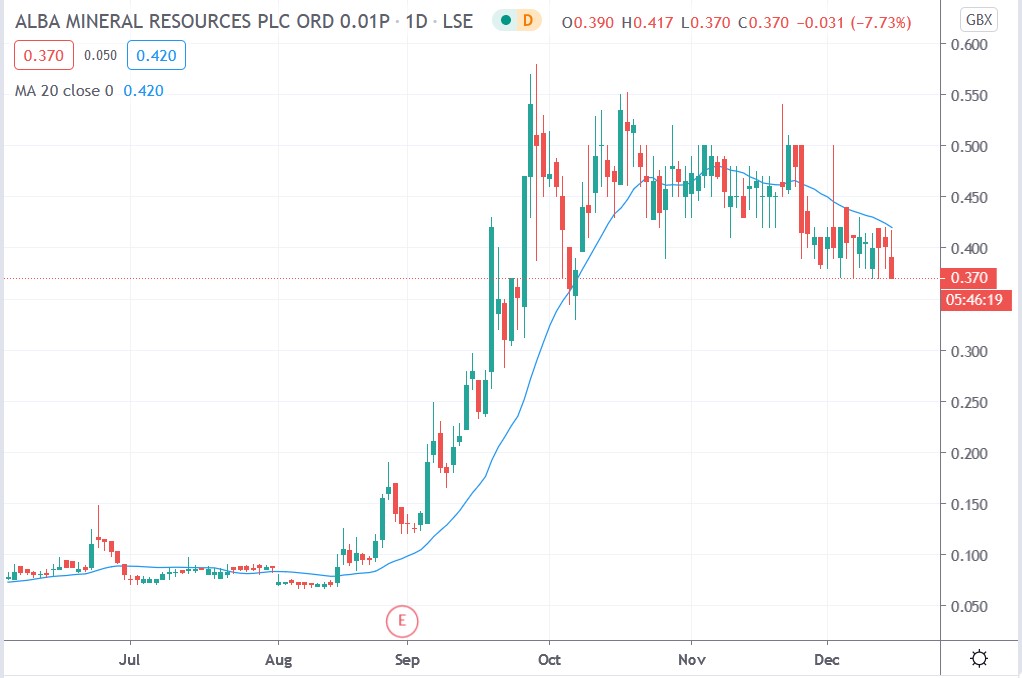 Alba Minerals shares today fell 7.73% to trade at 0.370p having fallen from Monday's closing price of 0.401p.
People who read this also read: