Shares of Alba Mineral Resources plc (LON: ALBA) are down 55.4% in 2021, having fallen steadily since the year started. Can the shares bounce back?
The metals exploration and mining company's shares have fallen steadily despite accomplishing multiple positive milestones since January.
Some of the miner's significant milestones include starting phase 2 drilling at Clogau-St David's gold mine in Wales.
Alba Minerals kicked off the year by renewing its exploration license for the Limerick Base Metals Project in Ireland.
The mining company also got a reprieve from the Greenland government, which extended the measures taken in 2020 to cope with COVID-19, including the waiver of exploration expenditure obligations into 2021.
Alba Minerals hopes to discover unexploited gold at its Clogau-St David's mine that was closed in 1998. The miner has so far identified a new vein system with the main lode extending up to 66 metres below the deepest previously worked zone at the Llechfraith mine area.
The company is also processing over 36 tonnes of a bulk sample collected between September and October 2020 at its pilot gold processing plant. The results are yet to be communicated to investors.
Alba Minerals also started phase 2 underground drilling at Clogau-St David's with the primary goal of delineating the main lode to the North. However, the company has not profited from the rising gold prices as its projects are still in the pre-production stages.
The miner recently announced its intention to list its Greenland assets on London's AIM market.
As a trader, I would like to see the current support level hold and trigger a bounce before opening new bullish positions.
However, nothing is guaranteed in the markets, and Alba's shares could fall further.
Alba Minerals share price.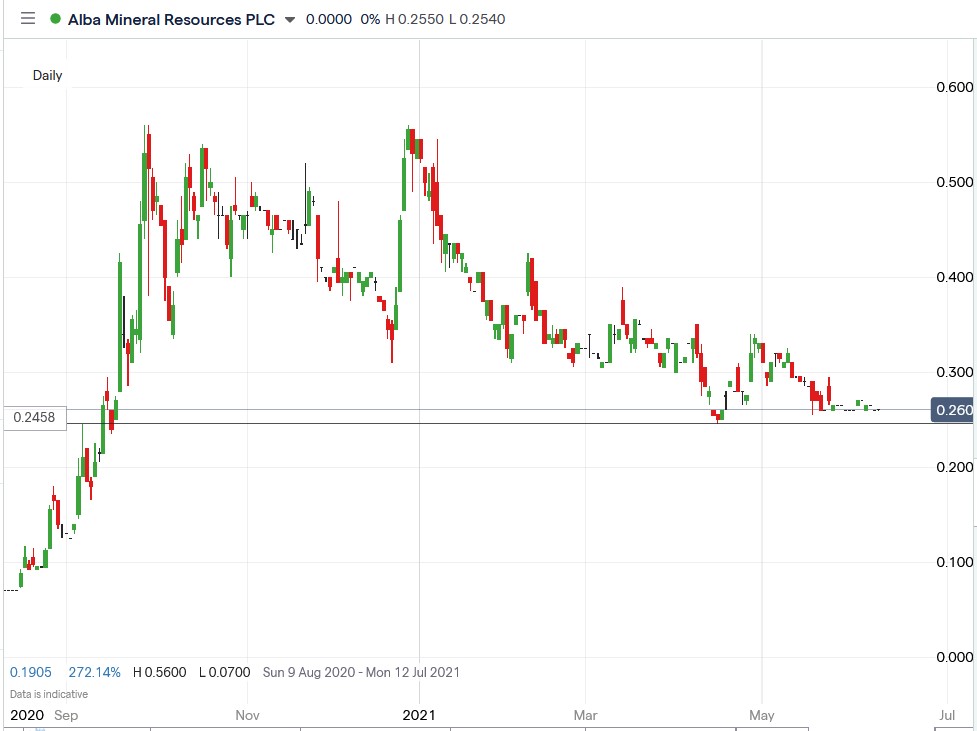 Alba Minerals shares are down 55.4% in 2021 and are trading near support. Can they bounce back?
Should you invest in Alba Minerals shares?
Alba Minerals shares are traded on the London stock exchange's AIM market (the alternative investment market), which is the submarket specifically for smaller companies. AIM stocks are attractive to investors as they have tax advantages and smaller companies have the potential to benefit from rapid growth. But are Alba Minerals shares the best buy? Our stock market analysts regularly review the market and share their picks for high growth companies