Shares of Alien Metals Ltd (LON: UFO) rallied 11% after revealing positive initial results from the test leaching activities at its Elizabeth Hills silver tailings project in Western Australia. The results showed high levels of silver recovery with an average silver recovery to solution ratio of 91.7%.
Investors cheered the results following yesterday's lacklustre reaction to the news that the company had started the second drill phase at its Hancock mine located in Western Australia.
Alien Metals tested 81 samples taken from 21 locations with silver grades up to 1,270 g/t (38 oz/t), with the samples returning an average grade of 472 g/t Ag (13.3 oz/t Ag).

As I mentioned yesterday, Alien Metals is a firm that is executing its strategy at a very high level. It is working on multiple projects and is constantly achieving new milestones, as evidenced by yesterday's and today's announcement.
Alien Metals has an exclusive arrangement to potentially buy the silver tailings project and has extended the exclusivity period with the project owner Wombat Resources Pty Ltd for an additional45 days.
The extension allows the laboratories located in Perth, Australia, to complete the backlog of work in processing the samples taken from its prospects, given the high workloads that most laboratories face.
Alien Metals confirmed that the highest recovery level was 95.2%, while the lowest recovery level was 88.0%, which is relatively high for a silver tailings project.
Alien Metals explained that: "Initial results from 6 samples that have been subject to test leaching by ALS Perth are very encouraging and have returned high levels of silver recovery."
Bill Brodie Good, Alien Metals CEO & Technical Director, commented: "We have been aware of the potential of the historic silver tailings at Elizabeth Hill for some time. Knowing that the Elizabeth Hill silver mine's historic operations were somewhat inefficient and being a very high-grade project with abundant native silver in the orebody, we felt that, despite previous reprocessing activities, there is likely significant value remaining in the silver tailings."
Alien Metals share price.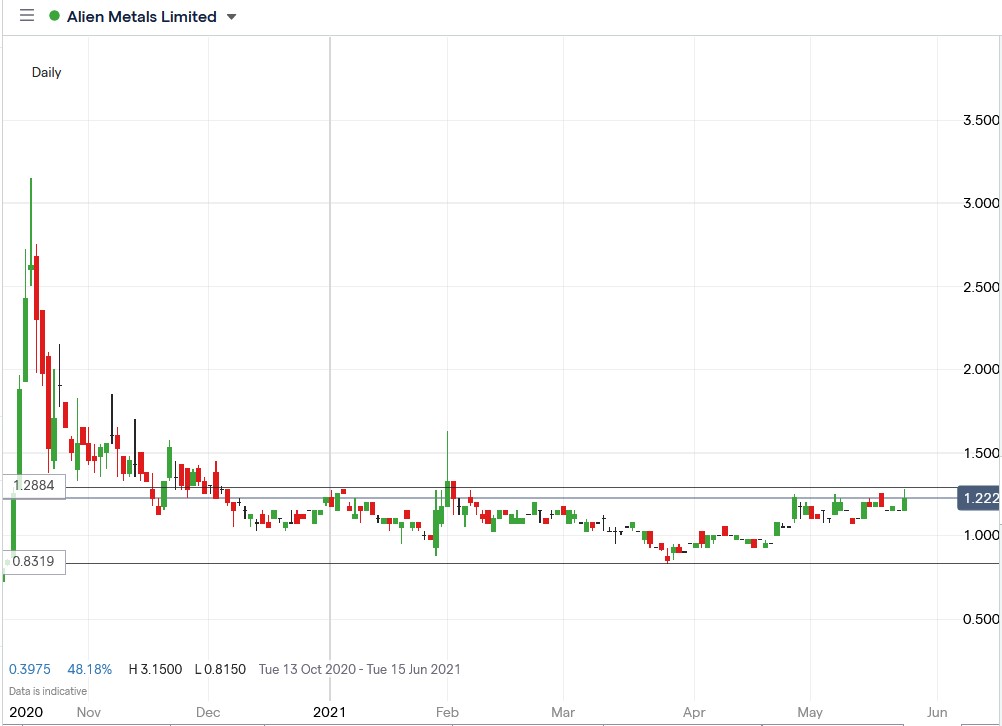 Alien Metals shares rallied11.08% to trade at 1.2775p, rising from Tuesday's closing price of 1.1500p.