The Amigo Holdings PLC (LON: AMGO) share price has risen 69.7% in a month despite the looming liquidation of the guarantor lender. Earlier in April, the company issued an update saying it does not know what could have triggered the rally in its share price.

---
YOUR CAPITAL IS AT RISK. 81% OF RETAIL CFD ACCOUNTS LOSE MONEY.
---
Despite the recent rally, Amigo shares are still down 93% year to date as the provider of mid-cost credit undergoes an orderly wind-down of its business. The company could not raise the necessary funding to remain operational and is now closing its business.
Top Broker Recommendation
YOUR CAPITAL IS AT RISK. 68% OF RETAIL CFD ACCOUNTS LOSE MONEY
Investors should generally stay far away from Amigo shares, given that the lender is currently liquidating its assets, which disadvantages common shareholders who are always the last to be paid in such a scenario.
A little history is crucial for those wondering what went wrong with Amigo Loans. The company stopped lending in 2020 after complaints to the UK's Financial Conduct Authority (FCA) grew significantly due to the unfair rates charged by the firm under its previous CEO and Founder, James Benamor.
The company was found guilty of offering expensive guarantor loans to people with tattered credit scores who could not afford them. It was tasked with compensating all the wrongfully saddled with debts they could not service.
Amigo Loans went to court to present its first scheme of arrangement, which was opposed by the FCA and rejected by the courts since it favoured other shareholders while leaving the affected creditors at a disadvantage.
The company was tasked with coming up with another scheme of arrangement, which was approved by the courts mid-last year. The company was then supposed to raise £45 million, which it could not do, leading to its current predicament where it is now winding down its operations.
Therefore, while the current management team was not responsible for Amigo's bad loans and high interest rates, they must steer the company through liquidation. Hence, as an investor, there is still no hope for Amigo Loans, and I wouldn't buy shares in a company that is about to shut down.
*This is not investment advice.
Amigo share price.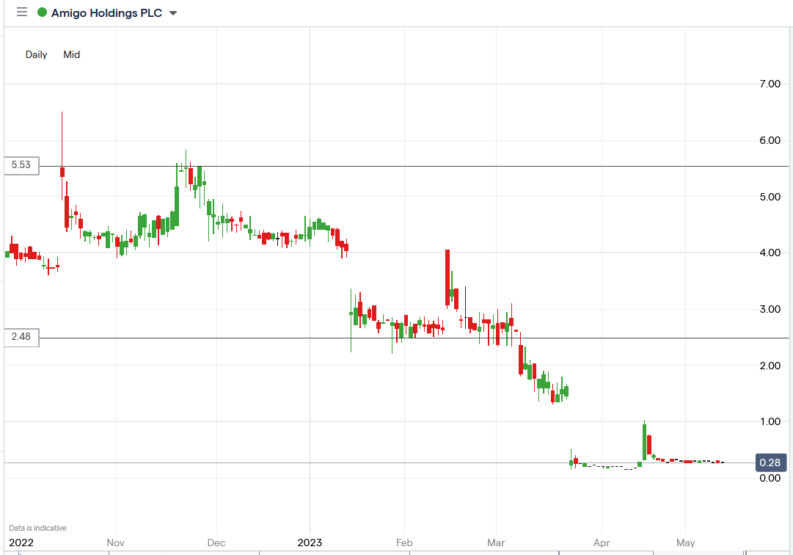 The Amigo share price has risen 69.7% in a month. Is there hope for investors?
---
YOUR CAPITAL IS AT RISK. 81% OF RETAIL CFD ACCOUNTS LOSE MONEY.
---