Key points:
Amigo shares plunged 23.4% after releasing its first-quarter results.
Investors focused on the weak financials ignoring the tangible progress.
The guarantor lender is now much closer to resuming lending activities.
The Amigo Holdings PLC (LON: AMGO) share price plunged 23.1% after the guarantor lender released its Q1 financial results. However, the lender outlined its plans to resume lending ahead of the 26 February 2023 deadline while confirming that it is still working with the UK's financial regulator to streamline its lending processes.

The lender continued to collect the outstanding loan repayments from its customers generating £10.4 million in the quarter ended 30 June 2022, representing a 68% decline from the £32.5 million collected in a similar period last year.
Also read: The Best Shares To Buy Now.
Amigo's statutory pretax profits were £2.2 million, a significant decline from the £15.0 million generated in a similar period last year. However, investors should remember that the lender is not issuing new loans and is running off its loan book.
After the court sanctioned its new business scheme on 26 May 2022, amigo has up to 26 February 2023 to resume lending activities and up to 26 May 2023 to raise new capital via a share placement, which is expected to dilute existing shareholders significantly.
The sub-prime lender recently appointed Peel Hunt LLP as financial adviser and sole corporate broker and Ashcombe Advisers LLP as its financial adviser, signalling that it is preparing for future capital raising activities.
Investors' adverse reaction was not unexpected, but Amigo has made significant progress in its push to return to lending while involving the UK's Financial Conduct Authority (FCA) in the entire process to ensure that it will not have any regulatory hurdles in future.
Amigo's board noted that the FCA's investigation into its creditworthiness assessment and complaints handling, launched in 2020 and 2021, were ongoing. The board is looking forward to the conclusion of the investigations so that it can move forward as a revamped company.
Today's results provided crucial insights into Amigo's operations and the progress made towards resuming lending under the RewardRate brand. Investors also saw how the company's loan recoveries remained high despite the higher delinquency rates associated with the loan book runoff process.
*This is not investment advice.
Amigo share price.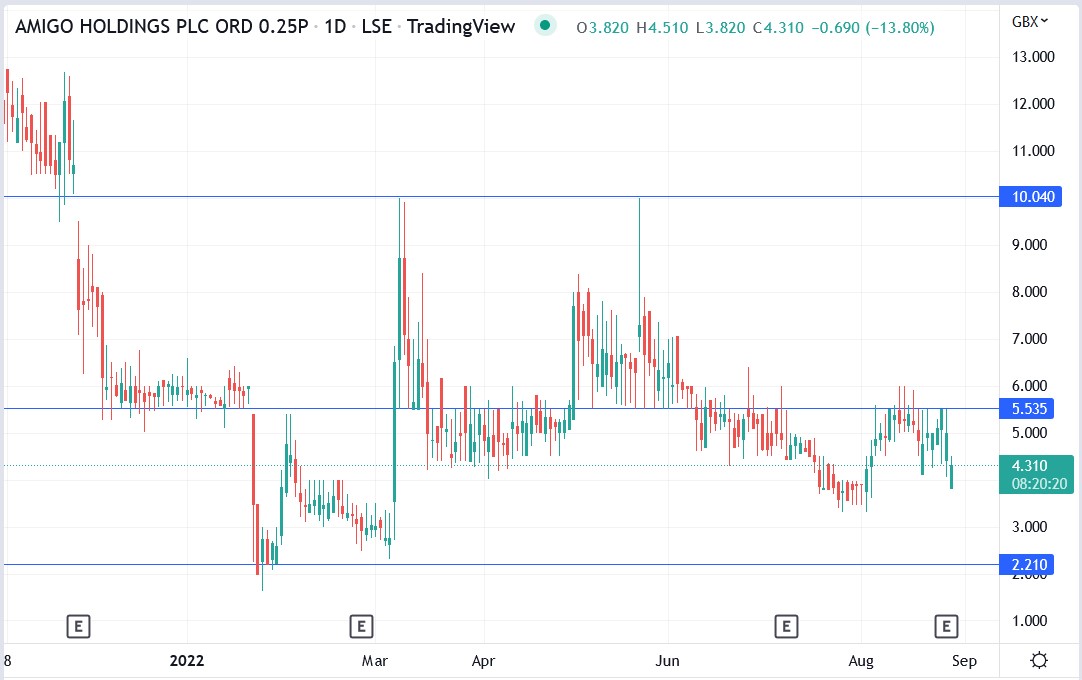 The Amigo loans share price plunged 23.4% to trade at 3.83p, falling from Thursday's closing price of 5.00p.