Key points:
Oxford Cannabinoid is cuttiung its research programme
This extends the fiscal runway to allow at least one product to be fully tested
But is this enough, just the one product?
Oxford Cannabinoid Technology Holdings (LON: OCTP) shares are down 14% this morning on the back of the announcement of a strategic review. Essentially OCTP has decided to extend the financial lifetime of the company by reducing the number of products in development. This might well make sense given the situation but it does rather open up questions about the initial plans the company had.

Oxford Cannabinoid came to the market near a year ago (May 2021) and the shares have been up at 500p at one time since. That might well have seemed a high enough price to be able to raise more capital – hey, this is an early stage clinical research company so more capital is always going to be required, it'll be years before there's significant revenue – but the decline down to below 100p yesterday might have cut off that route. The dilution associated with raising more capital is too high.
So, the decision now goes the other way. In order to have the funds to be able to complete the research programme the programme must be cut: "Following this review, the Board considers it prudent to temporarily delay Phase I clinical trials of OCT130401, its second programme. Phase I clinical trials for the Company's lead programme, OCT461201 remain on track and on budget," OK, which leads to this: "Taking this action means that existing funds, which would otherwise have been fully utilised by April 2023, will now extend to Q4 2023." By doing this they can preserve the current cash pile to get to the end of at least the first phase of one of the programmes.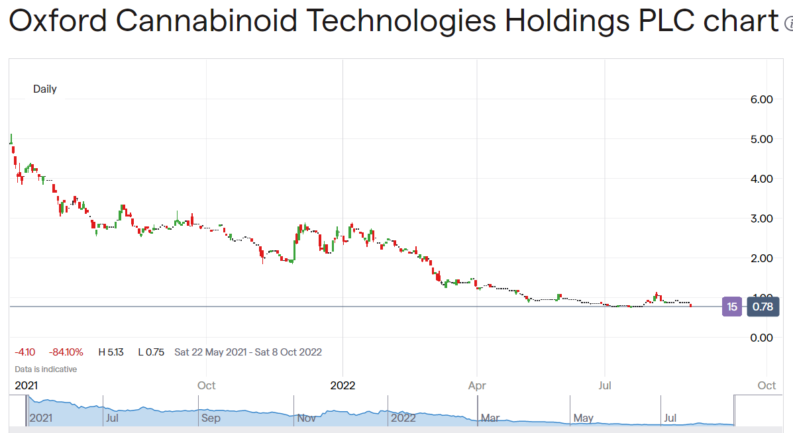 Also Read: Five Best Pharmaceutical Stocks to Watch in 2022
Given the dilution that could occur from more fund raising this might well be the best decision. But it does leave the company reliant upon the tests on just that one product. And the failure rate of new pharma is pretty high – that's some risk being taken.
There's also another thought that occurs. There's much research going on into how drugs – the recreational ones – might be used clinically. After all, we've thousands of years of experience that these drugs have interesting properties interacting with human beings. But how interesting? Can we divine exactly which portion of what drug is doing what? If we can is it then possible to get that through FDA testing and be able to charge a fat margin for a new pharma drug derived from the old recreational drug? It's a plan and it has its merits.
There is though that sneaky feeling that the rest of the market has now moved around that idea. It's never been difficult to score cannabis in the US but now it's legal in many places, legal as medical marijuana in many more. So, after all that work – and expense – to gain FDA approval and a licenced pharmaceutical drug what's to stop people just gaining access to the cure, the cannabis, and self dosing? That is, even an FDA licence might not provide market exclusivity. It's a problem that's worth thinking about.