Key points:
 Amigo shares soared 86.7% after the FCA approved its return to lending.
The guarantor lender will start with a pilot lending project for two months.
Then, if successful, the FCA will approve its return to full lending.
The Amigo Holdings PLC (LON: AMGO) share price soared 86.7% after revealing that the UK's Financial Conduct Authority (FCA) had finally allowed it to resume lending activities immediately after meeting certain conditions.

The guarantor lender ceased all lending activities in November 2020 after receiving numerous complaints from customers requesting compensation due to the company's past lending practices that were primarily regarded as exploitative and unfair.
Also read: Best Shares To Buy Now.
Amigo's New Business Scheme of Arrangement was approved by the UK High Court in May 2022, allowing the company to resume lending activities if the FCA approved the same. However, the lender was also required to raise new capital via a share issue and to compensate the affected creditors.
The company was supposed to resume lending and raise new capital by 26 May 2023, or it would begin the liquidation process, which is why today's announcement is crucial. According to the FCA's letter, Amigo has met the Threshold Requirements to resume lending activities on a pilot basis lasting two months.
Lending during the pilot phase will be pretty limited, with Amigo expected to resume full-scale lending activities if the FCA is satisfied that its lending activities are following its Principles, Rules and Guidance. The FCA is particularly interested in how Amigo's return to lending activities will impact consumers.
The company is excited to resume lending activities under its new brand, RewardRate, where it will be offering a rebooted guarantor loan product and a new non-guarantor unsecured loan product. The two loans shall attract interest starting at 39.9% APR and 49.9% APR respectively.
Customers who repay their loans on time will improve their credit rating and lower their overall APR to 34.9% APR, representing a 5% decline for the guarantor loans and a 15% drop for the non-guarantor unsecured loans.
Amigo aims to grow its loan originations to £200  million a year in year two and over £350 million in year four after meeting the FCA's compensation requirements in year one.
*This is not investment advice.
Amigo share price.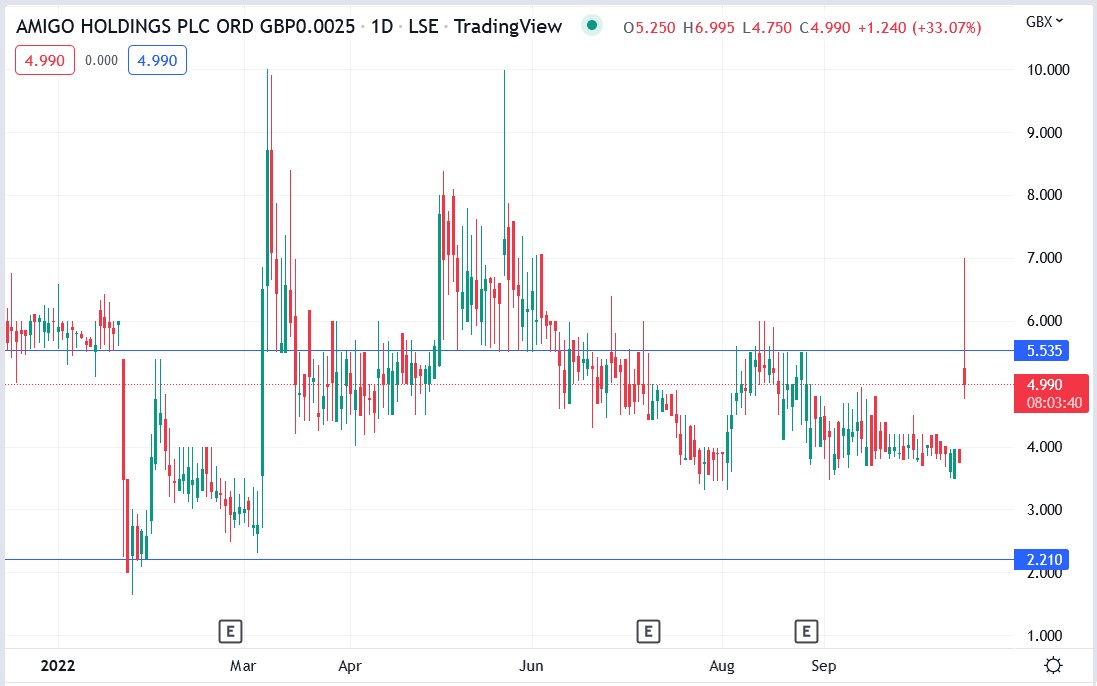 The Amigo share price soared 86.7% to trade at 7.00p, rising from Thursday's closing price of 3.75p.