The ARC Minerals Ltd (LON: ARCM) share price rallied 17.4% after announcing that it had gotten an extension to the deadline for completing its joint venture agreement with a subsidiary of Anglo American plc regarding its copper interests in North Western Zambia.

---
YOUR CAPITAL IS AT RISK. 81% OF RETAIL CFD ACCOUNTS LOSE MONEY.
---
The two companies decided to extend the deadline by another 13 business days to 21 April 2023 to complete specific outstanding steps. In addition, the firms agreed to extend the exclusivity period under the letter of intent signed in May 2022.
Top Broker Recommendation
YOUR CAPITAL IS AT RISK. 68% OF RETAIL CFD ACCOUNTS LOSE MONEY
However, Arc Minerals reminded investors that the terms of the commercial agreement remained the same as outlined in the joint venture agreement unveiled on 12 May 2022. The companies had initially extended the exclusivity agreement on 7 February 2023 to 31 March 2023 before today's extension.
The two firms had said that the initial extension would allow them to complete some remaining due diligence, technical, and structural issues.
Still, Arc Minerals also warned that until the two firms sign a definitive agreement, there is no guarantee that it or any company in its group will complete any commercial transaction concerning its Zambian assets.
Nick von Schirnding, Arc Minerals' Executive Chairman, commented: "I am very pleased that we have continued to make good progress in the negotiation of a transaction with Anglo American in respect of the proposed Joint Venture. We are also pleased with the progressive reforms being undertaken by President Hakainde Hichilema's administration and the Ministry of Mines. I look forward to moving swiftly to signing all the final agreements and to updating shareholders shortly."
Today's rally in Arc Minerals' share price shows that investors are confident that the company will agree with Anglo American on the Zambian joint venture, which will fast-track the project due to Anglo American's experience and capital resources.
*This is not investment advice.
ARC Minerals share price.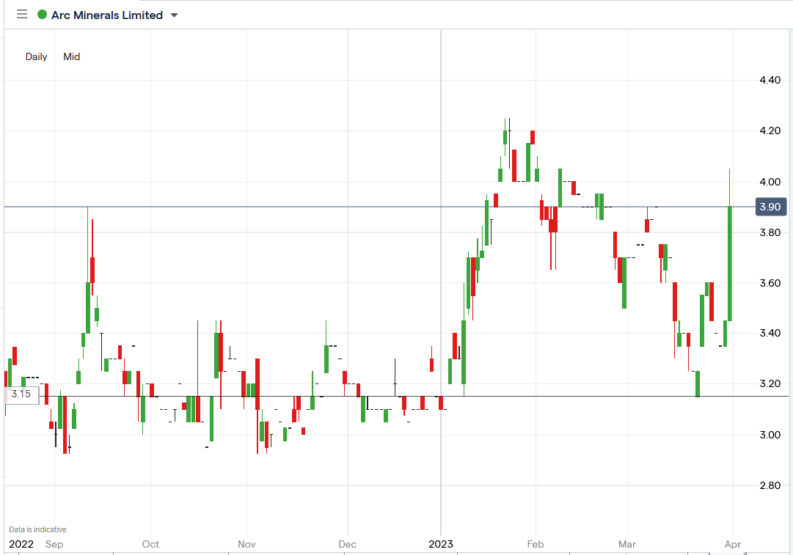 The Arc Minerals share price rallied 17.39% to trade at 4.05p, from Thursday's closing price of 3.45p.
---
YOUR CAPITAL IS AT RISK. 81% OF RETAIL CFD ACCOUNTS LOSE MONEY.
---