Shares of Aston Martin Lagonda Global Holdings PLC (LON: AML) have been stuck trading sideways since early March after hitting a 2021 high in February. What's next for the carmaker?

The British luxury car manufacturer recently released the financial results for Q1 2021 ending March 31, 2021, where it reported a loss of £42.2 million ($58.7 million) compared to last year's £110.1 million loss. 
Aston Martin grew its revenues to £224.4 million from £88.8 million recorded in Q1 2019, representing 153% growth driven by revenue from wholesale sales. The company reiterated its full-year wholesale sales target of 6,000 cars.
However, the investor advisory group Institutional Shareholder Services ISS was unhappy with its pay report and asked shareholders to reject it. 18% of shareholders voted against firm's the pay report that awarded executives bonuses for the 2020 financial year.
Another advisory group, Glass Lewis, advised shareholders to vote against Lance Stroll's re-election due to the lack of diversity on the company's board, which has only one woman. 17% of shareholder voted against Lance Stroll's re-election.
Regardless, both motions were passed by a majority of the shareholders, and the company confirming that it would diversify its board members and ensure that its workforce was diverse. 
Aston Martin reaffirmed its annual outlook as it works to return to profitability under Lance Stroll' leadership. The carmaker expects to deliver 10,000 wholesale sales by the 2024/2025 financial year while generating revenues worth £2 billion. 
I would refrain from establishing new positions in the British luxury car manufacturer until the price convincingly breaks out of the current trading range.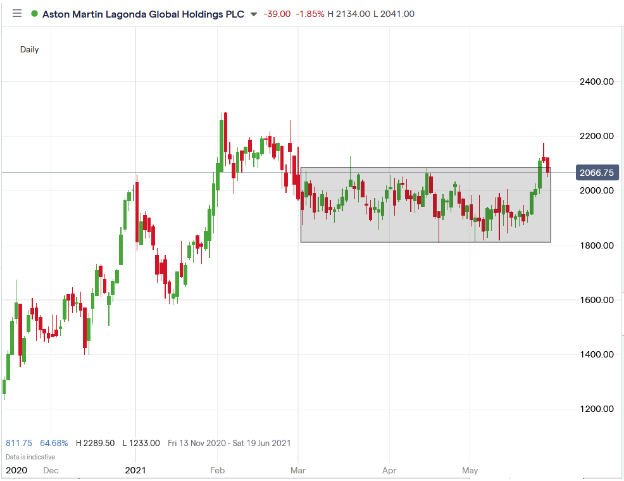 Aston Martin shares have been stuck trading sideways in March. What will it take for the shares to break out of the range?
Should You Invest in Aston Martin Shares?
One of the most frequently asked questions we receive is, "what stocks are best to buy right now?" It's a wide-ranging question, but one that we have answered… Our AskTraders stock analysts regularly review the market and compile a list of which companies you should be adding to your portfolio, including short and longer-term positions. Here are the best stocks to buy right now