Key points:
AstraZeneca shares have risen 21% this year despite the stock market selloff.
The company's innovations have kept it ahead of its peers, as shown below.
AZN shares are trading at an attractive price point. As they a buy? Read on…
The AstraZeneca plc (LON: AZN) share price has risen 21% since the year began, compared to the general decline in the UK and US stock markets as the shares of many companies fell. The company has outperformed the general market due to its constant innovations, which mirror those of a young biotech company, not a global pharma giant.

For example, today, the pharma giant announced that its Beyfortus (nirsevimab) respiratory syncytial virus (RSV) drug, developed jointly with Sanofi, had been recommended for marketing authorisation in the European Union (EU) by the Committee for Medicinal Products for Human Use (CHMP) of the European Medicines Authority.
Also read: Five Best Pharmaceutical Stocks To Watch In 2022.
AstraZeneca further confirmed that its Evusheld (tixagevimab and cilgavimab, formerly known as  AZD7442), a long-acting antibody combination, has been recommended for marketing authorisation in the European Union (EU) by the CHMP.
The drug is meant to treat adults and adolescents aged 12 years and older with a minimum weight of 40kgs suffering from COVID-19 who do not need supplemental oxygen but are at high risk of developing severe COVID-19 symptoms.
AstraZeneca did not stop there but issued its third release of the day confirming an interim analysis of the results of its phase III clinical trial assessing danicopan (ALXN2040), an investigational, oral factor D inhibitor, had met its primary endpoints.
The drug that can be used as an add-on to C5 inhibitor therapy Ultomiris (ravulizumab) or Soliris (eculizumab) demonstrate positive high-level results in patients suffering from paroxysmal nocturnal haemoglobinuria (PNH) with clinically significant extravascular haemolysis (EVH).
AstraZeneca's dedication to research and development had paid off, given that it is trading higher for the year, unlike many other companies that have fallen significantly. Its competitors, such as Pfizer Inc, GSK Plc, and Moderna, are down significantly for the year.
AstraZeneca shares look attractive since they are trading near the bottom of the upward trend shown below, but they are pretty expensive compared to the average UK stock.
*This is not investment advice.
AstraZeneca (AZN) share price chart.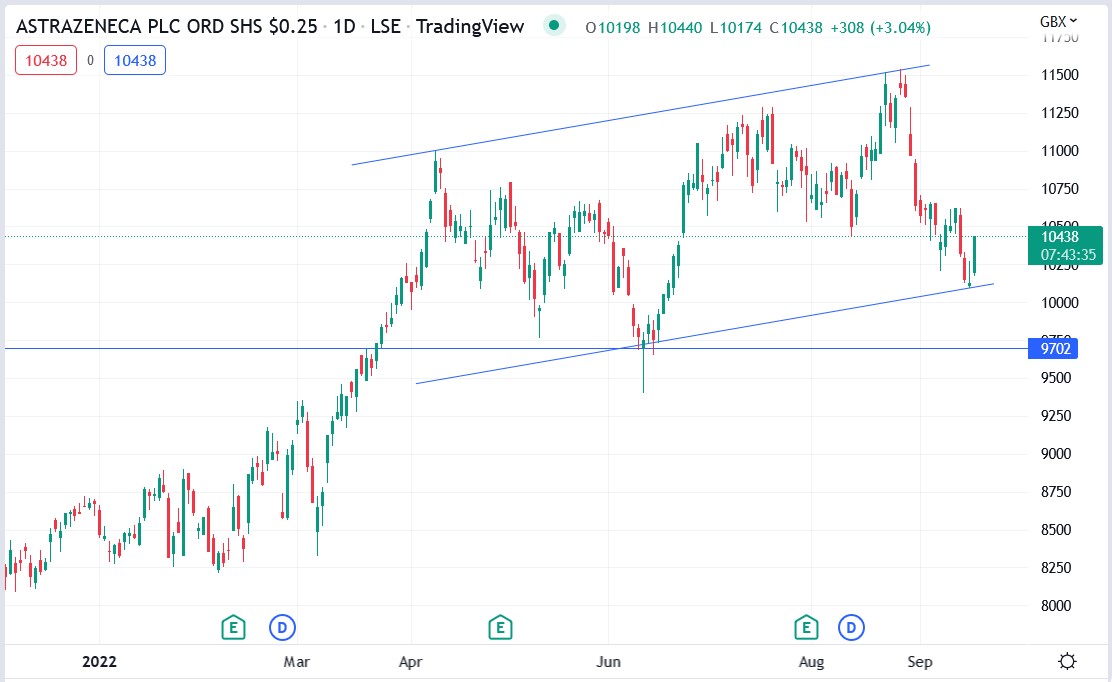 The AstraZeneca share price has risen 20.98% in 2022 and could be headed higher for the above reasons.