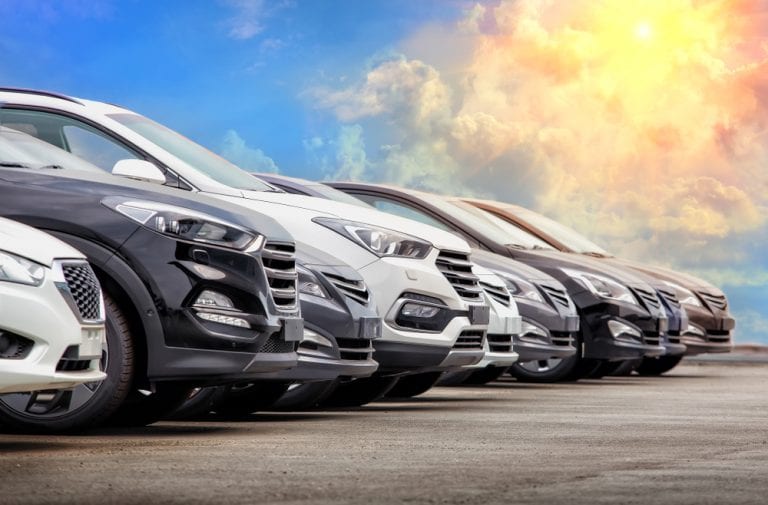 Tesla announced on Tuesday that it is producing 1,000 cars per week at its Shanghai plant.
The manufacturing base, which was a greenfield site less than 12 months ago, provides Tesla with a foothold in the all-important China mainland market.
On Monday, the global sale of new cars was reported to be contracting. In the biggest drop since 2008, total sales for 2019 are forecast to be reduced by 3.1 million.
The auto sector is seen as the main drag on the manufacturing sector, which is in turn seen as the main drag on global economic growth.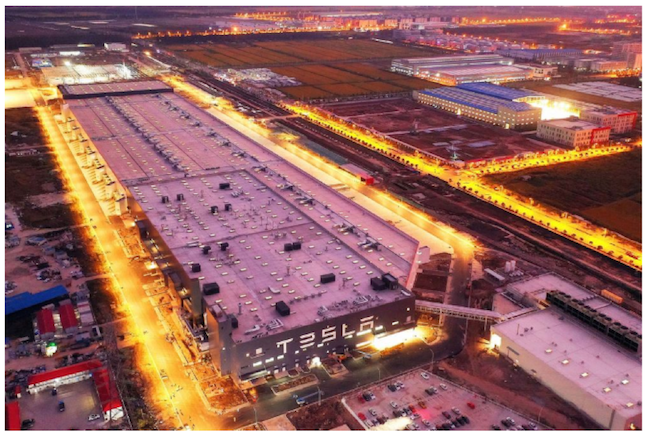 The auto sector was once a place of relative certainty and stability, if somewhat limited in terms of potential returns. Technological and societal changes have shaken the sector to the core. As barriers to entry have come tumbling down, incumbents and disruptors have engaged in fierce competition for dwindling sales. Not only do they face shrinking consumer demand but also increasing and unpredictable regulatory conditions.
A report by Fitch Ratings has compiled the latest data on new car sales and the preliminary figures for 2019 don't look good. Global car sales are expected to experience their steepest year-on-year decline since the financial crisis of 2008. The estimated 3.1 million fewer unit sales are a sign of slowing consumer demand from the US to China and pretty much everywhere else in between.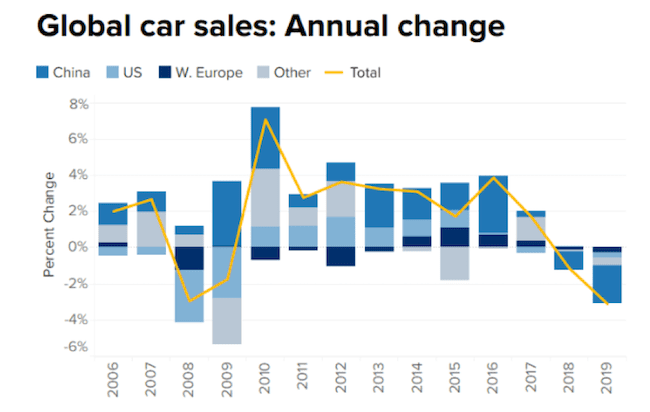 Using data provided by the International Organization of Motor Vehicle Manufacturers has allowed Fitch Rating to unearth a worrying trend in auto consumer demand. Between 2017 and 2018, global passenger car sales fell from 81.8 million to 80.6 million. In the subsequent 12 months the contraction in demand was exacerbated. Sales are expected to fall between 2018–2019 by another 4% to around 77.5 million new vehicle sales.
Brian Coulton, chief economist at Fitch Ratings, said in a statement: "the car sales picture is turning out a lot worse than we expected back in May."
Source: CNBC
The key China market is responsible for a large part of the contraction. There are some 'growing pains' associated with the market for second-hand cars becoming more established and knocking new sales. Restrictions on consumer credit and new emissions standards were also pointed out as having suppressed demand. The Fitch Ratings report suggests that sales in China in the first 10 months of 2019 were down a staggering 11% on a year-on-year basis.
Speaking on the subject, Coulton outlined the perfect storm facing the industry: 
"Structurally, environmental concerns about diesel cars — and anticipated regulatory responses — and the growth of ride-hailing and car-sharing schemes are weighing on auto demand."
Source: CNBC
Tesla rising
New entrant electric powered vehicles still account for small single digit percentage of total sales. As a result, producers of these are able to thrive in their own micro-climate whilst the sector as a whole sees aggregate sales dwindle. The problem for the newcomers has ironically been establishing supply channels capable of meeting pent up demand.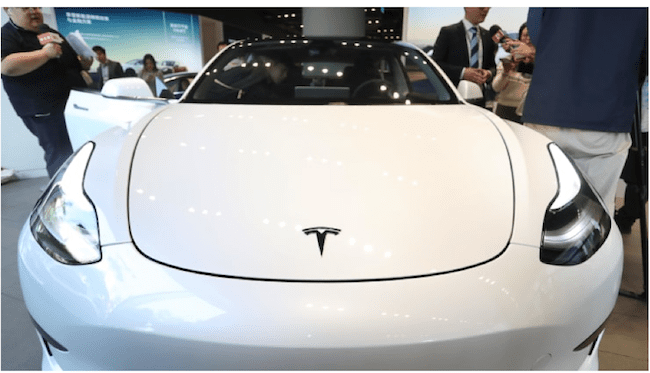 The flag bearer of the electric auto-industry, Tesla, announced on Tuesday that it has gone some way to rectifying that problem. News reports suggest that within 12 months, the firm has not only built a car factory in Shanghai but also established production routines that mean it is now producing 28 of its Model 3 electric vehicles per hour. This equates to 1,000 cars per week and the rate of expansion continues to be ambitious. It is expected that 2020 will see the number of Model 3's rolling out each week to top the 3,000 level and all the component parts will be sourced on the Chinese mainland. The first point highlights the latent demand from Chinese consumers for the 'right' type of car. The second point illustrates how the process has been designed to swerve the risk of US-China tariff wars getting in the way of meeting domestic Chinese demand.
Hydrogen
Tesla and other electric vehicle (EV) manufactures are trying to establish enough of a head start to make their models the 'new normal'. One challenge for them is that the network of recharging points is lagging behind and out of their control. Currently, the accepted wisdom is that EV will gain industry-wide acceptance and become the mainstream new technology. However, 2019 has seen increasing noises made by the proponents of hydrogen fuelled vehicles. Toyota has introduced the second-generation Mirai, which joins the Hyundai Nexo SUV as a commercially available hydrogen fuelled vehicle. BMW, the PSA Group and even London buses look set to invest in producing hydrogen vehicles largely due to the shorter refuelling times needed.
The battle between EV and hydrogen is hotting-up but this is the last thing incumbent manufacturers need as they decide which new tech path to take. If the battle between rival technologies becomes a high-stakes showdown similar to the Betamax / VHS face-off of the 1980s then producers will risk wasting their investment and falling further behind the leading pack.
Job losses / plant closures
A big element of reduced demand is governments killing off traditional engines. The political scales have been tilted against manufacturers and in favour of green concerns. GM is closing five plants in the US and one in Canada. Ford has cut 1,600 jobs in Germany and the Nissan plant in Sunderland, UK has had its expansion plans cancelled as the diesel SUV which was supposed to be built there is ill-fitted for the European market. The UK and France governments have both issued decrees that all new diesel and petrol cars will be banned from 2040.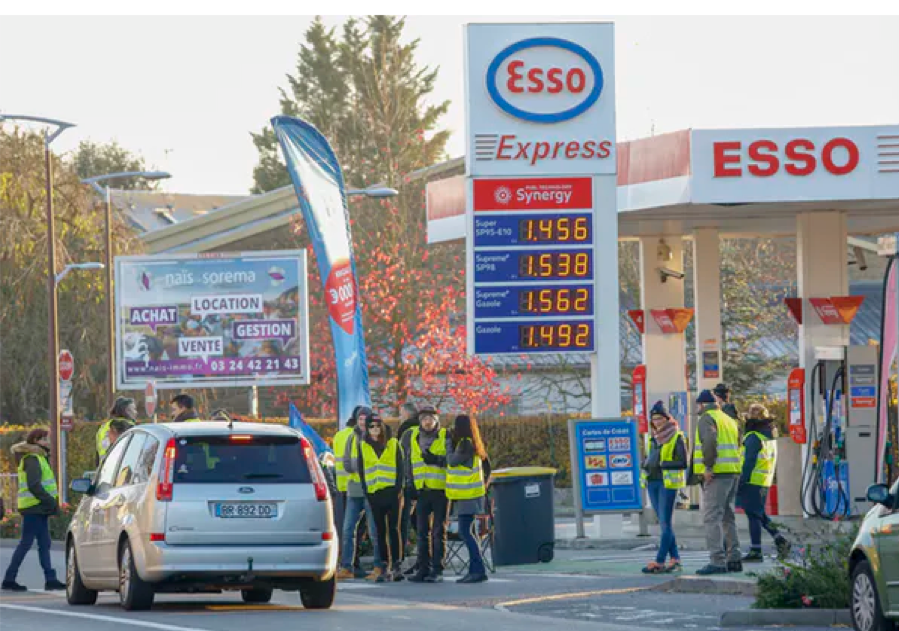 Governments have opted to side with green ideologies rather than the auto sector. Even the President of France, Emmanuel Macron has opted to hike fuel taxes and face the ire of the gilet-jaunes. The French protestors represent a rural and elderly demographic and the direction of travel firmly favours the young and urban populations.
Consolidation
The challenges facing the industry are opening-up investment opportunities for a variety of trading strategies. Fiat Chrysler Automobiles (NYSE:FCAU) and Groupe PSA (EPA:UG) are leading the race to find strength through consolidation. The pair recently announced plans to merge and those looking to form a portfolio of 'pre-event' stocks will note that after the tie-up was announced, FCAU share price outperformed the S&P 500 by 22 percentage points.
Fiat Chrysler Automobiles (NYSE:FCAU) — Three-month price chart: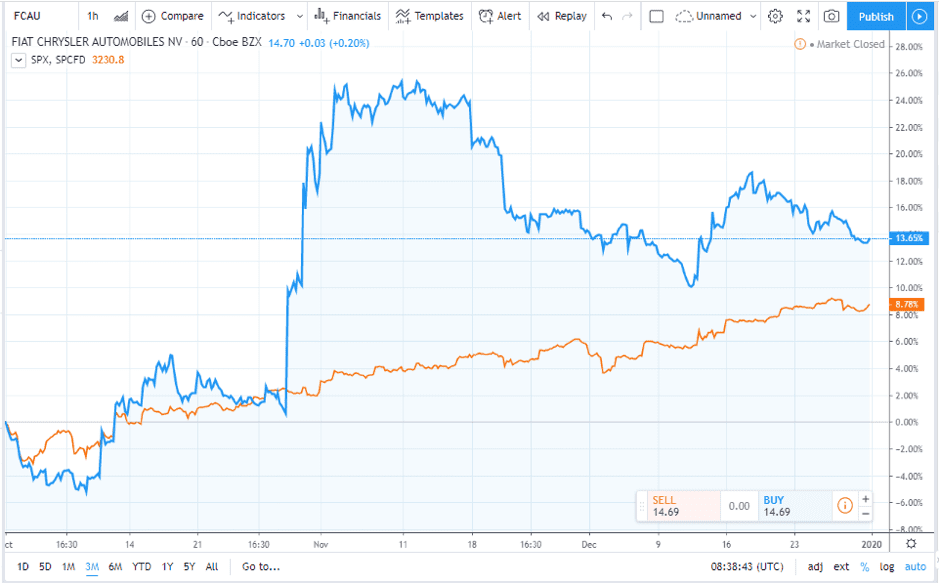 A pairs trade allows for market neutrality whilst simultaneously taking a position on which of the respective technologies will come out on top. The price volatility in Tesla Inc (NASDAQ:TSLA) makes it an obvious candidate to partner up to a contrasting position in one of the traditional manufacturers.
Tesla (NASDAQ:TSLA) vs Volkswagen —One-year price chart: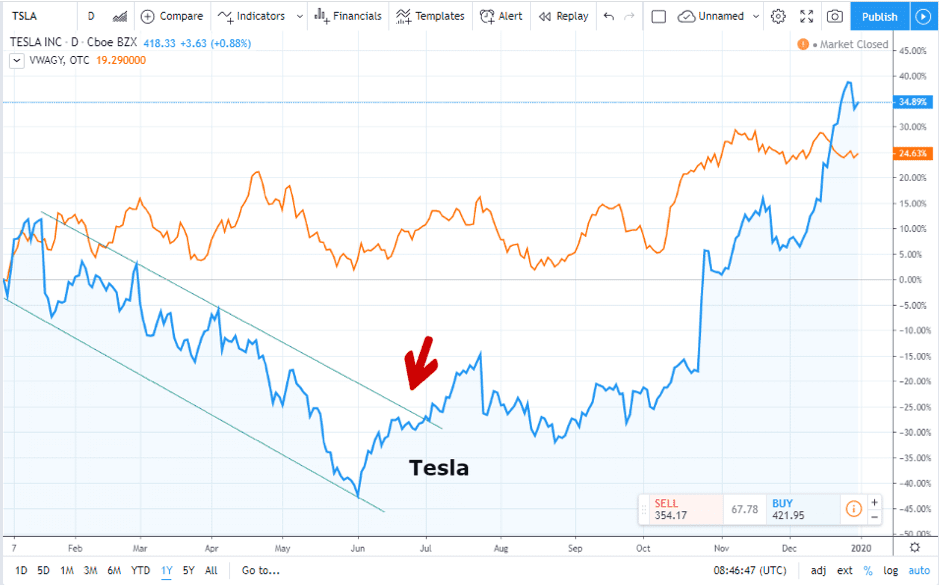 Societal changes form an added concern for car manufacturers. One that is harder for it to manage. In 1994 50% of 17 to 20 year-olds could drive, now that number is less than 33%. The possibilities of semi-autonomous driving have caught the eye of young consumers who appear ready to hold off on purchases of soon to be outdated technology. Google, Uber, Dyson and Toyota are just four firms investing billions in driverless technology and a move towards car sharing would permanently shatter the traditional model of a two-car family.