Key points:
Avacta shares rallied after selling its animal health division to Vimian Group.
Investors cheered the move that allowed Avacta to focus on its core business.
Avacta shares have fallen 54.8% in 2022 and look attractive at current prices.
The Avacta Group Plc (LON: AVCT) share price edged 9.55% higher after the biotech company revealed that it had sold its Animal Health Division to Vimian Group AB.

Investors cheered the divestiture to allow Avacta to focus on its core business as a clinical-stage developer of oncology drugs and a diagnostics systems developer.
Many analysts and investors viewed Avacta's veterinary division as a significant distraction for the company. In addition, the division was loss-making, which did not make it attractive from a business perspective.
Avacta Animal Health Limited sold veterinary allergy diagnostic solutions via its laboratory in Wetherby, UK, and was a reseller of immunotherapy products from Nextmune, part of the Vimian Group.
The Vimian Group wanted to bring Avacta's animal health division in-house since it already had a business relationship with the division as a reseller of its Nextmune products. Furthermore, the company probably wants to expand the number of products offered by the newly-acquired division.
Avacta received an upfront payment worth £0.9 million for the veterinary business and is entitled to a further payment of up to £1.4 million based on the future performance of the combined business.
Investors cheered that Avacta would make a profit on the sale, given that the division's carrying cost on 31 December 2020 was £1.0 million. The company said it would use the sale proceeds to advance its diagnostics and therapeutics divisions.
Dr Alastair Smith, Avacta Group's CEO, commented: "The sale of the Avacta Animal Health business allows the Group to focus entirely on growing its core businesses; diagnostics and therapeutics. Having had our Animal Health division since 2009, we are delighted that Vimian will be retaining the entire Avacta Animal Health team and are well placed to grow the business."
Magnus Kjellberg, CEO of Vimian's Nextmune business, commented: "This acquisition significantly strengthens Nextmune's competitive position in the UK. With our own laboratory for veterinary allergy diagnostics in the country and a full-service offering covering all veterinary dermatology needs, we see significant opportunities to accelerate sales and improve customer experience in the UK. The cross-selling opportunities via this business existing customer base and the increased laboratory capacity for Nextmune are also key components in driving incremental growth."
Avacta shares are down 54.79% in 2022 but were higher after hitting the 40p support level. As a result, the shares look attractive to the right investor at current prices.
*This is not investment advice. Always do your due diligence before making investment decisions.
Avacta share price.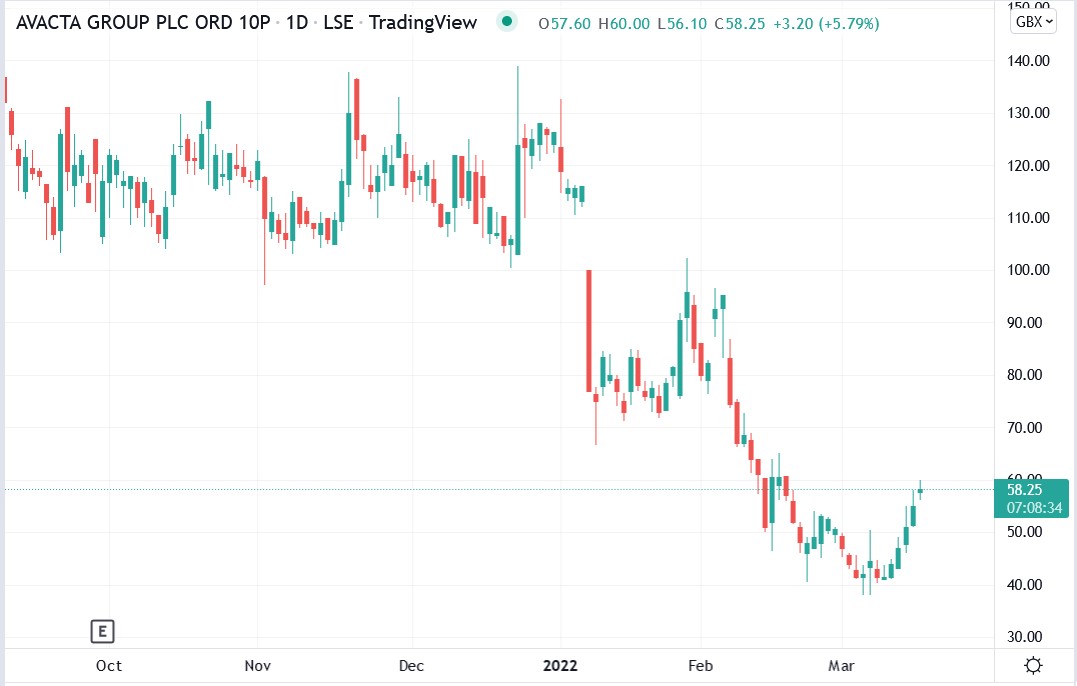 Avacta's share price edged 9.55% higher to trade at 60.25p, rising from Tuesday's closing price of 55p.