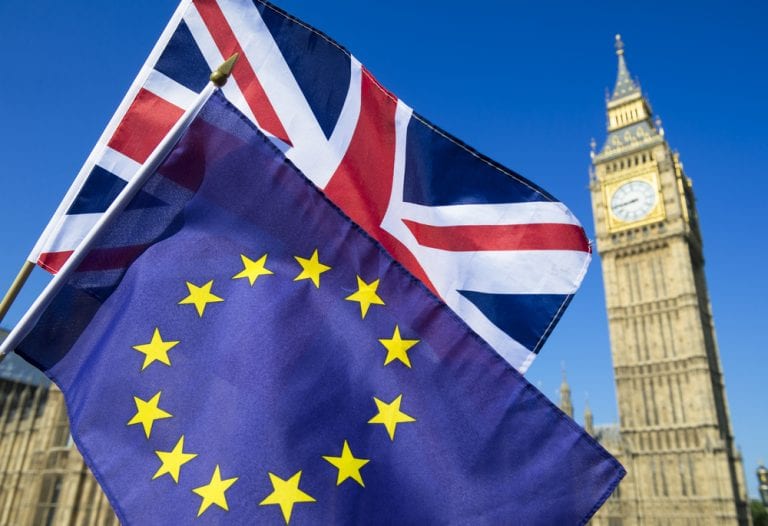 The closure of the UK parliament has freed up the diaries of British politicians.
Prime Minister, Boris Johnson, and Brexit minister, Stephen Barclay, have been on a Euro-roadshow to meet their counterparts and discuss possible ways forward.
All options remain open. A deal, an extension and leaving on WTO terms are all still feasible, but the markets are priced to suggest the latter option is now less likely.
Commerce and industry saw all this back in March, and as much as is possible, appear braced for the worst.
The fact that the Brexit deadline is less than 50 days away appears to be focussing some minds more than others. Politicians from the UK have been visiting EU member states this week, but efforts to make a break-through appear to be at the 'blue-sky thinking' stage. If there isn't progress soon, leaders may find themselves suddenly in the 'sky is falling in' stage. Political analysts have long suggested that any agreement between the two parties would be formed at the last minute. They point to the Greek debt crisis as an example of the EU favouring deadline date deals. From a political perspective, this brinksmanship may be the preferred approach, but it does point to increased volatility for the financial markets.

Businesses in both the UK and EU appear better positioned, with reports filtering through that stock-piling is taking place. The March 2019 deadline that came and went allowed firms to dry-run the situation and, although painful at the time, may help them weather whatever storms are ahead.
Pressure
Finland currently holds the rotating presidency of the EU. Finnish prime minister Antti Rinne, has said that the UK has only 12 days to set out its plans.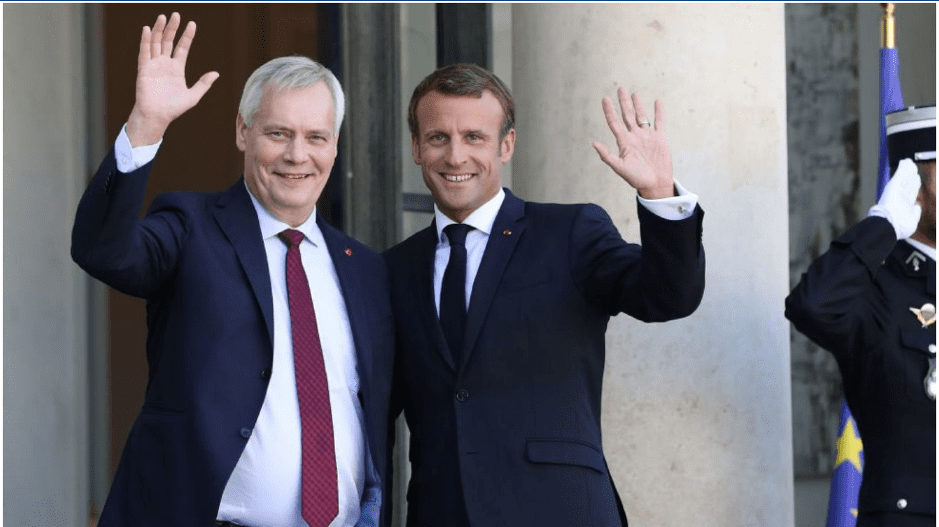 Referring to an agreement he has struck with French President Emmanuel Macron, Rinner said he required proposals in writing by the end of September. "If not by then, then it's over," he noted (Source: Sky News). Rinner's comments will obviously be considered those of an EU outrider whose purpose is to put pressure on the UK, but his grasp of the timeframe is hard to challenge.
EURGBP: April–Sep 2019 — daily candles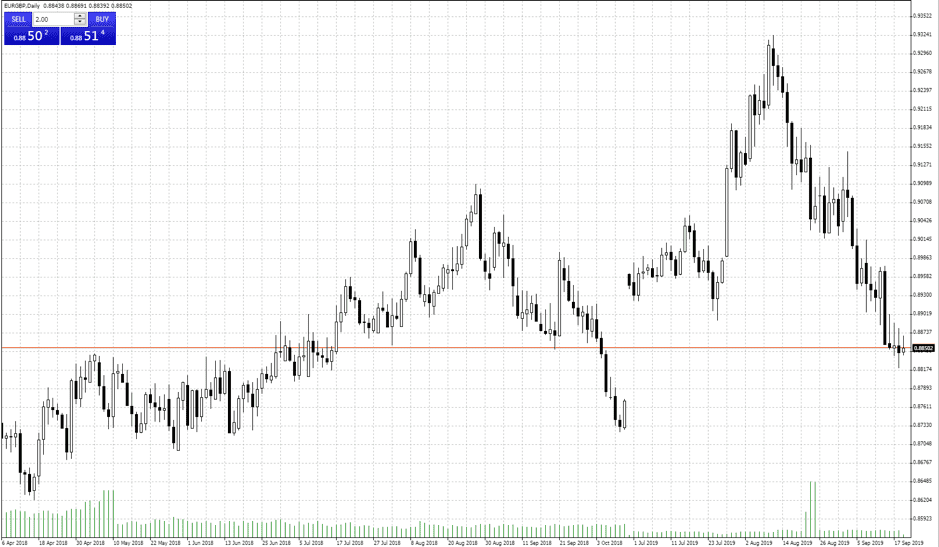 EURGBP: Aug–Sep 2019 — four-hour candles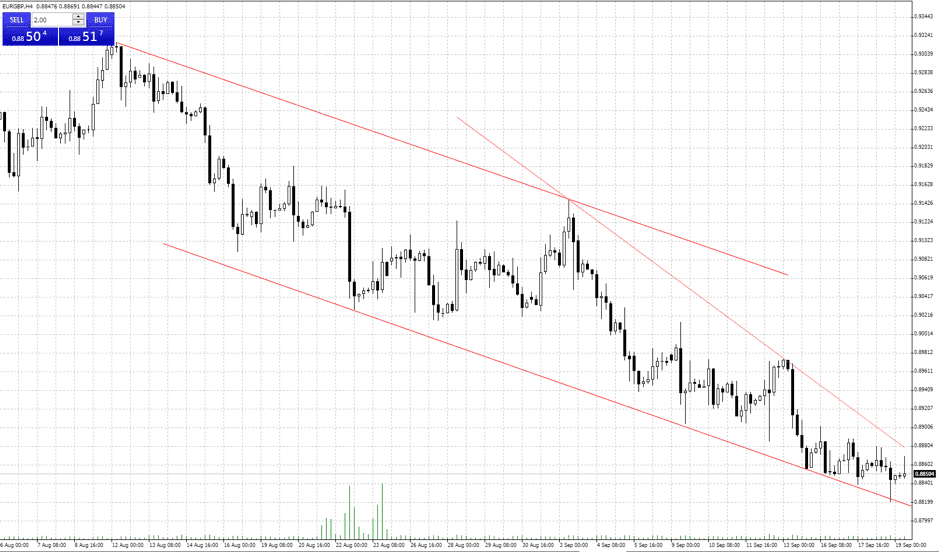 'Non' deal?
In an effort to move things along, UK Prime Minister Boris Johnson spent the first part of the week on the European mainland. Monday saw him visit Luxembourg to meet with President of the European Commission, Jean-Claude Juncker, and EU chief negotiator, Michel Barnier.
The resistance by EU member states to the new backstop proposals at first appears to reflect negotiations are at best progressing too slowly and at worst heading into a dead-end alley. Mr Juncker said.
"I said to Mr Johnson that I have no emotional attachment to the backstop but I stand by the objectives it is intended to achieve… That is why I called on the PM to come forward with operational proposals in writing.
"Until such time those proposals have been presented, I will not be able to tell you looking you straight in the eye that any real progress has been achieved."
Source: BBC
 Mr Barnier said: "Almost three years after the British referendum, ladies and gentlemen, it is certainly not a question of pretending to negotiate". He went on to say that the UK telling the EU what it does not like is "not enough."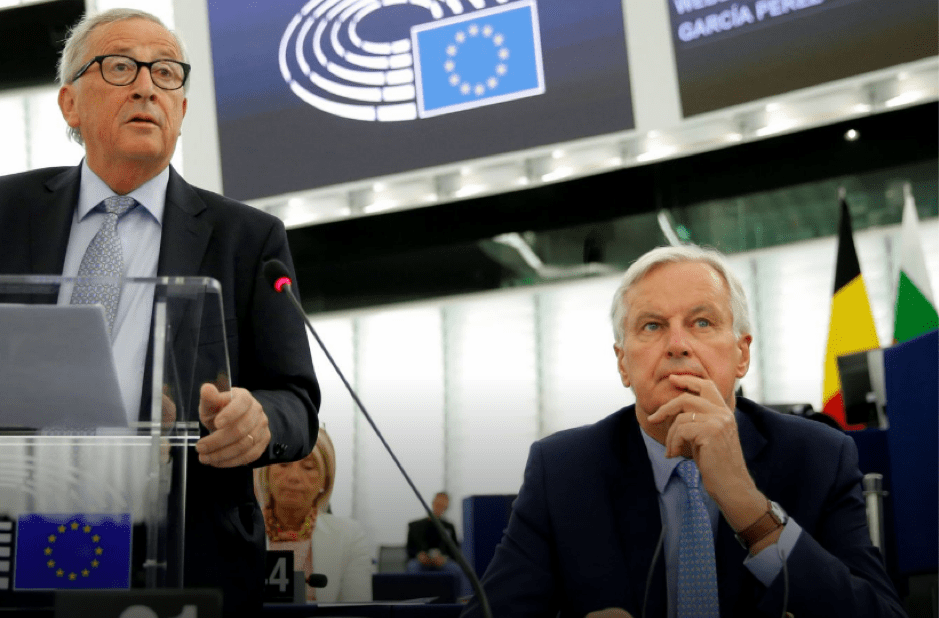 The salient fact to remember is that the key EU leaders are, by the act of engaging, confirming they could consider re-opening the previously tightly sealed 'Theresa May' Withdrawal Agreement. This is a significant development and buys the EU some room to manoeuvre. As the deadline approaches, the previous refusal to do so will be little more than a distant memory.
With the UK parliament suspended, there is also opportunity for British negotiators to fashion some kind of a deal and hope any concessions are not too widely reported at home. Brexit minister, Stephen Barclay, has been racking up some air miles this week. On Thursday he spoke in Madrid and expressed the benefits to industry that would come from there being a deal. He referenced the complex structure of international partnerships such as the airline group which is formed from British Airways and Iberia Airlines' operator IAG (ICAG.L). Barclay said:
"Let's work creatively to secure a deal, a deal the UK is committed to get in, a deal without a backstop… a deal which indeed will pass both the UK parliament and the European parliament."
Barclay will meet with Barnier on Friday.
Forex
The recent strength of sterling against the euro has been driven by the perception that there is a decreased chance of a no-deal. Whilst the trend line in the four-hour chart is actually steepening at the moment, there are signs of a descending wedge pattern forming in the one-hour chart.
EURGBP: Sep 2019 — 1Hour candles — descending wedge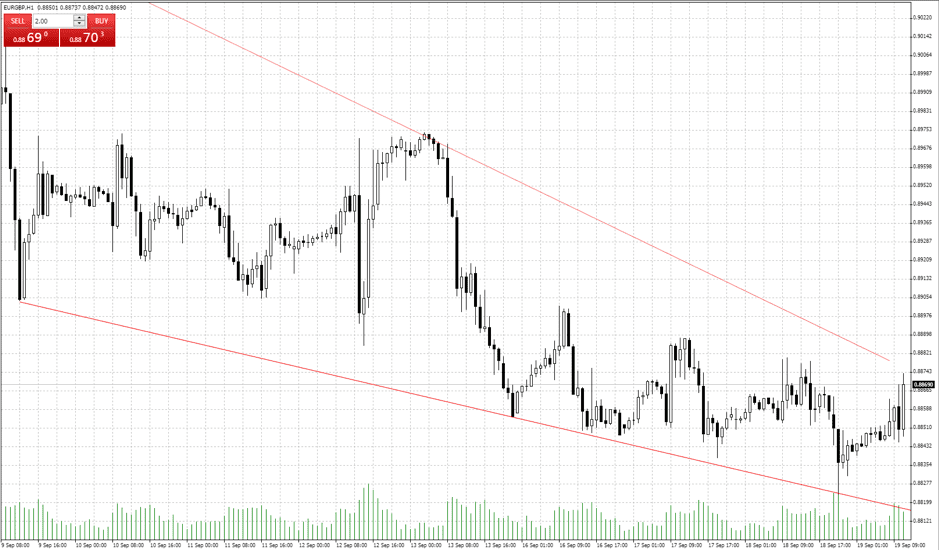 With high levels of volatility in the markets, few will be surprised should GBPEUR break one way or the other and do so sooner rather than later.
Preparations
Industrial leaders are taking action to mitigate the risks involved. Firms in the financial hub of London appear to be taking the route of working through the process before making any changes to their structure. The 'Brexodus' to the continent, which formed part of 'Project Fear' is three years on still yet to materialise. News agency Bloomberg ran the headline on Wednesday that "Brexit has cost London just 1,000 bank jobs so far". (Source: Bloomberg)
Barnier, Juncker, Macron, Rinner and Johnson form the figureheads of the discussion. For no-deal to be avoided, certain administrative processes will have to be in place. There are indications that these are being rushed through. The European Parliament is by no means the driving force of EU policy, but Wednesday did see it apply the necessary rubber-stamp to a motion calling for a further extension to be granted should it be requested.
The leaders are therefore left to express a relaxed demeanour, and their willingness to engage may be instilling confidence in some. The issue of the Northern Ireland backstop is still a major obstacle and investors may instead look to the preparations made by industry to consider how effectively risks are really being managed.