BT Group – CLASS A Common Stock (LON: BT.A) share price rallied 6.47%, extending a bottoming pattern that started last week. Have the shares bottomed, and will they keep rising?

Today's rally in BT shares was driven by its announcement over the weekend that it had achieved its goal to cut costs by £1 billion 18 months before its March 2023 target.
As evidenced by today's rally, investors cheered the move, but the question on most investors minds is, will the rally continue?
The telecoms company is yet to release its Q3 earnings results, which are expected later this week. Given the latest update, I expect Q3 earnings to at the very least meet analysts expectations, but they will most likely beat them.
According to media reports, the company worked hard to meet its cost-cutting goal as it prepares for a potential takeover offer from Patrick Drahi, a French Telecoms tycoon.
Drahi invested £2 billion in BT shares back in June, acquiring a 12% stake in the company but quickly clarified that he did not intend to make a takeover offer at the time.
However, under UK competition rules, his earlier declaration is only binding up to December this year, when he will be free to make a new offer if he wants to.
According to a report by Sky News published last week, BT Group has hired an advisory firm to help prepare its defence against a potential takeover offer, indicating that there is a high likelihood of such an eventuality.
BT Group is set to announce its next round of layoffs, which will likely be revealed when it presents its Q3 earnings report on Thursday.
The telecoms company's share price has been falling since hitting a high of 206.7p on 23 June 2021, with the latest announcement creating a bottoming pattern on BT Group's daily chart below.
Given that we expect a largely positive calendar Q3 earnings result on Thursday, it appears pretty likely that BT shares will trade higher driven by the positive earnings report.
Still, I wouldn't rush to invest in BT Group shares, given that its shares have been struggling for many years before this year.
*This is not investment advice.
BT Group share price.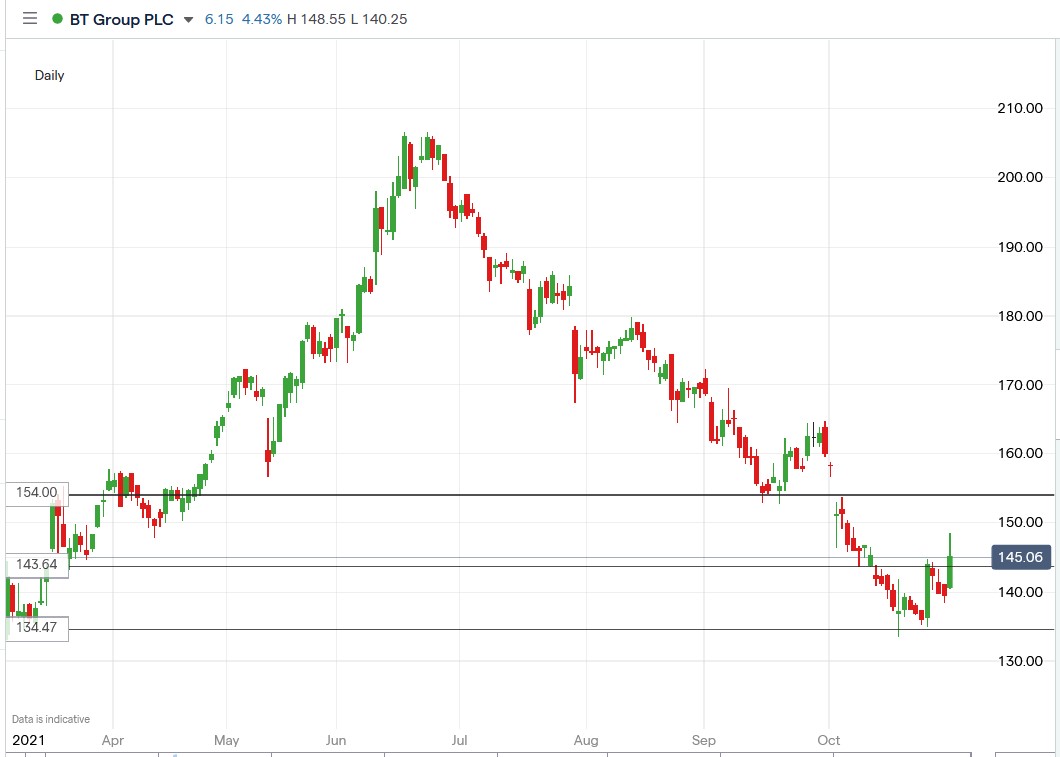 BT Group share price rallied 6.47% to trade at 148.56p, rising from Monday's closing price of 139.53p.
Should you invest in BT Group shares?
Tech stocks offer some of the best growth potential, but time and time again, traders and investors ask us "what are the best tech stocks to buy?" You've probably seen shares of companies such as Amazon and Netflix achieve monumental rises in the past few years, but there are still several tech stocks with room for significant gains. Here is our analysts view on the best tech stocks to buy right now.