The Canadian Overseas Petroleum Limited (LON: COPL) share price fell by 10.53% after its Q1 2023 financial results and operating update were released. The company sold an average of 974 bbls/d during the quarter, significantly declining from the 1,177 bbls/d sold in Q4 2022.

---
YOUR CAPITAL IS AT RISK. 81% OF RETAIL CFD ACCOUNTS LOSE MONEY.
---
The international oil and gas exploration, production and development company attributed the decline in its oil production to operational interruptions in some of its high-impact wells. In addition, the severe winter weather also negatively impacted its operations in the Converse and Natrona Counties of Wyoming.
Top Broker Recommendation
YOUR CAPITAL IS AT RISK. 68% OF RETAIL CFD ACCOUNTS LOSE MONEY
The oil and gas company has to conduct multiple shut-ins due to road closures and blockages within its oil fields that restricted access for crude oil offtake. As a result, the company generated net royalties of $5.2 million from petroleum sales compared to $6.7 million in Q4 2022. The decline was due to lower oil production and lower oil sales prices.
COPL had a net realised hedging gain of $0.5 million on the butane swap contracts compared to a net loss of $2.2 million on crude oil and butane swap contracts in Q4 2022. The company eliminated its crude oil hedge swap contracts for the first and second quarters of 2023 after completing a costless hedge restructuring in December 2022.
The company's operating netback was $17.19/bbl before including the net realised gain on crude oil and butane commodities contracts. The figure declined to the $23.38/bbl netback realised in Q4 2022.
The decrease in net margins was caused by the decline in WTI prices from $82.65/bbl in Q4 2022 to $76.13/bbl in Q1 2023. In addition, the increased operating costs contributed significantly to the company's lower profitability due to the shut-ins triggered by severe winter storms from late December 2022 to March 2023.
The company had to hire heavy equipment to remove snow and use hot oiling to break emulsions in the produced crude oil from the storage tanks to meet the specifications and requirements for sale.
COPL issued convertible bonds worth $11.8 million on 24 March 2023, ending the quarter with a solid cash balance of $10.7 million.
*This is not investment advice.
COPL share price.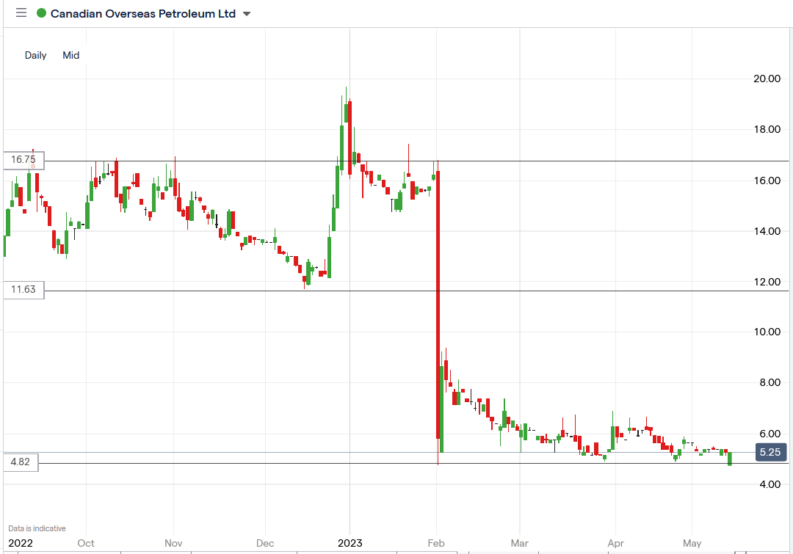 The COPL share price fell 10.53% to trade at 4.75p, from Monday's closing price of 5.25p.
---
YOUR CAPITAL IS AT RISK. 81% OF RETAIL CFD ACCOUNTS LOSE MONEY.
---