Shares of cruise ship operator Carnival plc (LON: CCL) rallied 6.9% despite successfully raising $1 billion via a share offering underwritten by Goldman Sachs to fund its operations.
Investors seemed to support the move given that Carnival's shares recouped all of yesterday's losses and edged higher as the offering is set to close later today during the American session.
Carnival has been on a capital raising mission in February, having raised $3.5 billion via senior unsecured notes due 2027 at 5.75% interest on February 16, in addition to today's $1 billion share offering.

The funds raised should cover the cruise ship operator as it restarts its cruise operations in countries amid huge pent up demand, given that its operations ground to a halt last year due to the impact of the global coronavirus pandemic.
The cruise ship operator is set to benefit immensely from the impending resumption of global travel. It plans to resume cruise operations in Italy on March 27, with the Costa Smeralda sailing for three, four and seven-day cruises within Italy.
One week trips to Spain, Italy, Greece, and Croatia will begin on May 1 if everything goes according to plan.
Carnival's AIDA cruises are set to resume operations on March 20, with AIDA Perla sailing around the Canary Islands. The company had to cancel AIDA trips scheduled from March 6 to March 19 after Germany extended its lockdown measures.
Investors and analysts are waiting to see how the company ramps up its trips schedule once the coronavirus vaccination programmes start working and more countries ease travel restrictions allowing the company to sail to more ports across the globe.
Carnival Plc share price.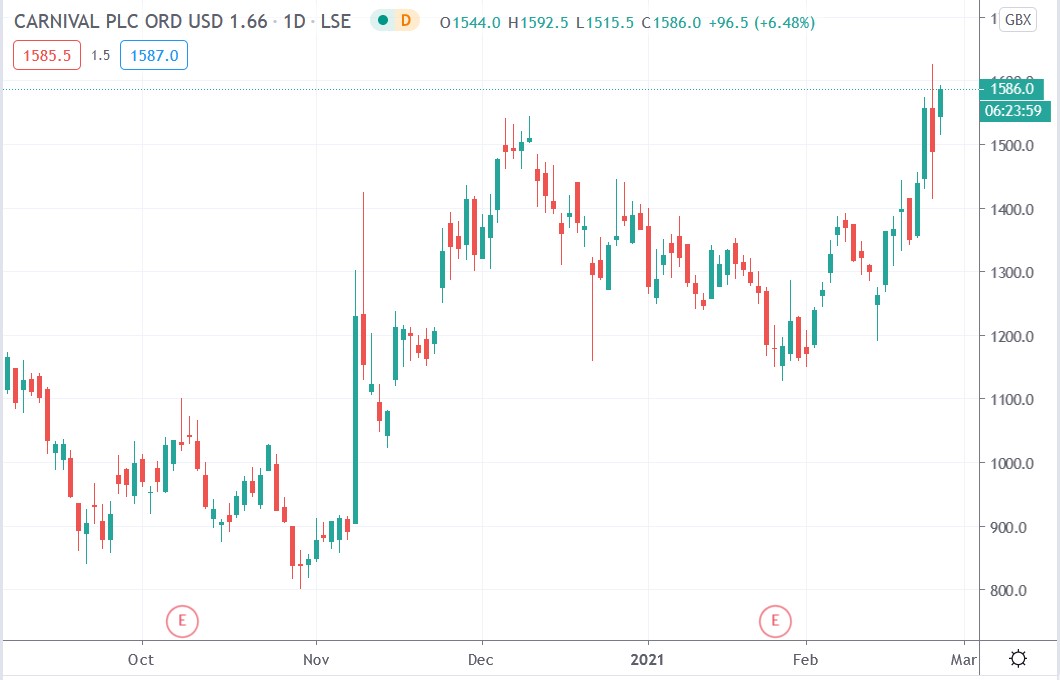 Carnival Plc shares rose 6.91% to trade at 1592.5p, rising from Tuesday's closing price of 1489.5p.