The Carvana Co (NYSE: CVNA) stock price rallied 24.4% after announcing that it expects an adjusted pretax profit of above $50 million and a gross profit per unit of over $6,000 in Q2 2023. Investors enacted positively to the updated guidance, as evidenced by the rally in Carvana shares.
---
YOUR CAPITAL IS AT RISK. 81% OF RETAIL CFD ACCOUNTS LOSE MONEY.
---
The company that pioneered the online purchase of used cars and became the most prominent such e-commerce platform in the country revealed that it expects its Non-GAAP total gross profit per unit (GPU) to be above $6,000, marking a new company record and an over 63% improvement from the figures recorded in Q2 2022.
Top Broker Recommendation
YOUR CAPITAL IS AT RISK. 81% OF RETAIL CFD ACCOUNTS LOSE MONEY
Investors cheered the news as it showed that demand for used cars in the United States remains solid despite the challenging economic environment that has seen demand in critical sectors of the US economy decline, as evidenced by the price cuts witnessed in the EV industry and the falling sales in the grocery segment.
Carvana revealed that it had sold or securitized loans worth approximately $2 billion in the quarter-to-date as of May 4th, 2023, marking a significant improvement from the $1.3 billion loans sold or securitized by May 2022.
The company's continued focus on improving its operational efficiency drove improvements in the Q1 2023 financial results, one of its best quarters in over a decade.
Carvana is still implementing meaningful efforts to drive its business and improve its unit economics, as witnessed by the robust GPU in Q2 2023 and the projected future free cash flows.
Ernie Garcia, Carvana's Founder and CEO, said: "Our record-breaking 2023 first quarter is evidence that our strategy is working, and our updated Q2 2023 outlook demonstrates that our progress continues to positively impact the business even faster than expected. The team's persistent focus on driving profitability has resulted in significant savings and efficiencies, and this work will persist as we continue to execute our plan."
*This is not investment advice.
Carvana stock price.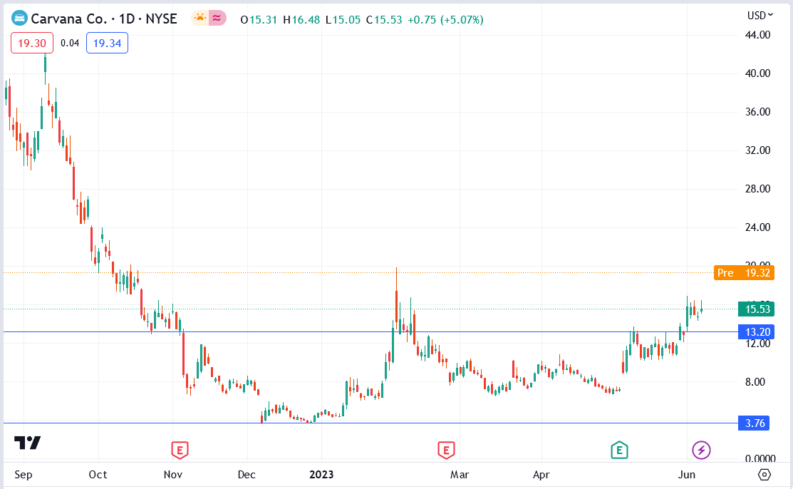 The Carvana stock price rallied 24.4% to trade at 22.73% to trade at $19.32, from Wednesday's closing price of $15.53.
---
YOUR CAPITAL IS AT RISK. 81% OF RETAIL CFD ACCOUNTS LOSE MONEY.
---