The Chaarat Gold Holdings Ltd (LON: CGH) share price rallied 87.3% after signing a non-binding letter of intent (LOI) and an indicative term sheet with Xiwang International Company Limited for a potential equity investment of US$250 million.
---
YOUR CAPITAL IS AT RISK. 81% OF RETAIL CFD ACCOUNTS LOSE MONEY.
---
Investors cheered the announcement that would leave the company flush with cash if finally executed on the same terms. However, we should remember that this is a non-binding LOI. Therefore, the terms of the deal could change once it has been executed.
Top Broker Recommendation
YOUR CAPITAL IS AT RISK. 68% OF RETAIL CFD ACCOUNTS LOSE MONEY
The monies raised would fund Chaarat's organic pipeline and its external growth ambitions through value-added acquisitions. In addition, the deal allows Chaarat to issue new shares to Xiwang priced at £0.20 each, resulting in Xiwang holding 60% of all the issued shares of Chaarat.
Today's rally in Chaarat's share price did not reach the 20p price mentioned in the press release mainly because the LOI is non-binding. However, we can expect a further rally once the deal is executed and Chaarat is guaranteed to receive the funds. Chaarat shares had also retraced most of their earlier gains and were trading up 37% at writing.
Xiwang would appoint two members to Chaarat Gold's board of directors while maintaining a working relationship with the firm that will not affect Charaat's operations as an independent company.
The two companies expect to agree on the terms of a preliminary investment agreement (PIA) by the end of May 2023. Once the PIA is completed, the two parties expect to enter into a formal investment agreement with completion by 30 July 2023.
The conditions that must be fulfilled before the Investment include Xiwang completing all the remaining due diligence. Xiwang would also complete its financing and receive all necessary corporate, government, and regulatory approvals.
Martin Andersson, Executive Chair of Chaarat, said: "We are pleased to have taken the discussions with Xiwang to this stage. We will now work with Xiwang towards progressing the PIA and subsequent investment and relationship agreements to support the growth objectives of Chaarat. Xiwang is undergoing a transformational change, and Chaarat is one of the potential platforms for their investment consideration and passed their initial due diligence, governance and investment criteria."
*This is not investment advice.
Chaarat Gold Holdings (CGH) share price.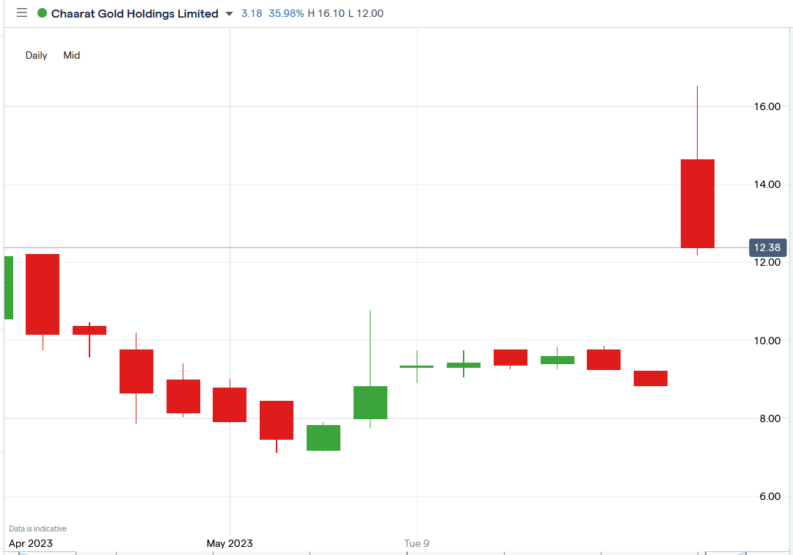 The Chaarat Gold Holdings (CGH) share price rallied 87.30% to trade at 16.52p, from Tuesday's closing price of 8.82p.
---
YOUR CAPITAL IS AT RISK. 81% OF RETAIL CFD ACCOUNTS LOSE MONEY.
---