Key points:
Cinemark revenues surged 303% in Q1 as movie attendance improved.
As a result, the company's losses shrunk significantly, which is likely to continue.
Meanwhile, CNK shares were up slightly premarket, according to Google.
Today, the leading movie theatre operator Cinemark Holdings, Inc. (NYSE: CNK), revealed that its Q1 2022 revenues rose 303% to $460.5 million compared to $114.4 million in Q1 2021. The company posted impressive results despite some of its theatres being closed during the first half of Q1 before the relaxation of most Covid-related movement restrictions.

The firm generated $235.8 million from customer admissions, while the remaining $173.0 million was generated from concessions. Cinemark theatres hosted 33.1 million moviegoers, with an average ticket price of $7.12 and an average concession sale of $5.23 per customer.
Investors were pleased to learn that Cinemark's losses shrunk to $74 million in Q1 compared to $208.3 million in a similar period last year. In addition, the company's loss per share fell to $0.62 versus the $1.75 recorded in Q1 2021.
Sean Gamble, Cinemark's President & CEO, said: "Cinemark once again outpaced North American industry box office recovery by a significant 650 basis points when comparing first quarter 2022 against first quarter 2019. Similarly, our international admissions surpassed their corresponding industry results by 500 basis points,"
Adding:
"Despite a challenging start to the quarter due to omicron-related shifts in film content, we delivered positive Adjusted EBITDA, driven by our industry out-performance, strong concessions sales and stringent cost management."
The movie theatre operator said that it remains focused on providing its patrons with "an exceptional, cinematic experience" and is doing everything to encourage people to go back to movie theatres.
Unfortunately, there is no premarket trading data on Cinemark shares; hence, investors have to wait for the markets to open to see how the share shall react to the impressive Q1 results.
*This is not investment advice. Always do your due diligence before making investment decisions.
Cinemark share price.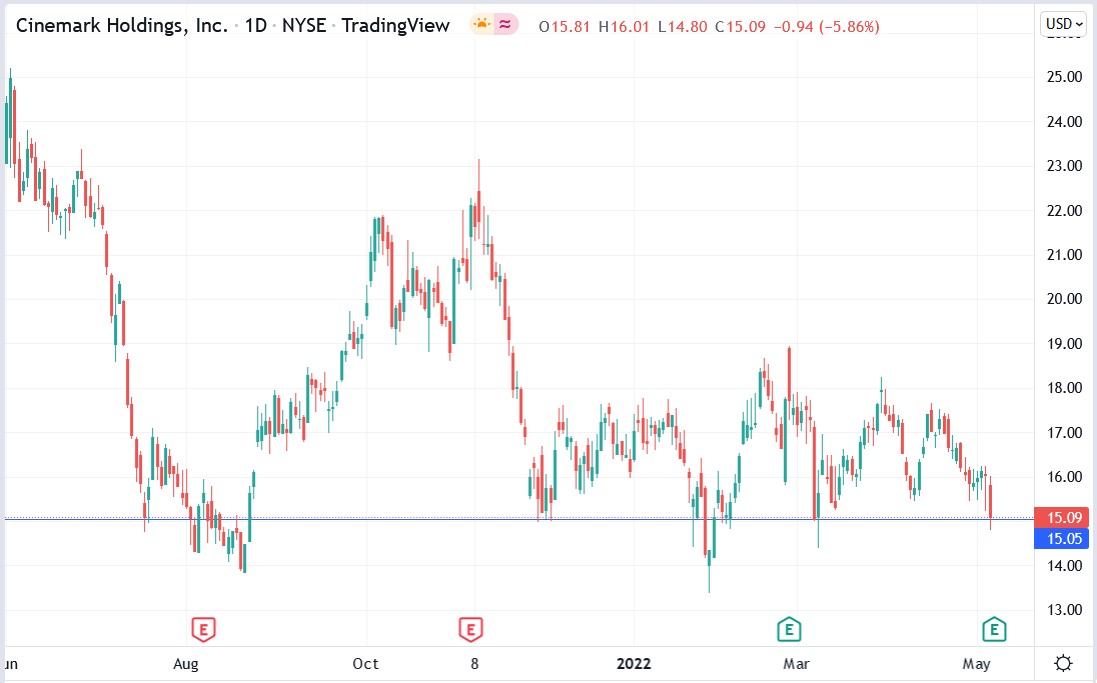 Based on today's data, Cinemark shares are currently trading at a support level that could lead to a rally.