Key points:
Amazon stock took another hit today as its drones division lost vital staff.
The drone division has a high attrition rate as employees keep leaving.
As a result, the company might be better off outsourcing the program.
Today, Amazon.com, Inc. (NASDAQ: AMZN) stock took another hit after news reports revealed that Amazon's Prime Air drone division was losing employees quickly. The division has a staff turnover rate of 30% in 2021, while the division tasked with testing drones saw 70% of employees leave.

Company insiders have pointed out that drone crashes have derailed its progress in its drone program as many employees are leaving and the new hires take a while to get up to speed with the program before another staffer leaves, throwing the program into disarray.
Amazon is going through a lot of internal turmoil as new employees hired by Andy Jassy, who took over as CEO in July 2021, crash with longtime employees as the new CEO tries to establish a new culture that will steer the company to more success in the years to come.
The eCommerce giant recently released its Q1 earnings results that triggered a massive selloff. Its profits took a $6 billion hit due to the firm's investment in crucial distribution infrastructure that could pay off for many years.
Investors were unhappy to learn that the firm's profits would face another $4 billion hit in Q2 as it ramps up investment in critical projects that will align the firm's operations with changing consumer preferences while streamlining its supply chain operations.
The high attrition rates have jeopardised its drone program, and we could see the project takes much longer before Amazon customers can start enjoying drone deliveries. On the other hand, the company might choose to scrap the program and invest in a drone company whose sole mission is to develop drones.
Amazon is yet to scrap the program, but you never know the future. The new CEO might decide to take away the headache and outsource the entire project to a specialist company. It could see the drones delivered to Amazon sooner than if the company keeps going with its current program. Many analysts are still bullish on the disruptive company despite Amazon's recent performance.
*This is not investment advice. Always do your due diligence before making investment decisions.
Amazon stock price.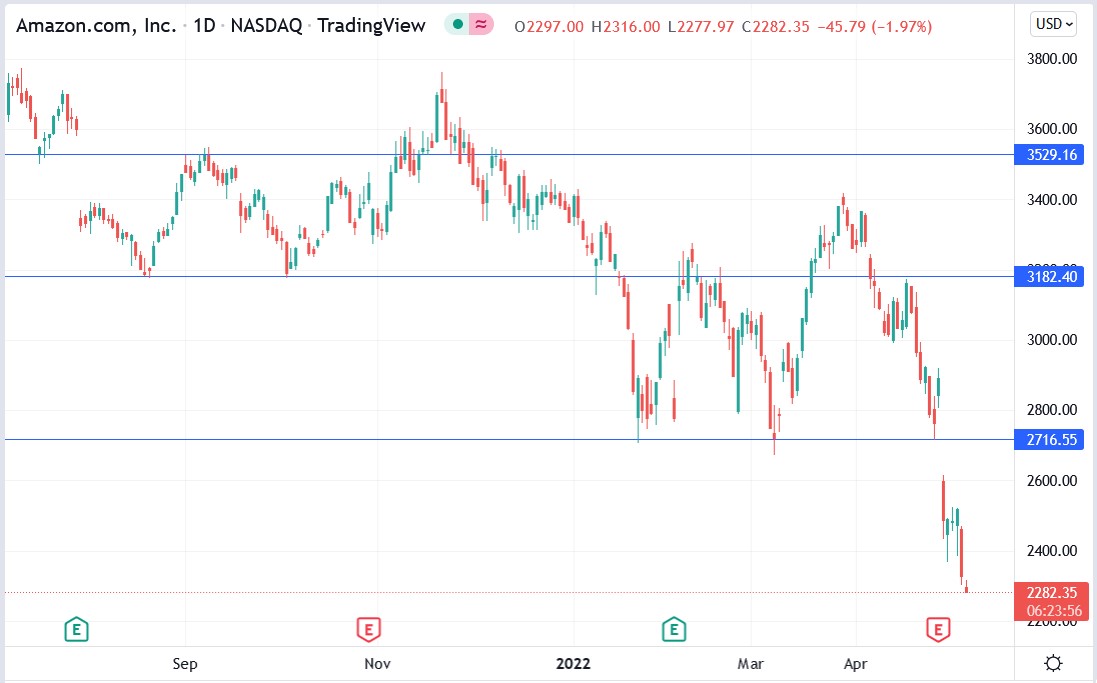 Amazon stock price has fallen 30.2% in 2022 and is headed lower.