Key points:
Cleantech Lithium is advancing its projects with extraction technollogies
They've signed up with Sun Resin, a known deliverer of working solutions
This is not proof of future success but it's a good sign
Cleantech Lithium (LON: CTL) is a recent float in London (back in March) and it's fair to say that it's not done all that well since the IPO. Launching around the 35p level it gently sank to 20-ish a month back. The change is that it has now regained all of that lost ground and a bit more – the shares are up another 5% this morning to 37.5p. Which will please those who bought at issue no doubt.

The general problem Cleantech has had is that there are many, many, lithium projects out there. Some are moving toward production, others look like a triumph of hope over experience. The market has a certain problem in sorting through which are which. Just because someone says they're looking for lithium does not ensure success of course. So, it takes a bit of time for a company to be evaluated. Are they actually doing the work? How is that going? Finally, of course, there's also the basic sensibleness of what it is that they're trying to do. Spodumene mining is different from geothermal, both from brine evaporation.
It's hugely too early to say that Cleantech is actually going to work – work in the sense of deliver actual lithium profitable. But it's looking increasingly like it will do. The project is becoming progressively derisked that is. This being exactly what we want to see in a miner of this size and stage of course. We know they're not going to start delivering material tomorrow – but are they conquering the problems gradually so that they will be able to in time?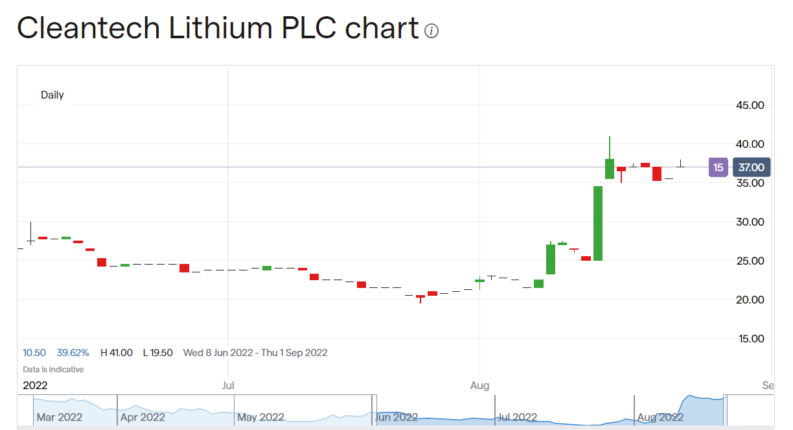 Also Read: The Best Lithium and Lithium Mining Stocks To Buy
The announcement today is that Cleantech Lithium has decided upon which equipment manufacturer to use to provide the extraction plant – at least in test size and phase. "has entered into a Memorandum of Understanding ("MoU") with leading Direct Lithium Extraction ("DLE") company SunResin New Materials Co. Ltd ("SunResin")," The point here being that this is a known producer of such extraction plants, which delivers and swiftly. So, we can take this as being evidence that Cleantech is advancing its lithium projects. This is rather unlike some of the spoumene ones, a goodly number of which seem to be taking rather too long in their interim stages.
Of course, this is not proof of future success. Like any miner Cleantech is reliant upon the global price for its production on the day it starts shipping. On the other hand brine extraction of lithium is a well known process, Sun Resin builds plants to do that. Also, brine is likely to remain considerably lower cost than hard rock, or spodumene, mining. Finally, it's a Chinese company building the plant, not a Chinese company processing the concentrate – the likely structure of most of those hard rock miners.
Yes, this is encouraging at Cleantech but it's not proof positive. There's a certain desrisking of the company but not any final proof.