DeepVerge (LON: DVRG) shares are gaining on Monday after the company released an update in which it sid lab upgrades in York have been completed following investment from the recent £10 million placing.
The upgrades provide capacity for processing up to 20,000 Skin Trust Club home test kits per month for the UK market – expected to arrive in September.
"Demand received from consumers and B2B partners, such as beauticians and dermatologists, has resulted in completion of more than 5,000 tests which was the limit of capacity up to the end of June," DeepVerge said in a statement.

They now have further demand from Labskin skincare corporate clients requesting to include home test kits before and after product and ingredient tests for each human test subject in contract clinical trials, which exceeds current service capacity and is expected to increase outside of any consumer-related marketing campaign.
DeepVerge also said that preparations are underway for the same volume for the US market, which is expected to launch in the first half of 2022.
In addition, Labskin is completing the development of ethnic skin model testing, which will enable a similar volume of 20,000 units per month in China targeted for launch in the second half of 2022 in 5 major cities.
Included in the announcement was an update on the Microtox PD wastewater project with the company stating that the successful first data transfer of detection of SARS-CoV-2 via Microtox PD units has been completed.
The final validation involves duplicate timestamped samples for independent PCR testing with a third-party lab and includes deeper data integration with Strathkelvin Instruments.
Finally, a proposed joint venture between DeepVerge and China Resources has expanded in scope, with both parties seeking to reach an agreement as quickly as possible.
Gerard Brandon, DeepVerge CEO, commented: "Today's AGM will of course discuss the outcome of 2020, which by itself was remarkable, but also focus on the future of each division within the Group. It is impossible to put in black and white what has, is, and will be achieved by the team at DeepVerge over the next 12-24 months, so I look forward, with Fin Murray, Chief of Operations, and Camillus Glover, Chief Financial Officer, to providing sufficient colour to allow you to see where the company is heading."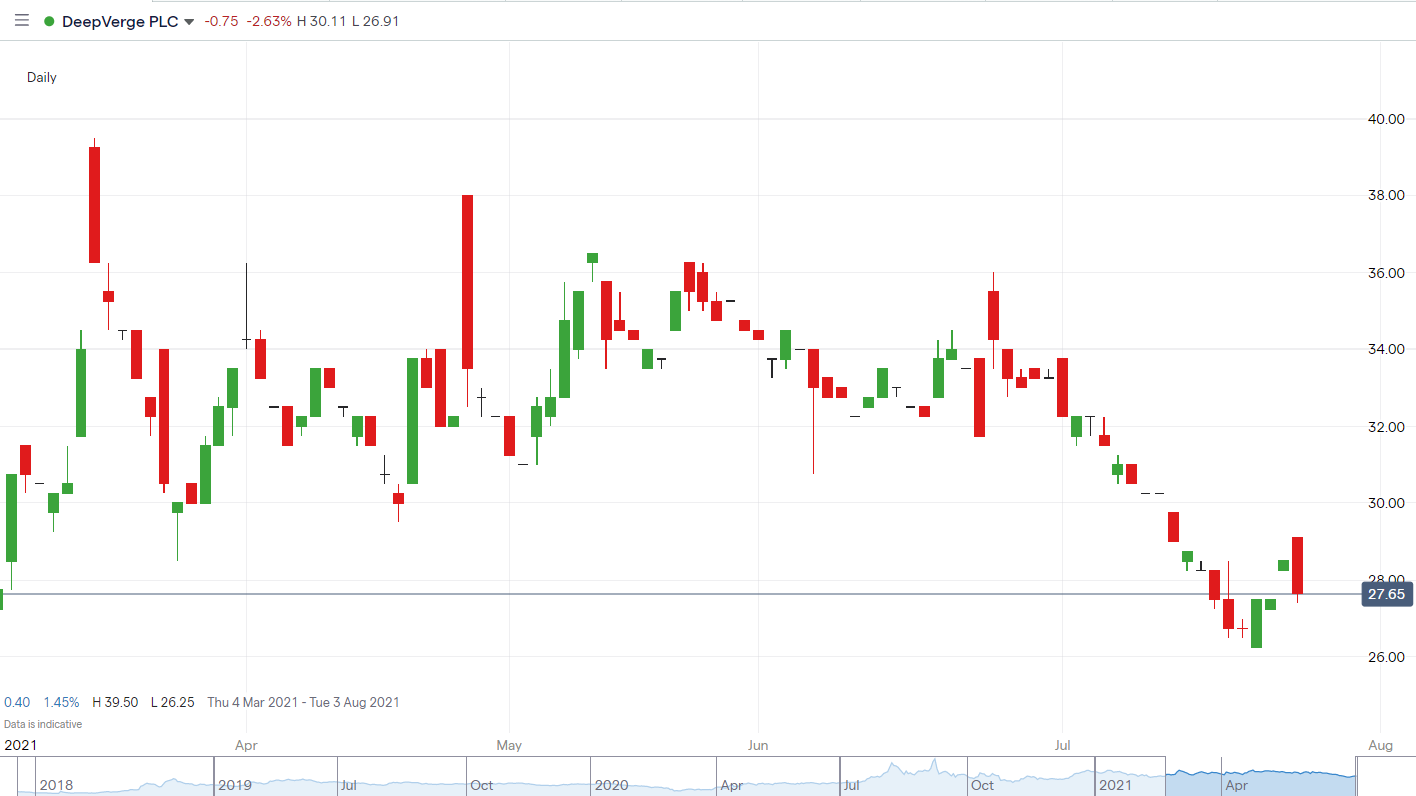 DeepVerge shares are currently down 2.63% at 27.75p after opening the session up at 29.4p.
Should You Invest in DeepVerge Shares?
One of the most frequently asked questions we receive is, "what stocks are best to buy right now?" It's a wide-ranging question, but one that we have answered… Our AskTraders stock analysts regularly review the market and compile a list of which companies you should be adding to your portfolio, including short and longer-term positions. Here are the best stocks to buy right now