Dev Clever Holdings PLC (LON: DEV) share price spiked 6.81% higher after signing a material contract with a Chinese VR manufacturer to distribute its VR headsets in China.

The deal will see an initial 20,000 VR headsets distributed to users across China by the firm called Question What's Real (QWR). In addition, the devices will be equipped with Dev Clever's immersive STEM learning library.
The education-focused technology company revealed that the devices would be available to Chinese users shortly after the Chinese New Year in February 2022. In addition, Dev will receive $150 per device as a recurring subscription fee for its software.
The deal is quite impressive since Dev Will not be manufacturing the devices but will still receive a fee for its software, which can also equip learners with the right skills for the job market.
The VR headsets will also include a healthcare app, developed by QWR and the Chinese Academy of Sciences ("CAS"), to help reduce myopia through the use of VR.
The CAS works collaboratively with the Chinese Academy of Engineering as a governing body and a national rethink tank. The two are commonly referred to as the 'Two Academies'.
Investors cheered the deal that will earn Dev Clever a minimum of $3 million from the initial deal involving the distribution of 20,000 VR headsets annually.
Furthermore, the deal includes the option for an additional 15,000 to 30,000 devices in 2022, which could easily double Dev's revenues.
Today's announcement marks another positive milestone for Dev Clever after announcing last week that it expects its annual revenues to come in at £7.4m, representing an almost 5X increase to last year's figures.
The EdTech company's prospects heading into 2022 are extremely positive given the growth potential in India and now China, the two countries with the largest populations in the world.
I have written in the past that Dev Clever shares should be worth much more given the comparative valuations of similar companies in the UK and abroad.
Meanwhile, investors interested in the company should find its current prices quite attractive since it is trading at a support zone.
*This is not investment advice. Always do your due diligence before making investment decisions.
Dev Clever share price.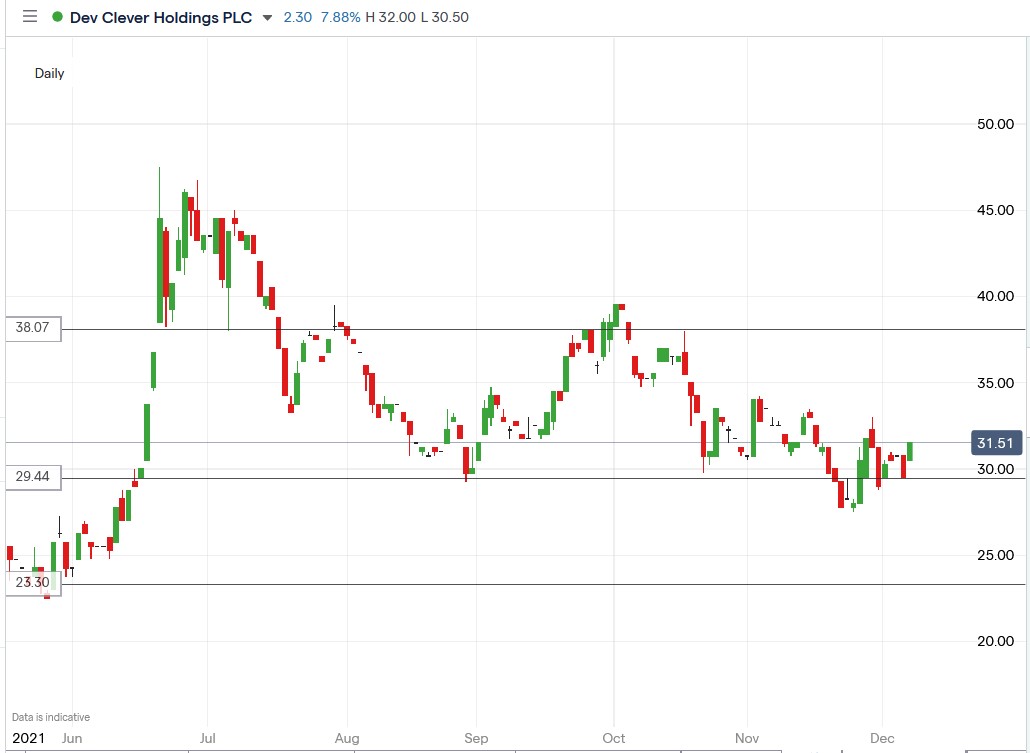 Dev Clever share price surged 6.81% to trade at 31.51p, rising from Monday's closing price of 29.50p.
Should you invest in Dev Clever shares?
Tech stocks offer some of the best growth potentials, but time and time again, traders and investors ask us "what are the best tech stocks to buy?" You've probably seen shares of companies such as Amazon and Netflix achieve monumental rises in the past few years, but there are still several tech stocks with room for significant gains. Here are our analysts' views on the best tech stocks to buy right now.