The easyJet plc (LON: EZJ) share price edged 2.64% higher after releasing its financial results for the half-year that ended 31 March 2023. The budget airline and holiday destinations operator reported a headline loss before tax of £411 million, marking a significant reduction from the £545 million loss incurred in the 2022 financial year.
---
YOUR CAPITAL IS AT RISK. 81% OF RETAIL CFD ACCOUNTS LOSE MONEY.
---
The airline group's revenues surged by 80% to £2,689 million compared to £1,498 million in 2022, driven by pricing strength, improved load factor, increased flown capacity, and the positive contribution of ancillary products, which delivered incremental revenue.  
Top Broker Recommendation
YOUR CAPITAL IS AT RISK. 68% OF RETAIL CFD ACCOUNTS LOSE MONEY
The low-cost airline group reported a 52% surge in its headline costs to £3,100 million from £2,043 million in H1 2022, primarily due to the increased flying capacity, high fuel costs and other inflationary pressures affecting the entire industry.
EasyJet reported a loss of £415 million before tax, significantly lower than the £557 million loss recorded in H1 2022. The company attributed its impressive performance to the actions taken over the past 18 months to realign the group and achieve its medium-term goals.
The airline group has embraced a low-risk growth strategy that has grown its operations at its primary airports, including Berlin, whose performance has strengthened after its rightsizing. The airline confirmed it would continue allocating aircraft to the most profitable routes based on demand.
EasyJet Holidays continues to grow rapidly as customers embrace low-cost holiday destinations and brands, and the company expects the growth to continue. As a result, the division is expected to generate over £80 million in full-year profits.
The company also attributed the higher costs to measures taken to prepare for the busy summer 2023 seasons, including opening a new UK base in Birmingham and entering Switzerland in preparation for Summer 2024.
Johan Lundgren, EasyJet's CEO, said: "EasyJet's optimised network, combined with the strong demand seen for flights and holidays, enhanced revenue capabilities and operational resilience, means we enter the summer with confidence. Recent research has shown that travel is the number one priority for household discretionary spend with customers safeguarding their holidays and increasingly opting for low-cost airlines and brands which provide great value."
*This is not investment advice.
EasyJet share price.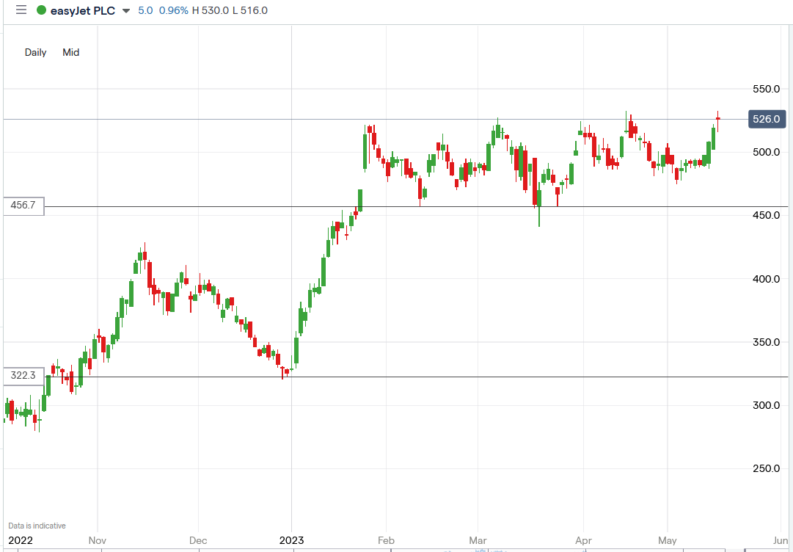 The EasyJet share price edged 2.64% higher to trade at 532.5p, from Wednesday's closing price of 518.8p.
---
YOUR CAPITAL IS AT RISK. 81% OF RETAIL CFD ACCOUNTS LOSE MONEY.
---