Key points:
The Eqtec share price surged 6.67% after receiving planning permission.
The company's Southport project received the go-ahead from Sefton Council.
Eqtec shares look pretty attractive at current prices. Are they a buy?
The EQTEC PLC (LON: EQT) share price surged 6.67% after the Sefton Council's Planning Committee granted its Southport Hybrid Energy Park project the revised planning permission to proceed with phase 1 of the project.

Also read: Five Best Green Energy Stocks 2022.
Phase 1 of the project includes building an anaerobic digestion (AD) facility, a water processing facility, a 2MW battery storage facility and a combined heat and power (CHP) engine. Eqtec will construct the project in collaboration with Anaergia, Inc.
Investors cheered the announcement, which lifted Eqtec shares after Thursday's crash triggered by the discounted capital raise that saw the company sell 782 million new ordinary shares at 0.50p each to raise £3.75 million (before expenses).
The waste processing plant built in phase 1 is crucial since it will separate the different waste materials, with renewable waste being processed elsewhere. At the same time, organic waste will be used by the AD facility to produce refuse-derived fuel (RDF).
Once completed, the phase 1 plant will process up to 80,000 tonnes of waste, generating 6 million cubic metres of biomethane directed to the national gas transmission system. The project will also pull gas from the grid to generate 9MWe of power sold to the national electricity transmission system.
Eqtec is working on phase 2 of the project, which could include its syngas technology to generate 2.5 – 3.0MWe of clean electricity from converting 25,000 tonnes of RDF into electricity.
On another note, Eqtec announced that it had selected Petrofac as its front-end engineering design (FEED) contractor for its Haverton Hill waste-to-energy project located in Deeside, UK. investors were happy to see the company making progress on multiple projects.
Eqtec shares are down 61.54% in 2022 and look attractive at current prices since they are trading above a long-term support level. Therefore, I would buy at current levels, expecting a rally later. However, given the current economic climate, we cannot rule out a further decline.
*This is not investment advice. Always do your due diligence before making investment decisions.
Eqtec share price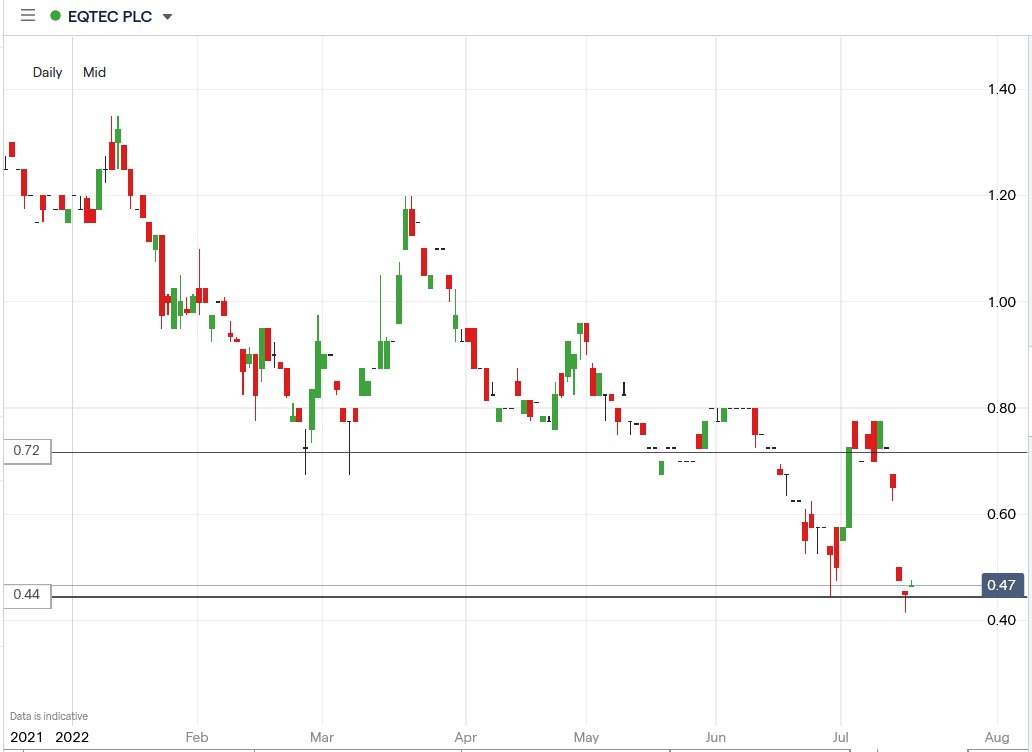 The Eqtec share price rose 6.67% to trade at 0.48p, rising from Friday's closing price of 0.45p.