Key points:
The Eqtec share price plunged 27.7% after completing a fundraising event.
However, the company raised £3.75m after selling new shares at a discount.
So, should you buy EQT shares? Read on to find out.
The EQTEC PLC (LON: EQT) share price plunged 27.7% after revealing that it had completed a fundraising event that raised £3.75 million (before expenses). The company issued over 782 million new ordinary shares to investors and company directors.

The markets reacted negatively to the announcement primarily because the new shares were sold at a significant discount to Eqtec's closing share price on Wednesday, 13 July 2022. The new shares were priced at 0.50p each, against Eqtec's closing share price of 0.65p.
Also read: Five Best Green Energy Stocks In 2022.
It was encouraging to see the company's directors and institutional investors, such as Altair Group Investment Limited, subscribe to more shares during the recent capital raise. Altair subscribed for 80 million new subscription shares.
Eqtec directors, including David Palumbo, Yoel Aleman, Jeffrey Vander Linden, Thomas Quigley, and Nauman Babar, also subscribed for new shares. The company did not break down the number of shares bought by each director, but they purchased a total of 37 million shares at the subscription price.
Yoel Aleman has the highest shareholding among the directors, with over 185 million shares, equal to 1.98% of total shares. Still, Altair is the largest shareholder with over 1.7 billion shares, amounting to 18.27% of the company's outstanding shares.
The fundraising event was the latest move made by the waste gasification company, which recently signed a collaboration agreement with CompactGTL Limited to design, develop, construct and operate waste-to-fuel, synthetic fuel and energy infrastructure projects.
The two companies will start with small-scale, modular, waste-to-fuel plants that will integrate the respective technologies developed and owned by each company. The companies will also introduce each other to commercial opportunities and jointly develop identified projects.
Eqtec also recently appointed Black & Veatch to provide engineering services during phase 2 of its Deeside, Flintshire, UK project. The company is making decent progress on all its ongoing projects, but today's announcement has erased most of the recent gains in its share price.
So, should you buy Eqtec shares? EQT shares are trading near a long-term support level in place since September 2020, making them quite attractive. I would buy if they remained above this level in the coming days.
*This is not investment advice. Always do your due diligence before making investment decisions.
Eqtec share price.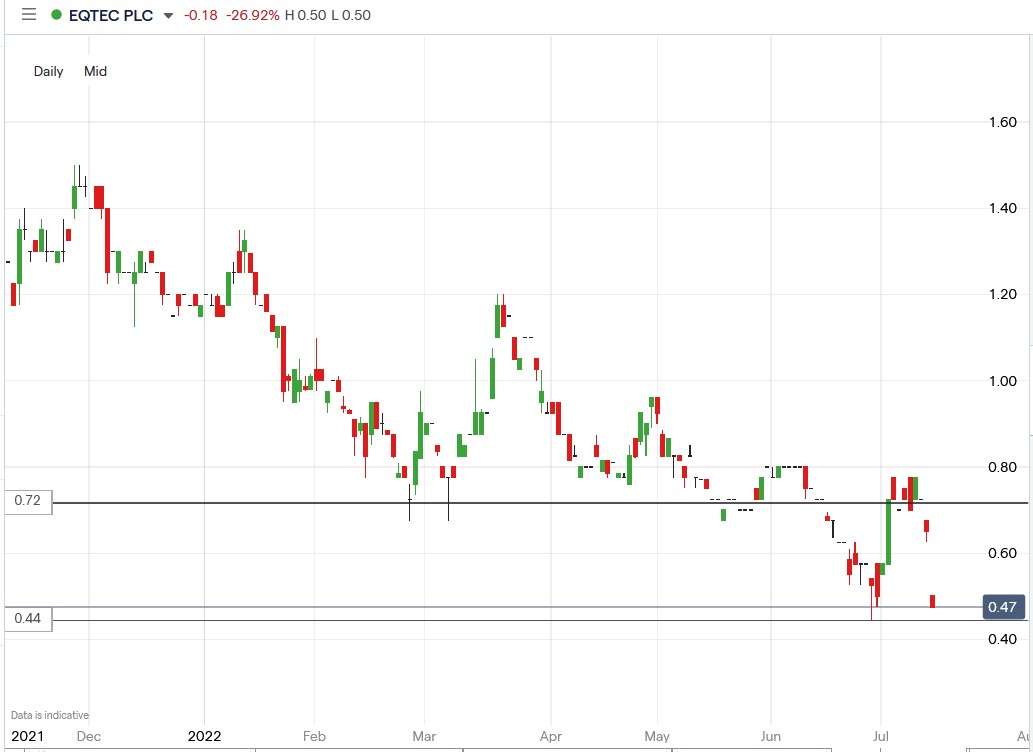 The Eqtec share price plunged 27.69% to trade at 0.47p, falling from Wednesday's closing price of 0.65p.