Key points:
Qudian is buying back stock so aggressively as to be almost liquidating itself
Given the poor returns from peer to peer lending this might be sensible
If this is so then how long will the QD stock price jump last?
Qudian (NYSE: QD) stock has jumped 73% premarket this morning on the back of, well, just the news that it's to buy back more stock. In a sense, this means that the company is continuing to liquidate itself, which isn't normally thought of as a grand way to increase the stock price. On the other hand, the jump in the stock price there shows that the market thinks that the cash is worth more than whatever the company might do with it – again, not a vote of confidence in the management there but an explanation for the Qudian stock price move.

As a business, Qudian has its little problems. Like, having a business strategy would be a good start. They have been a poor quality – or to poor people, much the same thing – credit supplier. This hasn't suffered from the deliberate crushing of the business sector as has happened in the UK to Amigo Holdings, Wonga, nor in the US to payday loans. But the business has been falling off. That's left a lot of cash, capital even, surplus to requirements at the company. There are a couple of seemingly desultory attempts to find new business lines – making low cost ready meals for that largely working class clientele for example. Or an attempt at moving into that private sector education business that the CCP seems so intent on controlling. But then those working class customers might be a decent enough target market for professional training, the one part of private education the CCP seems willing to leave to the market.
Qudian's original growth came from entering the loans market when the banks really weren't in it at all. Personal lending, rather than vast sums to state-owned enterprises, just wasn't what the state-owned banks did. This was part of China's financial repression. Small companies were able to supply that starved populace but only as long as they didn't entirely upset the system. One of the problems that Ant Financial had was that it was large enough to actually upset the system.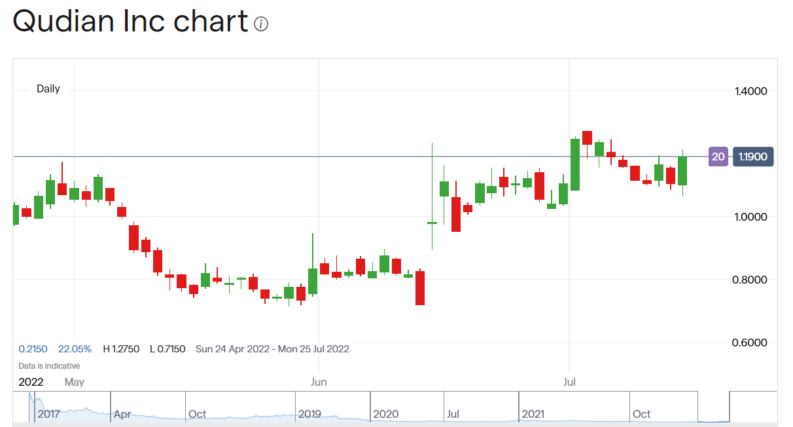 Also read: Nio Stock Forecast
That peer-to-peer lending system seems not to be producing great results, There are those attempts to find some other business line but neither of those mentioned really seem to spark all that much of an interest – either in the potential customer base or in investors. So, the Qudian stock price has been continuing to decline, down 96% over 5 years.
At which point, the cash in the company might well be worth more than the company. Which is why the management seem to be buying back in all of the stock. Well, all is too much, but a lot. It's bought back in a couple of hundred million os convertible notes. It's spending heavily on buying back in the ADS, the American listed shares. This of course makes each remaining one more valuable. The question for us as traders is whether there's actually anything other of value in there except the cash pile being exchanged for stock. It's difficult to see that there is so perhaps this QD stock price jump won't be maintained.