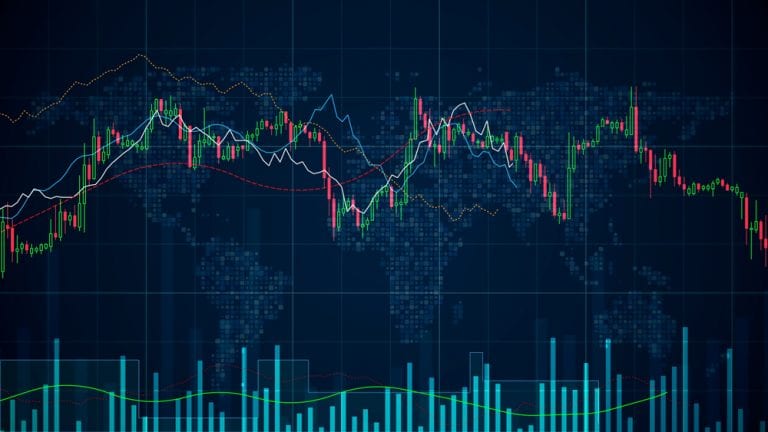 After another day of panic and worry amongst investors and traders, President Trump moved to ban travel between the US and Europe for 30 days. Although, this excludes the UK and Ireland and mainly applies to those countries in the Schengen travel area. Markets, having already fallen earlier in the day, continued their decline. There were rumours late in the afternoon that the travel ban would be implemented. However, it still came as a surprise to some, although more rigorous methods were needed to try and halt the spread of the virus and calm markets.

With the number of cases worldwide continuing to increase, it was just a matter of time before the US administration took some action.
There have been reports from last night that the UK will have another emergency COBRA meeting today to move onto the delay phase of the process. This would involve schools closing and events cancelled, as well as advising workers not to travel into their offices.
Expectedly oil markets fell once again below the $32 level. The Dow Jones Industrial Average plummeted into a bear market after a more than 20% drop and signalled the end of a decade long bull market.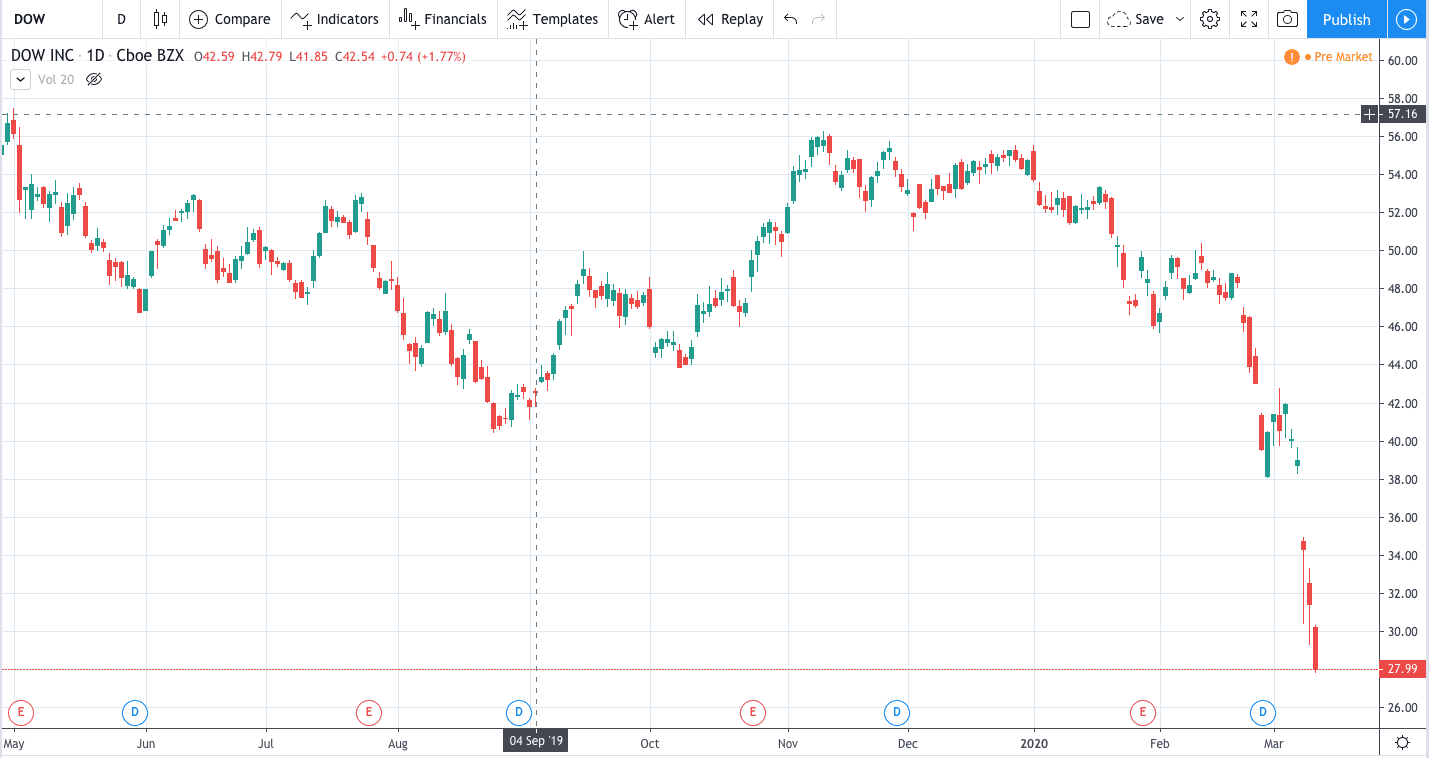 All stocks within the index finished down on the day with Boeing seeing the most significant fall at -18.2%. It means Boeing stock is now down by 42% for the year to date. The initial decline in Boeing stock was due to the production of the 737 Max being halted. With Boeing being one of the largest employers in the US, this is another extreme risk to the economy.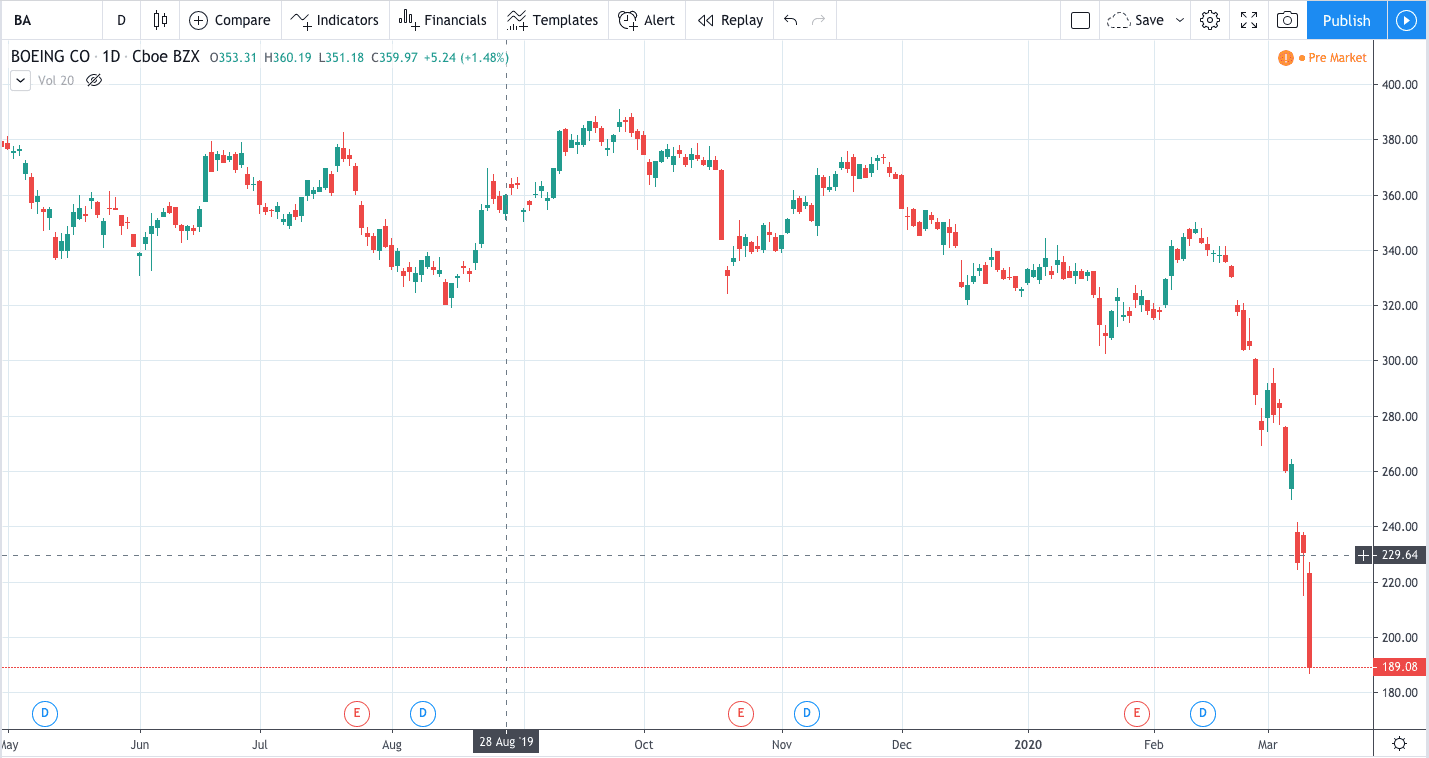 Undoubtedly, the biggest losers of the day, alongside Boeing were stocks in the oil and cruise industries. Norwegian Cruise Line fell over 25% after being found to have lied about the coronavirus to customers, meaning the stock is now down over 70% in the past month alone.
Of course, due to the massive drop in oil prices, we have seen a fall in oil companies as well, with some falling over 20%. With a further decrease in oil prices, we can expect oil company stock prices to drop further with it.
In positive news for one company, Gilead Sciences increased again after its experimental COVID-19 treatment was allowed for use in the US. As a result, we saw the stock rise over 1.5%.
BoE and UK Stocks
We saw the Bank of England announce an emergency rate cut that saw interest rates go from 0.75% to 0.25%, a 50bps decrease, which matched the cut from the FED last week. We also saw the chancellor announce his budget, which saw a £30bn stimulus package designed to help reduce the impact of the economic downturn from the virus. While it seemed to be well-received amongst most, it failed to allay investor fears as the FTSE continued its decline.
Richard Flax, Chief Investment Officer, Moneyfarm commented:" Policymakers have responded decisively to the crisis, both in terms of fiscal spending and monetary easing. UK equities have briefly bounced back in response to the rate cuts before deciding it's just another example of the weak economic conditions we're all facing. The government had intended to accelerate spending a lot in this budget, and the crisis has allowed them to achieve this without too many questions asked. In the long-term, it's probably a good outcome for the UK's financial outlook, and improved infrastructure should help bolster economic growth provided that rates remain low."
Some of the most significant falls from the FTSE index were Coca-Cola, Aveva and easyJet. With Aveva being affected by sales in China dropping and the reduction in demand for flights having a significant impact on easyJet.
Overall, the FTSE 100 was down by 1.4% on Wednesday with the FTSE 250 being down by 1.2%.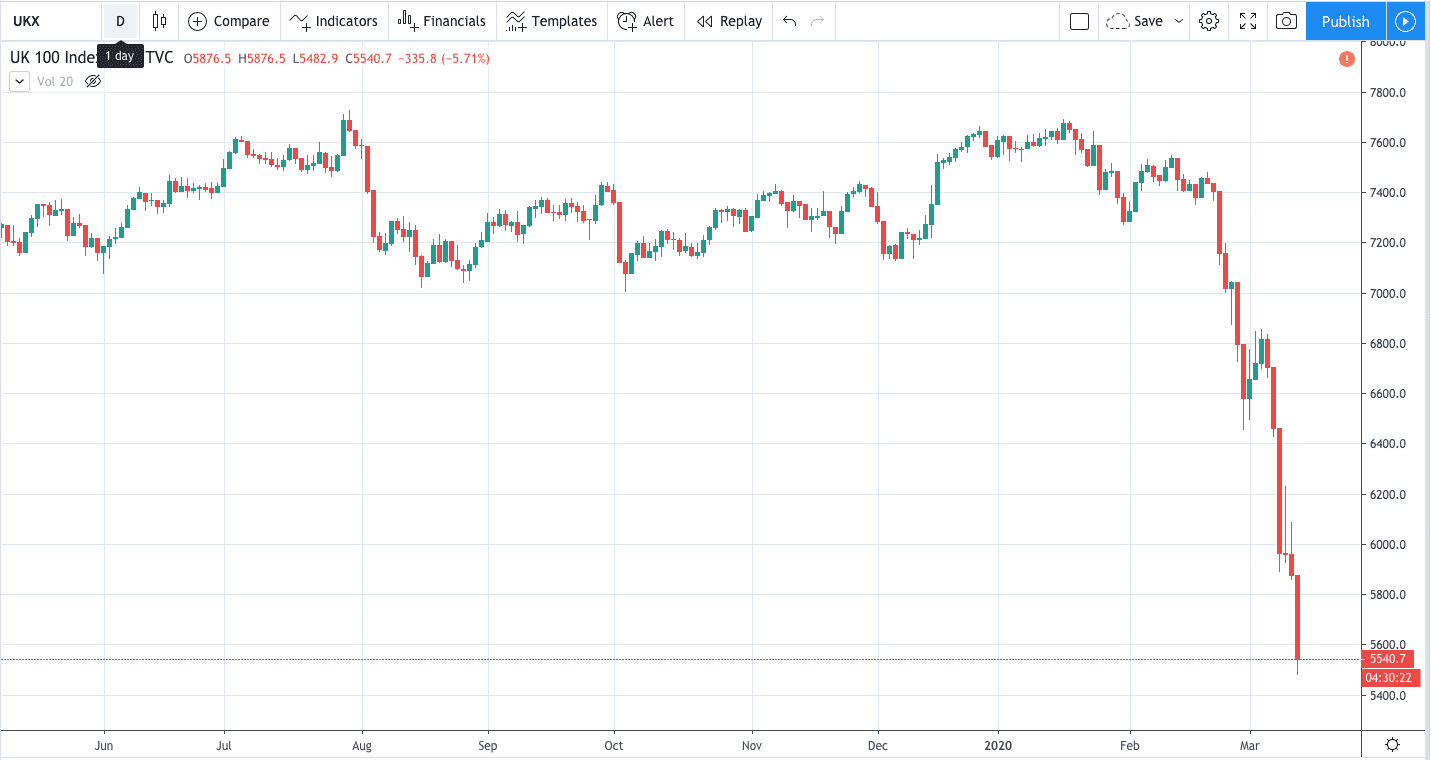 Stocks To Look Out For
Overall we suggest keeping an eye on energy stocks, with a continued fall in oil expected, it could be another opportunity to get short in this area.
Healthcare stocks provide another opportunity as it will be a race to see who can develop a vaccine for the virus. If a vaccine is found, then there will be a rush from governments and healthcare institutions to get their hands on it.
Elsewhere, Adobe is reporting their earnings today, so far the company seems to have held up well in the face of the crisis. Oracle is another company reporting its earnings. However, they have seen their share price fall more in line with the current market.
Cryptos
It hasn't been a good week for cryptocurrencies either where we have seen a fall in most major crypto assets. At the time of writing, Bitcoin had just fallen over 15% and is now trading below the $6000 mark. A sharp sell-off and another reason why traders can't yet consider BTC to be a safe-haven asset.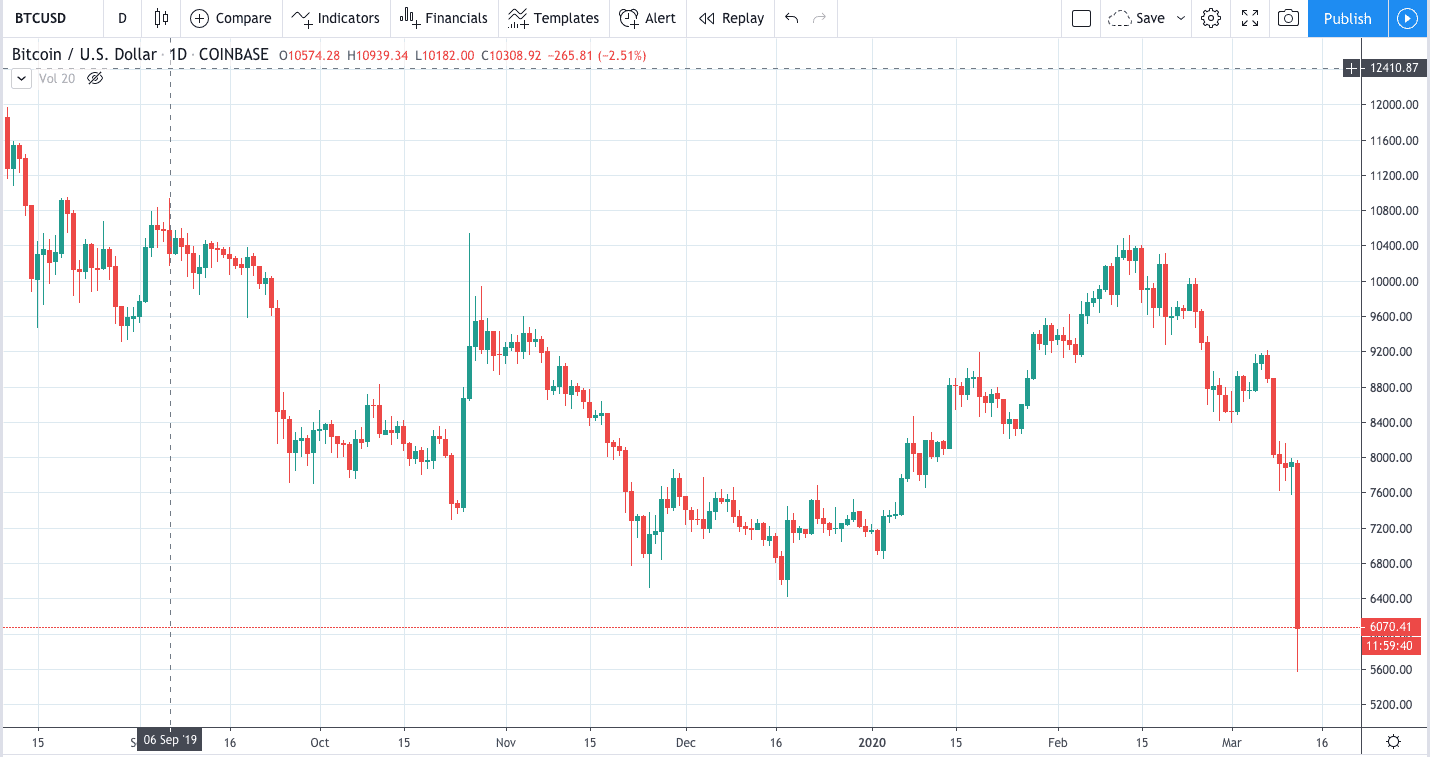 However, there has been a positive reaction from Todd McDonald, co-founder at blockchain firm R3, who reacted to the government's endorsement of the Bank of England's paper on central bank digital currency, in the Spring budget:
"This is testament to just how much new forms of currency – specifically those underpinned by technology – are coming to the fore as a viable, long-term alternative to fiat.
More and more economies are exploring central bank digital currencies, and if the UK is to remain competitive in the global fintech landscape, it cannot ignore the changing way we define 'money'.
What will be crucial in determining the BoE paper's success is that industry opinion is taken into consideration. For a central bank digital currency to be a sustainable option for the UK, the private and public sectors need to work together."
Other coins such as XRP and Etherum are also down on the day. With XRP trading at $0.14 and ETH trading at $135.10 at the time of writing.