Key points:
Gamestop stock is set to end the year up 724%.
However, the company is yet to unveil a clear transformation plan.
As a result, it is risky to invest in the firm at its current valuation.
The GameStop Corp. (NYSE: GME) stock price is set to end the year up 724% after an epic run that saw the company saved from imminent bankruptcy by retail traders keen to upend the dominance of institutional investors in the stock markets.

Many wonder what is in store for the company as we head into 2022. The good news for investors is that the company has approximately $1.4 billion in cash at hand after recently selling some of its stock.
The significant cash hoard can allow Gamestop to branch out into other fields as the video rental market shrinks further, driven by shifting consumer preferences for downloaded movies instead of physical disks.
Gamestop also has fresh leadership in the name of Matt Furlong, appointed as CEO in June 2021, and Ryan Cohen appointed as chairman. Many will remember that the rally in Gamestop's share price started in January 2021, shortly after Ryan Cohen's appointment.
The rally in Gamestop shares created a whole new category of stocks known as "meme stocks", primarily driven by buying interest from retail traders after identifying significant short positions held by institutional investors.
So far, the company has not outlined a clear transformation plan as we head into 2022. Still, one of the ways it can shorten its transformation journey is by acquiring other companies in its target industries.
Until Gamestop unveils a solid transformation plan, investors risk significant declines in its share price in the new year as it might be hard to justify the stock's current price of $155 if its current operations are not generating profits.
Most people agree that the movie rental business is long gone and that Gamestop needs to reinvent itself. The stock remains a significant risk until there is a clear plan for how to revitalise its operations in the new year.
Therefore, I wouldn't buy Gamestop shares at current prices. However, we cannot rule out another short squeeze in future if institutional investors start accumulating significant short positions and retail investors get wind of the same.
*This is not investment advice. Always do your due diligence before making investment decisions.
Gamestop stock price.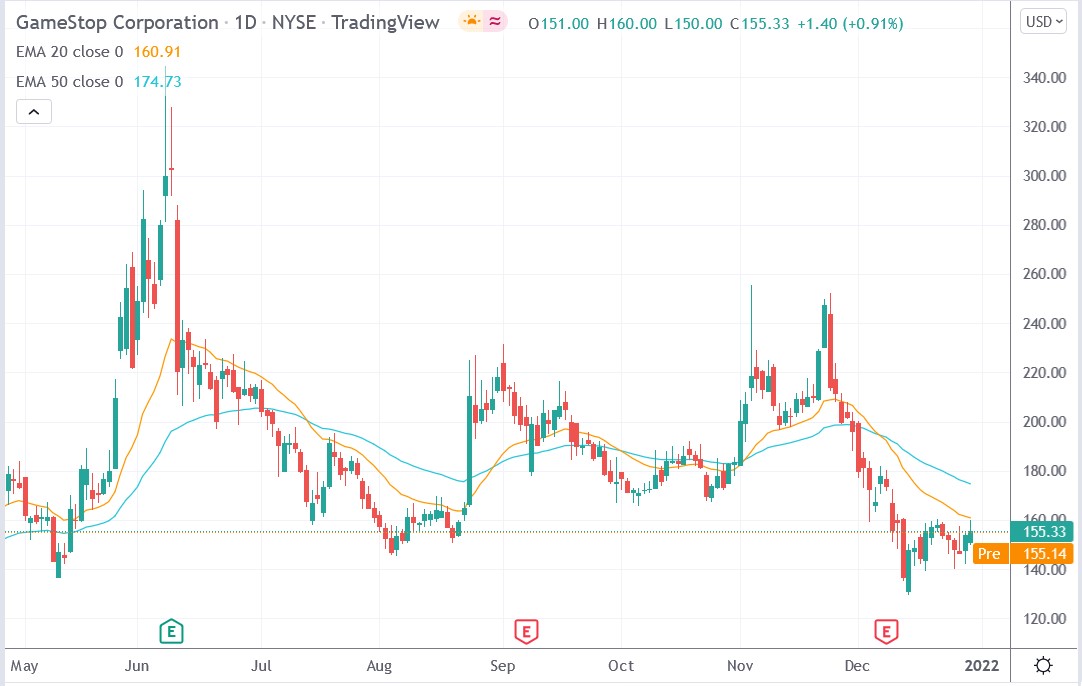 Gamestop stock is set to end the year up 724% after an epic year. So what comes next for the firm?
Should you invest in Gamestop shares?
If you're a smart investor, you will know that having large-cap stocks in your portfolio is vital. They are more mature companies, considered safer investments, trade with less volatility, have greater analyst coverage, and in most cases, have a steady dividend stream. Due to the current market environment, we think now is the perfect time to add large-cap stocks to your portfolio. But which large-cap shares should you buy? Our stock analysts regularly review the market and share their picks for some of the best large-caps to invest in.